As it's nearly Mother's Day, we're celebrating the duos of the perfumery world where they've kept it in the fragrance family, because while we often say 'like mother, like daughter' – these women clearly have scented streak in their DNA…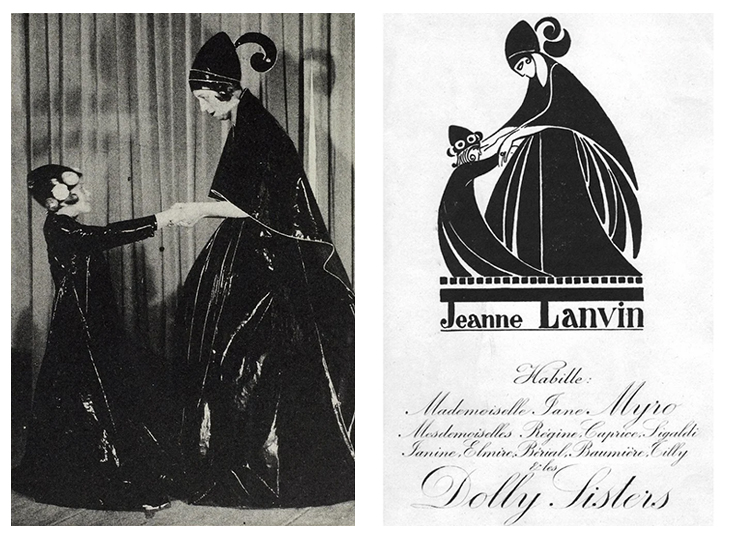 Jeanne Lanvin & Marie-Blanche Lanvin
Jeanne Lanvin was a contemporary of Chanel's, and – like her – began as a milliner and seamstress, founding her own millinery fashion house at Rue du Marché Saint-Honoré. Lanvin's daughter was her inspiration for the fragrance Arpège. It was created for the 30th birthday of her daughter Marie-Blanche, and took its musical reference name from a comment Marie-Blanche made on being shown the first sample, created by perfumers André Fraysse and Paul Vacher: 'It smells like an arpeggio would'.
The spherical black-and-gold bottle was a nod to their love, too, with its silhouette of a mother dressing her daughter (designed by Paul Iribe) is still so recognisable, today, and the melody of florals – rose, iris, lily, lily of the valley, jasmine, ylang ylang , camellia and geranium – feels like being wrapped in warm, white, fluffy towels, a veritable hug in a bottle.
Angela Flanders & Kate Evans
A former television costume designer, Angela Flanders started her eponymous Colombia Road perfumery in 1985, 'In the early days, we worked together in her studio. As a fledgling business it was very hands-on,' daughter Kate Evans recalls. As Kate opened her own fashion boutique, Precious, (just up the road from her mother's perfumery) the close collaboration of mother and daughter became even stronger. 'Whenever Anglea created a new fragrance, she'd call me in,' and Kate explains she felt the more she learned about perfume, through watching (and smelling) her mother first-hand, she suddenly found she had '…become her second nose.' And a fragrant bond we can share, as Angela named a scent 'Precious', too, inspired by her daughter, and so beautiful it became an award-winner.
When Angela sadly passed away in 2016, Kate took on the role as perfumer and creative director, saying 'I've inherited this incredible legacy and I want it to live on.' It wasn't easy, and Kate admitted 'I had a lot of re-learning to do, so for eighteen months I immersed myself in Angela's formulas, getting back in touch with her methods and retraining my nose.' What a wonderful tribute to her mother, and how Precious, indeed, to be carrying on her name with such care…
Chantal & Alexandra, Roos & Roos
Under her creative direction, Chantal Roos has seen some truly landmark fragrances from concept to launch; among them, L'Eau d'Issey and Jean-Paul Gaultier Classique and Le Male (she talent-spotted Francis Kurkdjian and invited him to create this), via YSL's Opium, Kouros and Paris, to name just a few. It was inevitable, perhaps, that Chantal would pass on her love of perfume to daughter, Alexandra; then one morning came the inspiration: 'And what if we worked together…?' So in 2014, Chantal and her Alexandra translated their shared passion for perfume into their own enterprise: an initial quintet of fragrances composed by Grasse-based 'nose' Fabrice Pellegrin.
Already an accomplished musician, with a successful songwriting and singing career (she has several albums to her name), Alexandra Roos helped her mother on various fragrant projects, and helped shape the musical themes to some of the Roos & Roos fragrances. Because after all, as Alexandra told us when they launched: 'there are real similarities between perfume and music. They're both invisible, yet they can change an atmosphere and bring. And they're both composed of notes and harmonies,' so this lyrical, emotional storytelling runs through the perfumes. It was a decidedly bold step, Chantal told us, to create her own collection of fragrances – after a career ablaze with triumphant launches for other brands, other famous names. 'But working with Alexandra on Roos & Roos is the adventure of a lifetime.'
Annick & Camille Goutal
Annick Goutal was born in Aix-en-Provence, the third daughter of a family of eight children, with a father who was a confectioner; as a child, she liked nothing better than tying up chocolates and small packets of sweets with beautiful ribbons – when she wasn't practising piano. Later, she moved to London and found work as an au pair, where her classic beauty was 'spotted' by legendary photographer David Bailey. But modelling didn't capture her heart, so she moved back to Paris and opened an antique shop (Folavril, after a character in a Boris Vian novel). When Annick had her first daughter, Camille, she began helping a friend launch a beauty store selling plant-based creams. Inspired by scent, in 1981, Annick created her first perfume, Folavril, soon followed by L'Eau d'Hadrien – still worn and loved all over the world. Her name became synonymous with fragrance as further scent successes followed, but unbelievably sadly, Annick died in 1999, at the age of just 53, after a long battle with cancer.
Fragrances, of course, are a kind of immortality – but more than that, Annick Goutal passed on her love of rich, complex fragrances to her talented daughter and 'muse' Camille. (Camille was the inspiration for both Eau de Camille, and Petite Chérie, a fragrance composed for young women.) Now carrying on the family fragrance name, but in her own style, Camille says 'I tend not to make my fragrances too 'personal', or based on people and places that are sentimental to me. Un Matin d'Orage, for instance, was inspired by a stormy morning on a business trip to Tokyo…'
Carolina Herrera & Carolina Herrera de Báez
Carolina Herrera's debut collection in 1981 caught the eye of none other than legendary Vogue editor, Diana Vreeland. By 1986, Herrera was designing the wedding gown of Caroline Kennedy, and she never looked back, awarded countless honours since from the fashion industry – including the CFDA Womenswear Designer of the Year and an honorary Doctorate of Fine Arts from the Fashion Institute of Technology in 2012. Her debut signature scent launched in 1988, with a men's scent in 1991. And in 1996, it was the turn of the designer's daughter to step into the perfumed picture, as Carolina Herrera de Báez joined as Creative Director at the fragrance house. Originally, Carolina Jr. wanted to become a doctor, studying sciences at Vassar. When she realised lab work wasn't her thing, Carolina spent several years in the film and audiovisual industries. She also opened a boutique showcasing clothing from new designers, and launched her own line of jewellery which she made by hand herself.
But in 1997, chatting to her mother, Carolina Jr. had the idea of helping her to launch a new perfume. 'It required evoking the spirit of New York, a spirit I missed so much that I thought it would be a great idea to translate that world I adored, and that I often longed for, into a language of aromas… to capture it in an evocative fragrance that would let you bring a whole world of sensations around with you in your bag, and bring you closer to the Big Apple, no matter how far away you were.' Carolina Jr. has now been the force behind almost a dozen 212 and Carolina Herrera launches. She clearly loves creating alongside her mother: 'It's really easy to work with her. We don't have exactly the same taste in everything, but we're not opposites, either. We complement each other very well.'
However you are celebrating Mother's Day – if you're finding it difficult to be apart, and perhaps otherwise find it a challenging day; we hope you will join with us in celebrating the ongoing success of these Mother/Daughter duos. And if you are missing your mum, or any special person in your ife – if they have a fragrance they wear a lot, buy yourself a sample or bottle of it and try spraying it on a scarf to sniff or wear whenever you most need a hug…
By Suzy Nightingale