Perfumers have been seduced by sandalwood's silky, sweet woodiness for centuries. Arabian perfume-makers would use the wood in pulverised or sawdust form as the base of solid perfumes and incense. In India, sandalwood's soothing, pervasive scent has long been considered an aid to meditation, helping to still a whirring mind. In rituals, sandalwood oil may be applied to the forehead, the temples, or rubbed between the eyebrows. And it's been used in many cultures as incense, burned on altars, as a way of communicating with the heavens.
Surprisingly, Santalum album isn't actually a tree but a parasitic plant which grows by suckering itself to the roots of other trees, and slowly growing as high as 10 metres. To extract the deep, sweet woodiness, wood or root chippings are steam-distilled. If you ever come across a piece of the wood itself, it's magical: the scent can still be enjoyed, years after it was harvested. (A little light sanding re-releases the scent, if it fades.)
In fragrance compositions, sandalwood is adored by noses because it's so versatile – it blending seamlessly with pretty much any note you can name, it also has the benefit of working as a 'fixative', tethering other ingredients and keeping them 'true', in a composition. Because of its universal appeal and effectiveness, and because so many sandalwood trees have been cut down in India, largely for production of perfume and incense – it's now highly protected, as it's often been illegally harvested.
The good news, however, is that plantations in Australia are now coming on-stream, producing sandalwood oil of high quality – to the relief of perfumers, fragrance-lovers and conservationists alike. Also, a wide range of excellent quality synthetic sandalwood-like ingredients are now used in place of this at-risk wood, to give that smooth milkiness.
This autumn, we urge you to seek out some of these sandalwood scents and revel in all its qualities…
Sana Jardin Sandalwood Temple
Moroccan neroli oil glimmers like motes of gilded glitter suspended in languid, late afternoon sunshine. Atlas cedarwood and Haitian vetiver add the dappled shade of a walk through nature, marvelling at stained-glass effect of sunlight through leaves. Rich vanilla and East Indian sandalwood swirls throughout – a sacred space to sigh, contentedly.
Try a sample of Sandalwood Temple in the Sana Jardin Discovery Set: £30 for 10 x 2ml eau de parfum
Fragrance du Bois Santal Complet
Inspired by waves of bliss you feel on sunny but chilly days, lemon's brightness frosted with coconut shavings gleams to the heart of soft violet and black pepper, before that creamy base sandalwood swirls like a cashmere wrap around your shoulders, a hug of warmth resonating with the amber, musk and vanilla that's a joyously sun-filled snuggle.
£245 for 100ml eau de parfum fragrancedubois.com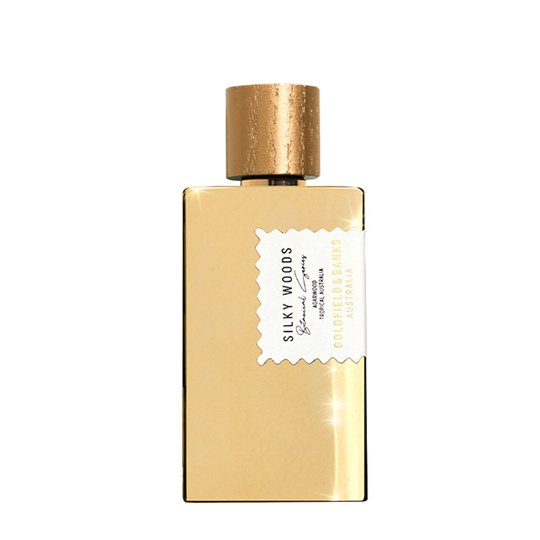 Goldfield & Banks Silky Woods
If a fragrance can ever smell like liquid gold, this is it – a smooth, molten swoon of Australian sandalwood, harvested sustainably for the first time in the Daintree Rainforest in Tropical Queensland. Spiced with a tingle of saffron, swirled with smoked vanilla and the hug of tobacco leaves in the trail, it's an all-day (and night) wrist-sniffer, for sure.
£180 for 100ml eau de parfum fenwick.co.uk
Escentric Molecules Molecule 04
Perfumer and founder Geza Schoen showcases the single note of Javanol – a sheer sandalwood synthetic molecule created from a natural substance at Givuadan in 2001. Mindblowing-ly fresh, and radiating grapefruit amidst the woodiness, it's a wake-up call for the senses which reveals the multifaceted versatility of sandalwood's appeal.
OR…
Escentric Molecules Escentric 04
Here surrounded by a supporting cast of complimentary notes, the Javanol shines like a polished gem with the added zest of lime, piquant pops of aromatic juniper and and the warm, almost sherbet-y fizz of pink pepper give an extra shot of freshness, while marijuana leaf softens the grapefruit pith (and adds to the addictiveness of the sandalwood scent).
Try samples of both these takes on sandalwood, plus EIGHT other pairings of single molecules and their 'Escentic' counterparts in the Escentric Molecules Discovery Set £25 for 10 x 2ml eau de parfum
Written by Suzy Nightingale