'Initio' is a Latin word, so we're told, with two meanings: 'the origin', and 'initiation' – and this renegade new perfume house sets out 'to initiate perfume as an object of power.'
First unveiled in 2015, a cloak of mystery enfolds this French perfume house. Artistic director Sonia (her surname is secret) prefers to talk about the influence of Patrick Suskind's book 'Perfume' – and the power of perfume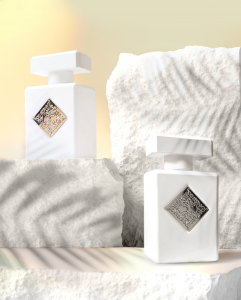 As she puts it: 'In the beginning, in ancient Egyptian times, perfume was used for everything except to smell good. It was used to create magic, to attract love, to purify the home, to communicate with the gods, to cure and to cleanse the body. Even up until today, in some countries, you have that culture of perfumes being used to clean and purify – in Morocco, Algeria and Tunisia, for example. Even in the Middle East, where they know perfume better than anyone, perfume is still used as an object of power.'
Initio Parfums seeks to share the animalic potency and perfume's role as an 'invisible pheromonal force' – but it does so via very beautiful fragrances, working with leading perfumers, including Constantin Gueros, Alexandra Kosinski, and the legendary Alberto Morillas and Maurice Roucel.
This is perfume as alchemy, explains Sonia. And so Initio Parfums has created distinct collections: The Absolutes (which focus on natural ingredients), The Magnetic Blends – which draw on some of perfumery's most fascinating and beguiling synthetics for their power, Carnal Blends, which are as daring as they sound. – And the new Hedonist Collection which focuses on sublime natural ingredients, a perfect harmony, the purest equation in perfumery and the highest quality formula. Commented Sonia in one interview, about the creative process: 'There were no budgets. We said to everyone: "The only limit is your imagination."'
Within the Absolutes universe, encounter Absolute Aphrodisiac, with softness of vanilla woven through the animal potency of castoreum and musk. Radiant and solar, Blessed Bakara – a blend of sandalwood, musk and amber – is 'endowed with a sacred strength to provoke luck.' Mystic Experience is as narcotic as it's promised to be – with a musk-coffee accord that 'captivates the senses'. Divine Attraction offers a fusion of leather and vetiver – equally at home on a man or a woman's skin. And don't be deceived by the innocent-sounding blend of range blossom and vanilla orchid, musk and honey in Addictive Vibration: this is seriously naughty…
Initio Parfums' REHAB is enthused by the idea of scent molecules triggering attractions and impulses, Initio honours this supernatural yet scientific dimension of fragrance by infusing its creations with a truly unique power. Part of the new Hedonist collection, Rehab is revealed by a skilful combination of Bergamot, natural Lavender, Black Pepper and various spices. It reaches an ultimate balance by lying on a bed of natural Sandalwood and Musk perfecting a modern fougère olfactory experience.
Magnetic Blend 1 is 'bestial, deeply erotic – all the power of ambergris in a molecule with pheromone effects', while Magnetic Blend 7 echoes the effect of animal musk. As Initio Parfums put it: 'Magnetic 7 fuses with skin, revealing its inner nature. Like fire under ice, its sweet violence builds to a devastating crescendo…' Musk and frankincense, meanwhile, combine in Magnetic Blend No.8: 'A blend of carnal potency and supernatural vibrations.'
And as if that wasn't erotic enough, most recently Initio Parfums introduced The Carnal Blends – 'mini-bombs of sensuality that speak so clearly to our intimate animality…' You can explore High Frequency, fusing magnolia and almond with an overdose of hedione that 'detonates the final explosion'. Side Effect offers a harmony of tobacco, vanilla, rum and cinnamon, with 'the power to plunge its wearer into that altered state where nothing is too daring because there are no risks left.'
And beyond even this, Initiio Parfums' recommendation is to layer the Absolutes with the Magnetic Blends or the Carnal Blends, to create an entirely customised – and utterly irresistible – fragrance. Ultimately, they ask the question: 'What if your instincts were guided by your sense of smell, leading you towards new adventures…?'
This is certainly an intriguing place to embark on such a journey…