Until the 50s, fragrance was something women mostly reserved for high days, holidays – and birthdays. Until one very savvy, go-getting New York beauty entrepreneur – by the name of Estée Lauder – had a brainwave. So the game-changing fragrance Youth Dew began as a bath oil, something – as she once told The Perfume Society's Jo Fairley over tea at New York's Plaza Hotel. 'Back then, a woman waited for her husband to give her perfume on her birthday or anniversary. No woman purchased fragrance for herself. So I decided I wouldn't call my new launch "perfume".  I'd call it Youth Dew,' (a name borrowed from one of her successful skin creams).
'A bath oil that doubled as a skin perfume to buy, because it was feminine, all-American, very girl-next-door to take baths. A woman could buy a bath oil for herself without feeling guilty or giving hints to her husband.'  And when Mrs. Lauder declares that women's status got a boost when 'a woman felt free to dole out some of her own dollars for scents,' who can argue with that…?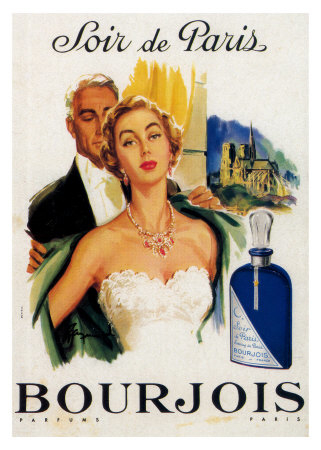 And so perfume – without losing any of its magic and mystery – became something that women could indulge in every day of their lives. More 'affordable' brands appeared on the shelves:  Revlon, Coty, Yardley, Max Factor:  big 'hits' were Lenthéric Tweed, Coty L'Aimant, Max Factor Hypnotique, and their Primitif. Yardley's Lily of the Valley or French fern bath salts were a must for Christmas stockings – and 'ordinary', hard-working people who'd never dreamed of owning and wearing fragrance began to be introduced to the perfume universe.  Revlon's Intimate was a big blockbuster, taking the complex and luxe concept for Miss Dior and creating an accessible, mass market fragrance.  From Woolworth's, meanwhile, teenagers treated themselves to pocket-money-priced Soir de Paris, from Bourjois (which romantically translated as 'Evening in Paris'.
Fast-forward to the 1960s, and these were decades of relative prosperity:  for the first time, overseas travel wasn't just for the rich elite. Heading abroad? You could browse the world's perfumes in Duty Free, and browse in foreign perfume shops, coming home loaded with bottles of Madame Rochas, Houbigant Chantilly, Sortilège (and for those who took the long flight to America, bottles of Youth Dew…)
Designers continued to make their mark in perfumery: the 'boy wonder' Yves Saint Laurent unveiled his 'Y' in 1964, and Rive Gauche in 1968.  And then came mini-skirts. The Beatles. Pop Music. The Pill. Parents everywhere lay awake at night worrying about their daughters' virtue in 'Swinging London' and beyond – and things would never be the same again: it was as if the whole focus had shifted, through this 'Youthquake'. And did they wear perfume? You bet:  fashion brand Mary Quant launched a range of fragrances – including the aptly-named Havoc, travelling back and forth between Grasse and London for a couple of years. 'I wanted a truly modern scent. Most of the perfumes are so old-fashioned, I wanted something frankly sexy,' she said. Her range had two offerings:  one for night, one for day – because as Mary put it, 'to wear a sexy perfume in the daytime is like getting up in the morning and putting on a chiffon dress…'  Girls who didn't wear Mary Quant might, meanwhile, be borrowing their boyfriend's Eau Sauvage, from Dior: a brisk, citrussy Cologne-style masterpiece.
And there was another fragrance trend, simmering away in the background. The counterculture voice of the 60s, Hippies snubbed their noses at corporate mainstream fragrances.  Grungy, unkempt and determined to question (or even break) society's rules, the Hippies gravitated towards Indian culture and became fascinated with essential oils such as much, sandalwood and patchoul, that rich, earthy, mossy exotic essence. They didn't bother with sprays;  they simply dabbed the oils on their pulse-points, tuned in, turned on – and dropped out…
Yet more change was coming, for women, who were starting to think about, march for (and even burn their bras for) equality. Where would that leave fragrance…?