You know something? We prefer to write about fragrances on this site when you can get your hand (and noses) on them.
So, despite more leaks about the hotly-anticipated Mon Guerlain than the Trump administration's White House, we're pleased to tell you that Thierry Wasser and Delphine Jelk's creation can now be discovered, explored and enjoyed at fragrance retailers up and down the country.
You'd have to have been living in a cave not to know that Angelina Jolie is the 'face' of this fragrance – which has been created to form 'an invisible tattoo on the skin' (unlike those visible in the film below, of course).
To us, it is truly rooted in Guerlain's heritage: a fresh-Ambrée with a decidedly gourmand edge, thanks to lashings of Guerlain's signature vanilla (sourced in this instance from Papua New Guinea). It's been quite some global journey for Thierry Wasser (who is eternally hands-on with the sourcing and quality control of ingredients), to assemble Carla lavender from Provence, Indian sambac jasmine and Album sandalwood from Australia, a new sandalwood which – he tells us – is 'closest to the Indian sandalwood perfumers have always loved to work with, but which is now endangered and out of bounds.'
There are resonances of the legendary Jicky, with its vanilla and lavender accord – but this is a completely contemporary fragrance: grown-up, sophisticated but with a breeziness in there, too.
In fact, we find all sorts of nods to Guerlain's unrivalled fragrance heritage, here. Just look at the visuals below for the Angelina Jolie print ad – and the advertisement for Guerlain Vega, dating back to 1934.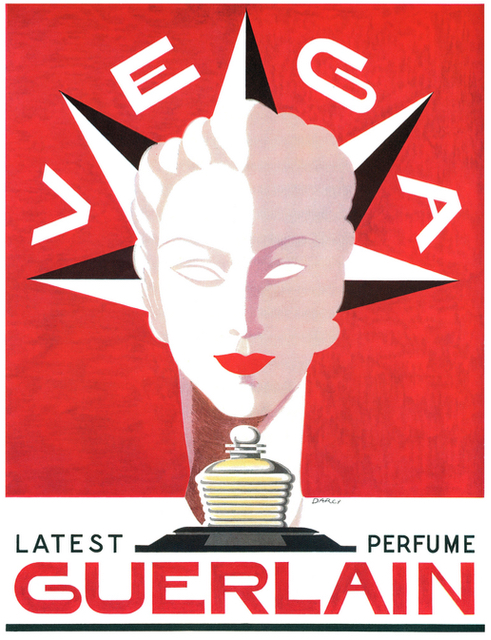 The bottle used, meanwhile, is the famous quadrille bottle first dreamed up by Gabriel Guerlain, and fashioned by Baccarat back in 1908. Here, this graphic shape is given a nod to modernity by a chased gold collar.
At The Perfume Society, we aren't going to tell you what to think about any fragrance. We're all about leading you by the hand (and the nose) to what's out there, helping you to train your sense of smell (and build a fragrance wardrobe). To us, the most important thing is to try fragrances on your own skin (tattooed or not), and make up your own mind. We say: hot-foot it to a Guerlain counter or a fragrance store PDQ, and join the Mon Guerlain conversation.
Although first, you might like to feast your eyes on this…

Guerlain Mon Guerlain from £45 for 30ml eau de parfum
Find it at Guerlain counters nationwide, good perfumeries and selfridges.com
Written by Jo Fairley