&nbsp
Words with the master: Dominique Ropion talks perfume creation
Many of us who love fragrance and are trying to 'join up the dots', making connections between scents we've fallen for and are intrigued by have encountered the work of Dominique Ropion. His career spans 36 years, highlights of which include Givenchy Amarige, Cacharel Amor Amor, Lancôme La Vie Est Belle. His name has featured on the label of several Editions de Parfums Frederic Malle including Portrait of a Lady (and he's the genius behind Frederic Malle's latest launch, Superstitious, which you can read about here.)
We're always fascinated to find out more about the extraordinary creative process behind what goes into the bottle. (And on the subject of bottles, Carolina Herrera Privée is one of the season's glamorous stand-outs: clad in sassy red leather, bedecked with a bow and gold charms a-dangle.)
Here, then, we feature an interview with Dominique Ropion – and some additional Q+As with Carolina Herrera de Baez, who's the driving force behind the Carolina Herrera fragrance line and who worked closely with Ropion on a juice inspired by her mother's flowing couture designs. Here, he opens up about flowers and leather, conceptualisation – and his collaboration with Carolina Herrera.
Can you talk a little bit about how Carolina Herrera inspired you to make this scent?
The fact that at the time the brand was making some incredibly luxurious and sensuous dresses brought the initial inspiration for the perfume. The ingredients that you chose, where do they come from? Why did you choose them? D.R. The osmanthus came from China. This flower has a sophisticated scent displayed in different facets. First, there's a smell of leather, and then it shows fruity and floral notes. The vanilla from Madagascar is interesting too, there's a relevant leatherface in the raw material.
What sensations were you looking to transmit when you came up with this fragrance?
I believe in combining opposites to unveil new equilibriums and surprising formulas. Starting from the duality between luxury and sensuality, I wanted to build a powerfully feminine fragrance able to showcase the extraordinary quality of all the ingredients in its composition.
In what ways do you think these ingredients symbolise the CH Privée moments?
The way the fragrance is composed encompasses the spirit of CH Privée. Although the perfume remains abstract, you can feel the luxurious ingredients and the qualitative raw materials that leave a rather sensual signature.
Do you have a close relationship with the creative team at Carolina Herrera?
We work closely with the team at Carolina Herrera, and we've managed to build a relationship full of synergies. They embrace and communicate the spirit of House of Herrera like nobody else, which greatly facilitates my work. Besides, Carolina Herrera de Baez is the personification of the brand; it's been an honor to collaborate with her as Creative Director of Carolina Herrera Fragrances.
And the process of creation from the beginning, how does that work?
Collaborations in perfumery are similar to partnerships in architecture. We all work on the same blueprint, but respectively with our own vision. First, we agree on what we're looking for. From there, we develop a series of directions and share them with Carolina Herrera de Baez asking for feedback on her preferences, notes, and intensities. Then, we focus on refining the fragrance, exploring different directions, various facets for the perfume.
How do you think the scent works with femininity, containing a leather note that's slightly stronger than other elements usually used in women's fragrances?
This perfume is sensual and delicate. Sensuality is not the first thing you perceive, but the floral trail announces something unique.
Can you talk to us a little bit about the red leather concept? What does red leather mean to you?
The meaning of red leather to me is abstract. When I start building something, I don't know what the final result will be. Starting off with raw materials that go in the same direction, even if they come from different olfactive families, in the end, we arrive at a new perfume that surprises and enchants us.
Have you always been able to experiment in the same way to create a perfume?
With CH Privée, I discovered this way of working for the first time. Blending, mixing, putting together all these different elements. From the initial idea, we could have gone in an entirely different direction; perfumery is a world of infinite possibilities.
Can you describe the fragrance using three adjectives?
Elegance, sensuality, and femininity. Elegance comes from the sophisticated structure of the fragrance, leather and musk bring the sensuality, and the final result, CH Privée, is the epitome of femininity.
CH Privée is constructed around the moments when a woman is in private. What do you think makes those moments special?
Carolina Herrera de Baez: There's nothing more sensual and feminine than a little privacy, the moments a woman spends with herself, with her thoughts, before going out into the world, capture the intimacy that represents the whole idea behind CH Privée. Mystery and sensuality are profoundly linked.
Dominique Ropion: Mystery and sensuality are intrinsically united, and femininity adheres perfectly. All of these attributes are consistently revealed in perfumery.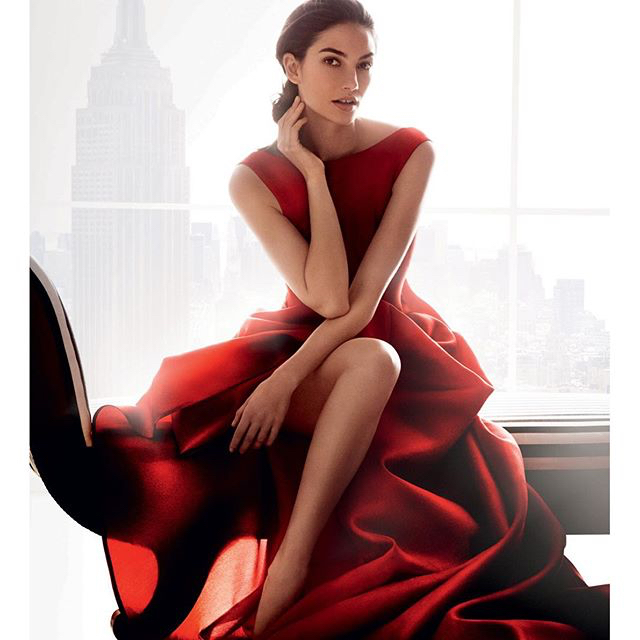 CHdB: What do you associate with CH Privée and the concept of femininity?
Some mystery and intimacy.
CHdB. Oh! Intimacy! I like that. There's something particularly appealing about CH Privée and the way it conveys femininity. This perfume is based on a leather scent, which is often used in men's fragrances.
CHdB. When you think of femininity and sensuality, leather is not the first thing that comes to mind. Leather is an ingredient intrinsically associated with men's fragrances, and we've decided to use it at the core of this extremely feminine, sensual perfume. (To Dominique) How did you work the leathery notes to make CH Privée so feminine?
D.R. I started with the selection of the most refined ingredients for its formula and then pushed forward their leather accords, which in some cases are quite hidden. Osmanthus is a main character with a flower that has a fruity note of apricot, and a floral accord close to a violet. Fruit and flower opposite a strong leathery facet at the heart of its scent; the core note we wanted to build around.
CHdB. It's such a feminine ingredient. It reflects and reveals a woman's sensuality and graceful kindness, the attributes that make her feminine and mysterious. You can tell there's more to her than meets the eye.
D.R. You're right in saying that leather is connected to a masculine identity but in any feminine universe, there is a masculine component too. It's fascinating to combine both of them.
CHdB. Powerful women are stronger when they're most feminine. Some people think a powerful woman has to wear a suit and dress like a man, but I think the opposite is true.
D.R. I absolutely agree. The color red is key in the Carolina Herrera universe. What does it mean in this particular fragrance?
CHdB. Red is a color that we often use and genuinely love at House of Herrera. It's associated with passion and power, and also with femininity and sensuality. (To Dominique) How did you interpret that?
D.R. Red is mainly gathered on the spicy notes which are part of the formula. At the head of the perfume, there's pink pepper oil: spicy, fresh, and topping. This adamant note is deeply rooted into the red leather effect and brings life to the fragrance. Red is life itself.
CHdB. Life and fire. It's quite difficult to translate something so evo- cative, and so mysterious into a smell; a concept like sensuality, the color red, a fragrance like CH Privée. In this case, everything fits flawlessly, and it's because of the ingredients.
D.R. CH Privée has been constructed classically, but the association of raw materials we have selected makes it different and completely unexpected, mainly because the perfume is envisioned around this leathery concept. The osmanthus flower's role is vital, and there, we're onto something new.
CHdB. The interestingly challenging and fun part is right there; working with a classic construction to create something thoroughly innovative.
D.R. Exactly. CH Privée is a fragrance with an identity. A good per- fume is a perfume that can be recognized immediately; a scent that has a strong personality. That's what we've done with CH Privée.
CHdB. An unexpected classic fragrance that perfectly represents the Carolina Herrera woman. She's classic and at the same time, utterly surprising.
How do you explain the fact that even though we live in world deeply reliant on online interactions, perfume remains relevant?
CHdB. Perfume will never be irrelevant because of its very nature. It's based on sensorial memory, and once we lose that, once we lose the ability to dream and make memories, we're done as human beings. The beauty of perfume and its mystery will go on forever.
D.R. I couldn't agree more, and I would add that the reminiscences of a fragrance remain deep inside us.
Is there a correct way to wear CH Privée? Should one wear more or less?
CHdB. The right way to wear perfume is the way a woman wants to wear it…
By Jo Fairley (but mostly by Dominique Ropion and Carolina Herrera de Baez)
Caroline Herrera Privée £78 for 80ml eau de parfum
Exclusively at Harrods