When a leading London department store gives an entirely new fragrance brand its own counter positioned between Frederic Malle and Le Labo, that's a clue that you're about to smell something exciting.
Vilhelm Parfumerie might not be the catchiest-named perfumery – Vilhelm was the name of Swedish-born, New York-based founder Jan Ahlgren's grandfather (and is his own middle name) – but we think you may be hearing it a lot. (Scroll down for Jan, BTW.)
'Vilhelm links me with admiration and love to my paternal grandfather who was quite a guy – tall in a country of tall men, the walking definition of debonair.' (Ah, so that's where he gets it from.) 'Witty, wise, impeccably dressed, with charisma that bubbled over into the air of any room he entered. I inherited his height, his love of jazz and laughter, a few vintage suits… and my memory of the custom-blended Cologne he always wore gives me tremendous respect for the power of scent to communicate feeling, even through distance and time.'
Former globetrotting male model Jan (who's astonishingly camera-shy, for a man who's spent so long in front of them!) is launching not only into Liberty, but Paris's Colette and several Barneys stores, in the US. He got into fragrance as an accessories designer, seeking to scent leather for the customised handbags he was making. On meeting Robertet perfumer Jérome Epinette – who's created most of the fragrances for Byredo, as well as the & Other Stories scents – the two became close friends, sparking a highly creative partnership.
As it that wasn't enough of a dream team, the bottles have been designed by the legendary Pierre Dinand – now 83 years young (and still kite-surfing!) And if you think that the packaging's just clever graphics, BTW, turn each box (designed by Swedish agency Grand Public) on its side – and see the name of the fragrance repeated, dozens of times over.
And as we sniffed our way through the portfolio of eight (which launched yesterday into Liberty), each excited us even more than the one before…

Morning Chess conjures up the outdoorsiness of the family's Swedish coastal summer cottage, where his grandfather played epic chess games with Jan's father. It's grassily green, fresh with bergamot, galbanum breezing through the heart, grounded by patchouli and black amber.
Dear Polly is 'a love letter to my wife', explains Jan – infused with the black tea (that note again!) which she drinks each morning, alongside bergamot, apple, oak moss, musk and black amber. 'It's my way of ensuring we're never apart,' smiles Jan. (And with the travelling he's going to be doing, that's probably just as well.)
Stockholm 1978 – yes, that's the date and place of his birth – is uplifted by lots and lots of geranium. Close your eyes and get a splash of lemon. Wrap yourself in the warmth of almond, and enjoy the long-lasting silage of patchouli, black amber and moss.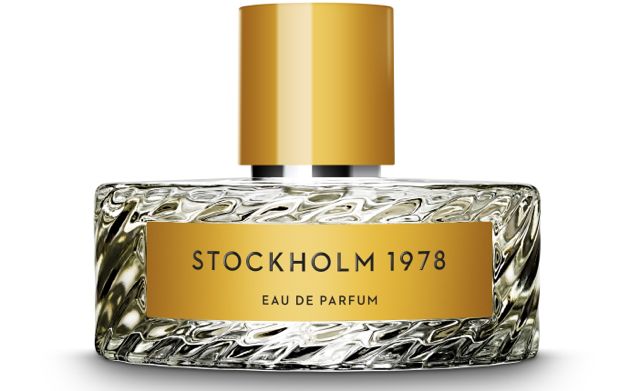 Smoke Show is the one for vetiveraholics, blending that earthy grass with leather, rose, oudh and saffron. It's dark rooms, jazz, mystery – and FYI, Jan's wearing it today.
Opus Kore – a.k.a. the Greek goddess Persephone (who knew, unless you're a Classics scholar?) – bursts into bloom with pink magnolia and raspberry blossom, lifted by Sicilian lemon and (we've not smelled this before) açai berry, in the top notes. Beneath? Sandalwood, skin musks, crisp amber; it takes a while for Opus Kore's sensuality to tiptoe in, but it's worth waiting for.
Fleur Burlesque is 'the Belle Époque, alive in the spotlight at the Moulin Rouge, enchantingly aglow in Maxim's soft candlelight…' (Those are the stories Jan weaves for Jéerome – he really doesn't claim to be an expert on individual smells – and from those tales the fragrances are born…)


Black Citrus is one for locals: 'the romantic, clean breath of London after a rain squall.' How did Epinette recreate that? Via cardamom, Calabrian bergamot, maté leaves, violet, Indonesian patchouli and birch, which delivers a tarry after-tang.
Room Service – the story we love the best: 'It's Greta Garbo taking a bath in roses at The Carlyle Hotel', smiles Jan – and that's exactly what he shared with the perfumer.
You can see why we're on tenterhooks for the next chapter…
Vilhelm Parfumerie £140 for 100 ml
Try it at Liberty