Not to suggest we're obsessed or anything, but having spotted several scent themed decorations out there, we've decided that no Christmas tree is properly dressed without a fragrance related bauble.
Yes they look pretty, but they also make stocking-fillers, a last-minute panic gift (when your great-aunt someone or other turns up un-announced with a present for you) or (even better) a well-deserved treat for you at the most teeth-gnashing, hand-wringing of stressful times. Ignore the chaos and focus on these perfumed pretties – here's what we're hanging on our tree this year…
Dangling from a Liberty print ribbon, this open-work heart pomander is great value for money, as it can be filled with your choice of solid wax home fragrances that last up to three months. The scents are: Rose Acienne, Mille Fleurs, Tubereuse Mysore, Amber, and Cologne Neroli. We're wondering if we could also hang it from a longer ribbon round our necks!
Silver Heart Pomander by BERRY RED, £3
At notonthehighstreet.com
Finished with a dainty white grosgrain ribbon tie, inside you'll find The White Company's Verveine scented shower gel. With uplifting notes of verbena, orange and lemon, it's a great perk-you-up citrus for getting through the grey morning winter blues.
The White Company Verveine Bauble, £8
At The White Company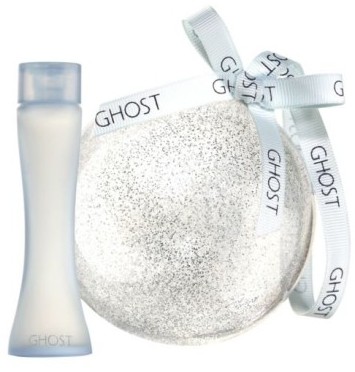 A dinky little 5ml bottle of GHOST perfume is nestled within this silver sparkle covered casing, with its familiar softly powdered floral notes, vanilla, amber and white musk. Just darling!
GHOST Fragrance Bauble, £5
At Boots

Filled with travel sized treats from their deliciously scented Almond collection to nourish our goose-pimply skin, L'Occitane have generously packed this bauble with Almond Shower Oil, 35ml; Almond Supple Skin Oil, 15ml and Almond Delicious Hands, 10ml.
L'Occitane Indulging Almond Bauble, £10
Exclusive to John Lewis
Molton Brown's Eucalyptus shower gel certainly packs a punch for the inevitable sniffles that occur at this time of year. With notes of mint and cedarwood to further refresh and soothe the soul, we love the festive colour, too.
Molton Brown Eucalyptus Shower Gel Bauble, £10
At Molton Brown
You know our tip of combining fragrances with body lotions to make the scent last even longer on your skin? How about a charming little set of English Pear & Freesia Cologne (9ml) and Nectarine Blossom Body Crême (15ml) in a terribly smart little gift box? Yes please!
Jo Malone Christmas Ornament, £24
At Jo Malone
Not exactly a bauble, and not even just for Christmas – your tree may need to be of the sturdier variety to accommodate Diptyque's exquisitely scented wax oval; but you can bury this in your lingerie drawer or hang it in the wardrobe afterwards!
Diptyque Figuier Scented Oval, £32
At Diptyque
Written by Suzy Nightingale