To get straight to the point (I'm not even sorry) the scent of pencil shavings is often cited as one of the most-loved nostalgic smells. One whiff can transport us to nostalgic reveries of childhood, and the giddy 'back to school' excitement of buying a new pencil case and assorted accessories.
'In spite of everything I shall rise again: I will take up my pencil, which I have forsaken in my great discouragement, and I will go on with my drawing.'
So which pencil did Van Gogh for? He reportedly favoured a carpenter's pencil for his intial sketches, at first, but later came to prefer a Faber pencil, writing to his brother that 'They're soft and better quality than the carpenter's pencils, produce a marvellous black and are very agreeable to work with for large studies.'
Pencils matter very much to the writers, artists, creative thinkers, list-makers and stationery nerds among us. Because, no matter our actual experiences of school – gilded, halcyon days for some, unsettling and full of trepidation for others – that scent just takes us right back; and in a perfumer's hands, can evoke a kind of olfactory optimism.
The pencil as we know it today was invented in 1795 by Nicholas-Jacques Conte, a scientist serving in the army of Napoleon Bonaparte. Previously, pure carbon (what we call graphite) was wrapped in material or used on its own for mark-making. When it was first discovered, carbon was mistakenly believed to be lead, and, as the always excellent brainpickings.com informs us, '…was called 'plumbago' or black lead (hence the 'plumbers' who mend our lead water-carrying pipes), a misnomer that still echoes in our talk of pencil "leads".'
Most often, we hear people sniffing cedar-rich fragrances ahhh-ing blissfully and saying 'pencil shavings!' when asked what they're smelling. And there's a good reason for that. As wood-database.com tells us (there really is a website for everything, isn't there?): cedarwood 'is the primary material for wooden pencils, because it is soft and tends to sharpen easily without forming splinters.'
Perfumers love cedar for its smooth, dry resilience, and its ability to play well with so many ingredients. It smells woody, obvs, but that's just too simple: it also has a freshness, with hints of resin. If you've ever walked in a lush, evergreen forest, cedar will whisk you back there, as well as the schoolroom. It's mostly the foliage (from trees grown in the Atlas mountains of Morocco, or Virginia in the USA), then steam-distilled to produce the intense oil, which is also used in aromatherapy for calming and balancing.
The artistry of precise pencil sharpening is not to be ignored, either. David Rees enjoyed it so much that he wrote a book on How to Sharpen Pencils: A Practical and Theoretical Treatise on the Artisanal Craft of Pencil Sharpening, and he was so good at it, he took to being paid to sharpen other people's pencils. Though the demand has been so great, Rees has since stated he has 'effectively retired' – now charging up to $500 for his services, so that '…I don't know if I'm technically retiring, or just raising my prices so high that I assume I will never have another customer.'
Many fragrances wishing to evoke the schoolroom must also find a way to incorporate the slightly metallic aroma of graphite – along with the cedar, wood polish and other, more abstract smells that somehow represent a sense of naivety, a yearning for a chance to start again, captured in a bottle.
Some smells associated with school are best left out of a fine fragrance – overcooked cabbage, damp mops and sawdust covering various effluvia sping to mind; but these fragranced products and personal scents are cleverly composed to provide a highly refined – and sometimes welcomingly whimsical – time-travel trip for your nose…
Noted pencil-makers Caran d'Ache have collaborated with perfumer Alberto Morillas' fragrance house, Mizensir, to create pencils infused with the scent, Alps Spirit. The set of four graphite pencils 'carved from fine woods and manufactured entirely in Geneva will transport artists to the opulent Alpine region' via foresty patchouli, musk and nutmeg and a background glow of subtle orange, to recreate '…the sensation of watching the awe-inspiring sunrise over the Alpine peaks.'

Caran d'Ache + Mizensir Pencils No.9 £35
carandache.com
A novel take on the traditional reed diffuser, here Hindmarch uses ceramic pencils to draw up the scent and diffuse it into the room. The Pencil Shavings' scent is satisfyingly dry and woody, with the cedar punctuated by mandarin, pink pepper, rose, cypress and a surrealistically realistic accord of 'novelty erasers and fresh notebooks.' Adding quirkiness and humour to a WFH (Working From Home) desk, the expression definitely matches my own on many a day.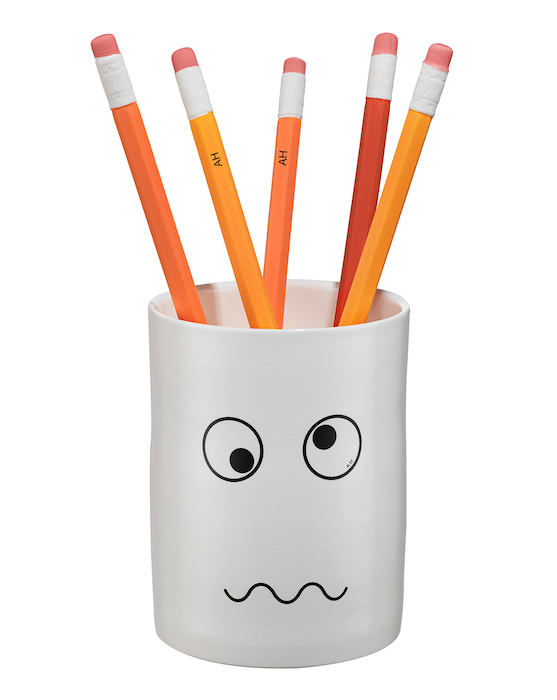 Anya Hindmarch Pencil Shavings Diffuser £99
anyahindmarch.com
Drawing a huge number of fans, this classic cedar-rich fragrance from 2008 is the daddy of pencil-shaving scents, if you like, for those seeking a hit of nostalgia. Apart from the reassuringly long-wearing drydown of cedar swirling with sweet tobacco and supple leather (the teacher's study, maybe?) bright shards of bergamot and leafy violet atop loamy patchouli beckon lunchtime walks in the woods.
Gucci Pour Homme £56 for 50ml eau de toilette
theperfumeshop.com
A perfumed portrait that Byredo describe as 'A modern scent reduced to the essential,' those seeking simplicity will sigh at the shade of Virginian cedarwood and cool Haitian vetiver, with a scatter of rose petals and silky musk in the base. Deliberately reminiscent of pencil shavings, it will immediately evoke '…a sense of nostalgia for school days and simpler times.'
Byredo Super Cedar £115 for 50ml eau de parfum
byredo.com
A scent memory etched in time, there are wafts of old wooden school desks, pencil shavings and chalk dust – the gentle scratching sound of charcoal on paper as young artists draw their dreams. Memories are played out in hints of lemon and earthy angelica root, a joyful giggle of cocoa, geranium and the sheen of freshly waxed floors reflecting in the comfort of the cedar base. It feels like wearing the pages of Enid Blyton's Mallory Towers – she said, dating herself – or any school-set book series involving cosy intrigue, pillow fights and the alluring promise of midnight feasts.
MiN New York Old School Bench
harrods.com
Book nerds need to check out this fine art fragrance collaboration between Rory Sparks of the Working Library and artist and writer, Catherine Haley Epstein. 'A collaboration combining a love for scents and pencils – a one of a kind homage to a favorite studio tool,' this limited edition has that freshly shaved woody hit and the metallic hint of graphite illuminated by citrus. The Midi Set includes 7.5 ml of the handcrafted fragrance, a pencil with a custom message, and a letterpress insert.
Rory Sparks + Catherine Haley Epstein No.2 Midi Set $50
catherinehaleyepstein.com
I'll leave the pun to perfumer Dawn Spencer Hurwitz, here, as she asks 'Isn't there something romantic about pencils? The old school kind (get it?)' Fully fledged daydreams abound in the interplay of Atlas and Texas cedarwood amidst a hazy drift of choya ral (the smoky, leathery balsam made from the burnt resin of the Indian Shorea robusta tree) and dusty motes of oakmoss dancing in the distilled sunlight of petitgrain. Hurwitz excels at making natural fragrances slowly reveal their wonders in a way that's astoundingly nuanced yet so delicately handled.
DSH Perfumes No.2 Pencil Shavings
dshperfumes.com
Although not a cedar fragrance, I simply couldn't leave out the tender image so beautfully transcribed in scent by Memoize – a melange of memories that tumble through layers of rose, burnished leather and the smell of distant bonfire smoke in the air, conjured by the oudh wood in the dry down. Created to inspire feelings of self-confidence and self-worth (something we could all do with a dose of right now), they describe the fragrant vision 'Recalling a first day of school, the pruned rose bushes, games in the woods, the leather strap of a satchel, a mother's proudest moment…'

Memoize London Superbia £177 for 100ml eau de parfum
memoizeperfume.com
I'm fully aware that the notion of 'back to school' doesn't represent an unsullied pleasure for many of us – either our own memories or the particular concerns surrounding students returning to classrooms this year, in the continuing fallout of a global pandemic. But much as learning the art of lucid dreaming can transform a nightmare into an adventure; the wonderful thing about fragrance is that we can use it to shape our own recollections, to create new scent memories. And there's no doubt, that cedar-y smell of pencil shavings – whether deliverved via a perfume, home fragrance or an actual pencil imbued with the scent itself – speaks of simpler times, of hopes and dreams, the blank pages of life yet to be filled.
Or, as Catherine Haley Epstein so beautifully puts it: 'the ideas of freedom, focus and unlimited possibilities in the head.'
Written by Suzy Nightingale