Buying perfume for some is a very personal gesture. Or at least, it should be. We believe in taking time to find out what someone really loves – or helping you to identify something new for them via our psychic online 'Fragrance Editor' (FR.eD, for short). More here about that…
But another way to make the gift intensely personal, deeply special – and truly show you care – is to give someone a bottle featuring their initials, name or even a message. Personalisation is the hottest gift trend for 2017 – and the perfume world hasn't been slow to get its engraving tools out.
Alas, it's too late to get most engraving done in time for Christmas. But maybe bookmark this post for birthdays…?
Thierry Mugler
Any of Mugler's fragrances can be personalised via engraving – although the service takes a while (10 days normal service, five for express). What we truly love about Thierry Mugler is their pioneering stance on refills: each bottle can be taken to The Source (in selected locations) to be replenished, cutting down on packaging hugely. So: an engraved Mugler bottle might well be used and treasured for years. (This picture via The Beauty Series blog.)
For more info visit mugler.co.uk
Jo Malone London
As you can see from this lovely 
Lily Pebbles
 blog photo, 
Jo Malone London
 will personally engrave bottles – but also candles and bath oils. The caps can be engraved, too, with up to three letters, while a name or message can be etched into glass. The service costs £15 and order time is around 10-15 days.
For more info visit jomalonelondon.co.uk
 Floris
Floris London
 offer complimentary engraving as part of their 
Bespoke Perfume Design
 service (you will also enjoy a 'customised' fragrance, with new accords being added to a fragrance from within Floris's wide and gorgeous portfolio. One of London's oldest perfumeries, with an extraordinary heritage, you might find yourself in very good company: with X royal warrants to their name, might there perhaps be a bottle out there engraved with 'ER'…? (Picture via 
Fashion Mumblr
 blog.)
Guerlain
The bottle in this post's featured image was actually engraved at the Guerlain boutique on Paris's Rue Saint-Honoré where – as you'll read here – you can also personalise the colour of the bottle, the thread around the neck, the ribbon that the exquisite package of your selected fragrance is tied with… Closer to home, however, you can have a bottle of ultra-feminine Guerlain Mon Exclusif decorated at Selfridges Oxford Street, with a name, short message or initials.
For more info (and other locations where the service is available) visit 
guerlain.com
Boots Emporium
Boots Emporium (their most upmarket, exciting locations) offer a perfume bottle engraving service. We haven't checked it out ourselves – do let us know how you get on – but the service is apparently available across a wide range of perfumes. (Visual also via 
Fashion Mumblr
 blog, with our thanks.)
For more info (and your nearest 
Boots Emporium
 location) visit 
boots.com
Penhaligon's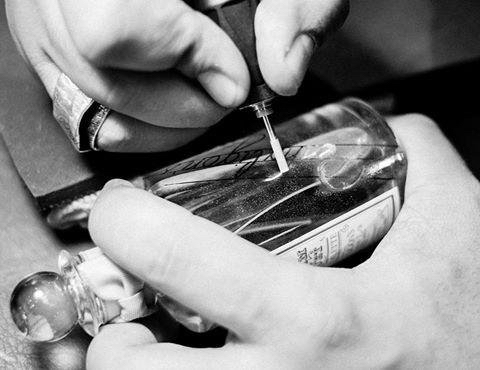 Penhaligon's offers a complimentary engraving service offered on 50ml or 100ml bottles purchased in their glorious flagship boutique on Regent Street. (Don't forget that if you're a Perfume Society VIP Subscriber, you'll enjoy a 15% discount on purchases in this and other Penhaligon's stores.)
Penhaligon's
, 125 Regent Street, London W1B 4HT – for more info, visit 
penhaligons.com
The Perfume Shop
Fragrance is already a wonderfully personal gift – but why not make it even more so with The Perfume Shop's engraving service? It's available on many, many different bottles via on-line ordering (see the full list by clicking below), starting at just £5.99.
For more information, visit theperfumeshop.com
Burberry
My Burberry becomes just that with the on-line monogramming service for the eau de parfum, eau de toilette and My Burberry Black versions of this fragrance. In general, they offer complimentary next day delivery provided you order before 7pm Monday to Thursday – but around Christmas that might be pushing it.
For more info visit burberry.com
And whichever fragrance, monogram or message you choose, there's just so much Brownie point potential, with any of them…
By Jo Fairley