Solid perfumes come equipped with a whole host of pros – so we're pretty happy they're making a comeback. Many of the team have been hooked for years, and it's the pretty packaging and texture that gets us the most – along with the glorious scent, of course.
You see, there's nothing quite like the feeling of pulling a bejewelled case out of your make-up bag and dabbing its buttery smooth contents on your wrist to top up your favourite fragrance. The blend of oils and waxes can last longer than liquid versions, too.
What's more, solid perfume makes for a great way to keep scent on you at all times without having to lug around heavy bottles – and if you're off on holiday soon, you can take it in your hand luggage for a mid-flight top up.
Here are a few of our favourites…
Le Soft Perfume Parisian Rhapsody, £20
Buy it at: Cult Beauty

Le Soft Perfume was created by Isabelle Masson Mandonnaud, the very same lady responsible for the beauty hub that is Sephora. It heralds a natural base of mango butter and tamanu oil to nourish your skin, all while adding a powdery, fruity scent. You'll discover notes of rose and jasmine, layered over plump red fruits and orange and rounded off perfectly with a hint of nutmeg.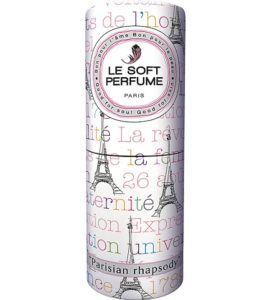 Estée Lauder Golden Cocktail Ring, £95
Buy it at: Estée Lauder
Touching up your perfume has never been easier. Simply flip open the lid of this genius ring and you'll discover Etsée Lauder's signature scent Beautiful – in long-lasting, solid perfume form. A delectable  floral bouquet of rose, lily, marigold and orange blossom, delicately warmed by a woody base with a dash of citrus.
Amouage Epic Woman Solid Perfume Compact, £70
Buy it at: Selfridges
A spicy, ambrée composition housed inside a golden engraved compact so you can freshen up your scent on the go. The fragrance draws its inspiration from the legends of the ancient Silk Road from China to Arabia, with notes of cinnamon, cumin, jasmine, rose, geranium and tea in the top and heart, slowly drying to a wintery base of amber, frankincense, musk and sandalwood.
Diptyque Essences Insensées Solid Perfume, £38
Buy it at: Diptyque
Opening with violet and pink pepper, Diptyque's latest scent is inspired by 'a thousand flowers' – an age-old tradition among perfumers whereby fragrances are composed using the year's flowers and plants. As it settles on the skin, heliotrope, Grasse rose and mimosa reveal themselves in the heart, intertwined with vanilla, mate and beeswax in the base.
Marc Jacobs Dot Solid Parfum Necklace, £30
Buy it at: Debenhams
Based on his love of polka dots, Marc Jacobs Dot is an elegant and charming  fruity floral composition that blends red berries, honeysuckle and dragon fruit with a blooming heart of jasmine, orange blossom and coconut water. At the bottom, you'll find vanilla, driftwood and sensual musks – all inside a ladybird-adorned pendant.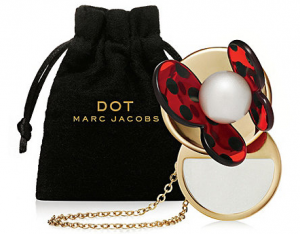 Written by Alice Jones