Since last year when we followed our noses and stumbled across Ex Nihilo in Paris, The Perfume Society has been waiting for this innovative fragrance concept to land in London. Because what makes this perfume house truly exciting is that it taps into the growing trend for 'customised' (or personalised) perfumes, for those who want a more unique signature – and as we know, these days, there's an increasing number of perfumistas who don't want to smell quite like anyone else…
As Ex Nihilo's Provence-born co-founder Benoît Verdier puts it, 'Real luxury should be unique, total, exclusive, exceptional, elegant and of unreserved quality.' So where else would Ex Nihilo plant their marker in London than the 6th floor Harrods Salon de Parfums? (The name means 'Creation out of nothing' in Latin, BTW.)
Trust us: this is something really different. Start with eight fragrances – each pretty perfect in their own right, frankly, spanning the opulent and leathery floral Jasmine Fauve through to classic Parisian Cologne 352 via Musc Infini, an addictive play on musk sweet with touches of tonk a been and vanilla. (There's something for everyone.)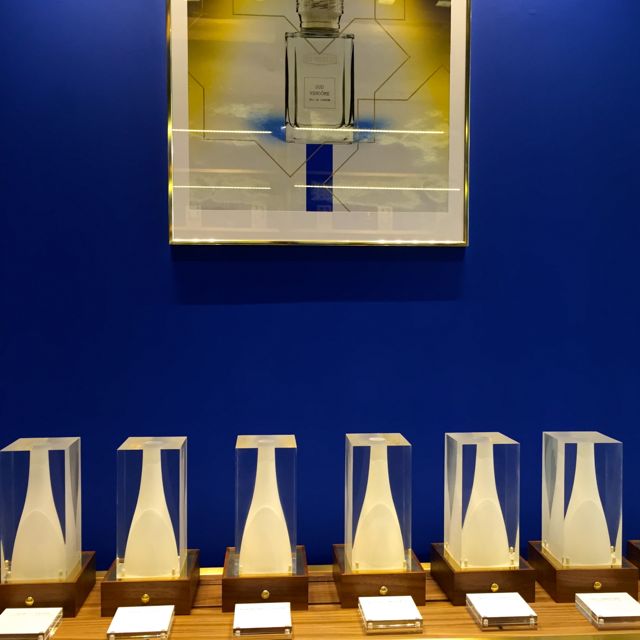 You breathe them in via beautiful air-fragrancers: press a button, the gadget lights up (creating a beautiful Art Deco silhouette against the glass), and you can breathe the perfume through a hole in the top.
But then the fun comes. Because you can 'customise' your fragrance, adding an essence which will enhance it and give a new twist, playing up its sunniness, or its sexiness, or perhaps its citrus quality. We chose Vetiver Moloko – racy and woody, but with a milky heart of vanilla. The choice of 'additions' were orange blossom, sandalwood and vanilla, and Ex Nihilo's professional 'blender' gave us a preview of what each would smell like, pairing each spill with the Vetiver Moloko blotter.

The vanilla transformed it into something smooth, creamy and feminine.
Sandalwood worked well, too – but it turns out that the orange blossom plays up the unexpectedly citrusy side of vetiver, brightening it to deliver something light, fresh and super-wearable, but with the 'grounding', take-a-deep-breath-and-relax quality which vetiver always has, for us.
Having made that decision, the heart-quickening excitement: watching your fragrance blended before your very eyes. In Paris, Ex Nihilo's 'Osmologue' machine occupies almost one wall, on which you watch the pure theatre of moving parts transporting liquids into the vessel containing your scent. For London, the machinery's been downsized to match the slightly smaller scale of the Harrods boutique. Via white-gloved hands, a carefully-dosed measure of Moloko Vetiver was dispensed into a beaker.

Then, the 'addition' is measured and poured in. Lastly, the new blend was mixed in the exact way you'll see if you go behind the scenes at any major fragrance house, with magnets moving the liquid. 'You can wear it straight away, and it'll smell great,' Benoît told us, 'but after 10 days, it'll be even better…' To complete the experience – a marriage of the highest-tech with artisan flair – for a little extra you get to choose a cap: we went for a gorgeously shimmering mother of pearl.
The bottle was handed over with a card to confirm its authenticity: the batch number, date and the fragrance. 100ml of this customised fragrance will set you back £240, compared to thousands for most totally bespoke fragrances – and it's a 'hands-on', up-close-and-personal experience you simply can't experience anywhere else…
Ex Nihilo £150 for 50 ml eau de parfum and £240 for 100 ml 'personalised' eau de parfum; the jewelled 'cap' is priced additionally from £40
But it at: Harrods Salon de Parfums
Written by Jo Fairley