Last-minute Christmas ideas are all very well, but what if you've left it so late (yes, we're looking at you!) that you've already missed the last post?
Here are two thoughtful gift ideas for fragrance lovers that need no desperate scurrying for leftover crumpled scraps of wrapping paper – no wrapping or queuing at the Post Office required at all, in fact. What's more, they last for an entire YEAR, and one of them can be sent to anyone, no matter where they are in the world. Hallelujah!
Perfume Society VIP Club Membership: £25 for an entire year
Seriously the best gift you can give anyone who loves fragrance – after purchasing, simply contact [email protected] with the recipient's details and we'll do the rest!
As a member of The Perfume Society VIP Club, they will receive the following exclusive benefits…
•  Six issues a year of our online/downloadable digital magazine The Scented Letter – (virtually) the only publication in the world devoted to all things fragrant. For more info on which, please scroll down…
• Exclusive competitions with fab fragrant prizes – including bottles signed by perfumers.
•  Early access to tickets for all our events (when we can do these in-person again) – meeting with leading 'noses' and key figures from the perfume world, attending in-store events, workshops, etc. (Our VIPs are first to hear about these.)
•  A special member's discount on our Perfume Society Discovery Boxes (normally £19 – but £15 to our VIPs)
•  Plus choose a FREE Discovery Box when you sign up (see options in the drop-down menu, here)

Print Subscription to The Scented Letter Magazine: £75 per year
Described as a 'must-read' by industry insiders and perfume-lovers, and after so many asked for a printed edition, we also offer a print subscription to our multi award-winning magazine, The Scented Letter. Filled to bursting each issue with in-depth interviews with the world's top perfumers, as well as news, hundreds of fragrance reviews and behind-the-scenes scented secrets, alongside features by leading fragrance writers – from Thomas Dunckley (The Perfume Candy Boy) to Persolaise, via Viola Levy and our Senior Writer Suzy Nightingale.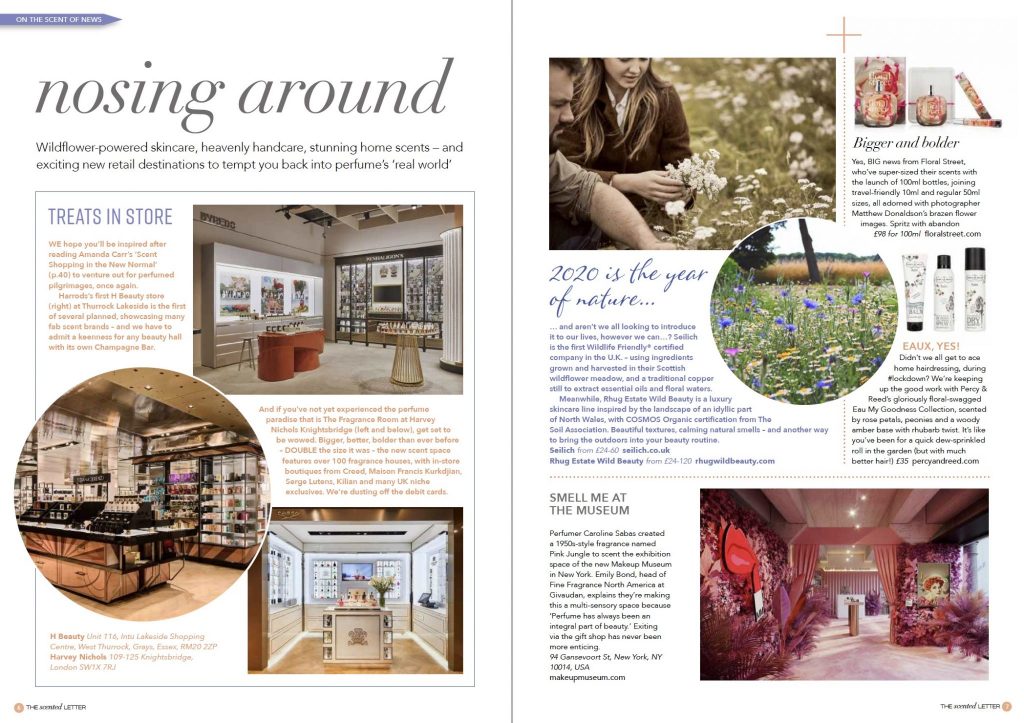 The Scented Letter print edition will be delivered to their door for an entire year of fragrant reading ahead, all without you having to lift another finger!
International Subscription to The Scented Letter Magazine: £20 for a year
We're overjoyed that we can now offer overseas subscribers an International Subscription to our digital downloadable magazine, The Scented Letter. (Alas, we still can't ship our boxes overseas – and we're as gutted as you are about that!)
Your subscription gives you six 60-page ONLINE editions a year of this beautiful, multi-Jasmine Award-winning magazine: the only one of its kind for perfume-lovers.
Because of the way our system works, when you click Add to Cart it will send us an e-mail – and we'll follow up for payment. To buy this as a gift; please let us know in your e-mail to us if it's for someone else.)
So now you can gift an entire year of reading to a fragrance-lover you know, no matter where they live. And from the feedback we receive from overseas fans, we know they'll be utterly thrilled!
So, it's really NOT too late to send them something to show you care, to cheer up a fragrant friend you've perhaps not been able to see for so long – and these are perfumed presents that last a full 365 days ahead. Now that's truly a gift that keeps on giving…