To celebrate National Men's Grooming Day, we thought we'd share this article by novelist, blogger and columnist Maggie Alderson from 'The Magic of Mimosa' edition of The Scented Letter – which looks at men's scent ads new and old…
Spending an afternoon than researching pictures for a feature about great aftershave advertisements can have quite an effect on you. Holy plumped pectorals! After five minutes browsing muscular torsos and manly gazes, I didn't know whether to take a cold shower or dance a tango.
But once you really study these images (as opposed to just drooling over them) it becomes clear that there is in fact a lot more to this genre than photographs of ridiculously beautiful men.
In-depth scientific research (ahem…) reveals that they fall into four main categories, which involves said living gods wearing one of four outfits: practically nothing, a suit of superb cut, sporting attire, fancy dress.
But whichever of those it is, the very best aftershave print ads share one thing, in my opinion; they consist of nothing more than the picture and the name and brand of the fragrance. There's not even a smart tag line – yet these heavenly images create an entire world, telling a story that draws you in wanting to know more. And makes you very keen to lean in and smell that particular man's neck…
Here are some favourites from the archives – and a few vintage classics that show how not to do it, perhaps.
HOT, HOT, HOT
Giorgio Armani Acqua di Gio

This was a masterstroke of casting, taking all-American blond hunk Jason Morgan and photographing him in moody black and white. Mr. Morgan's astonishing blue eyes are his calling card, but who knew they'd be even more arresting in greyscale? One of the greatest aftershave photographs of all time, taken by Matthew Brookes, with that serious expression adding dreamy depth. There is also a video… Have your fan ready. And a mint julep.
Chanel Allure Homme Sport

Probably the medal winner in the sporting genre, the series of Spanish super dude Andrès Velencoso Segura – ex-squeeze of Kylie Minogue – with a surf board stopped me in my tracks when I first saw it (and inspired the leading man in my novel 'Everything Changes But You'). It's the combination of hunky, yet sensitive, which is so devastating. Senor Velencoso has his mum's name tattooed over his heart and loves dogs. I'm working on finding out his favourite biscuit.
Dolce & Gabbana Light Blue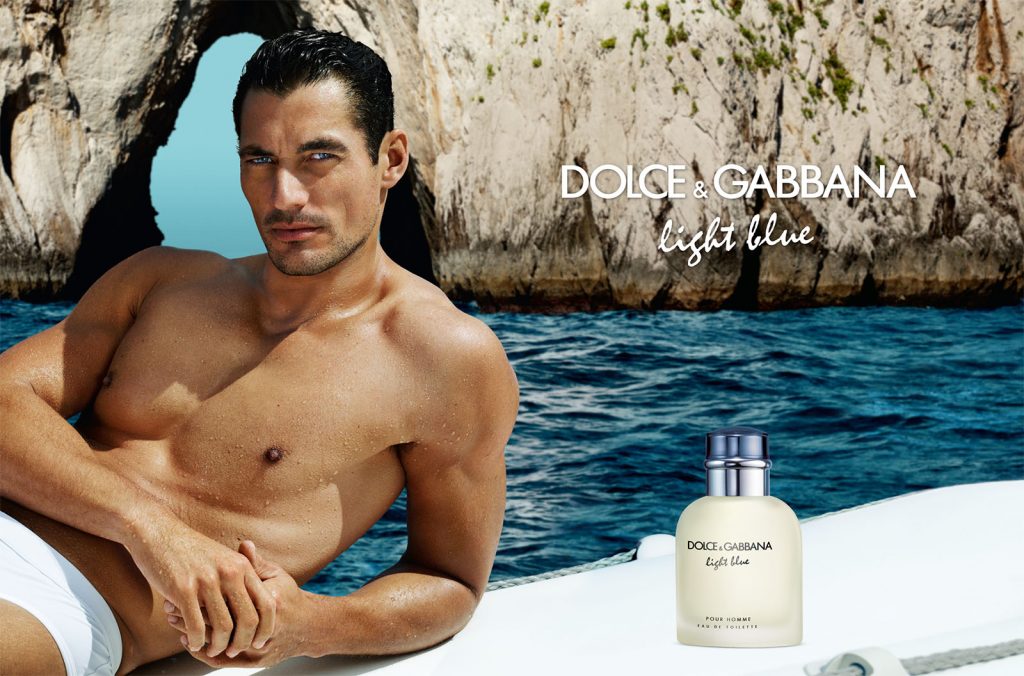 Our very own David Gandy wearing little more than his birthday suit and showing how it is possible for art to improve on nature. Even the azure waters of the Amalfi coast are enhanced by his white Speedo-clad proximity. And how could a fragrance associated with a scene so pleasing to the eye smell anything but divine?
Dior Eau Sauvage

Here's one that spans the genres – it could equally fit in Famous, because while the ad appeared in 2105, this bearded beauty is none other than French actor Alain Delon, snapped in his youthful glory in 1966, the year this most classic of Colognes was launched.
It would also fit in Story. That little frown…what just happened? Who was she? Is he about to write a poem, jump off a cliff, or sail off into the horizon? We'll never know, but it's so easy to imagine that lemon-y herby sillage trailing behind him as he goes.





STORYTELLING
Dior Eau Sauvage

Could this be the most iconic aftershave advertisement of all time? Part of the wonderful series of works legendary fashion illustrator René Gruau created for the brand, somehow this gorgeous – fictional – man's entire sophisticated, sexy, city life is conveyed by this cheeky image of a most personal moment, through a half-closed bathroom door. I know I'm not the only person whose entire ideal of what a man should be like was inspired in childhood by seeing these advertisements…
Michael Kors for Men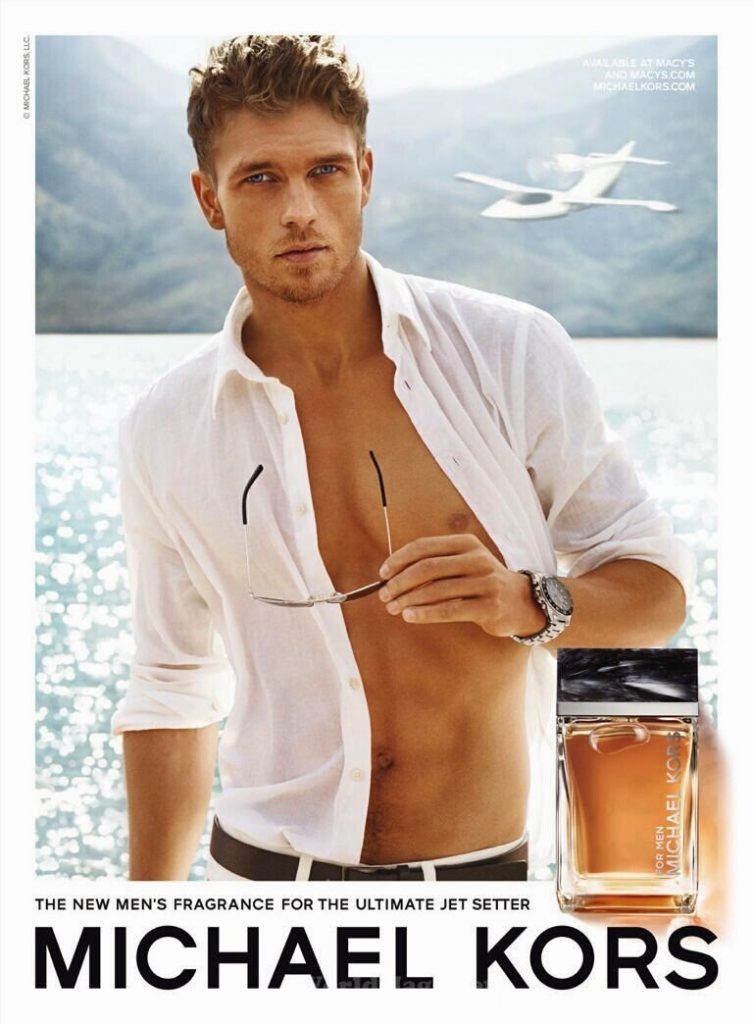 The American designer is the current master of the atmospheric advertisement, reaching standards set by Martini commercials in the 1960s, conveying the sense of lives of perfect insouciant glamour. It took Martini a couple of minutes of film of ski lifts, helicopters and white horses on beaches, plus an iconic theme tune to achieve it; somehow Mr Kors pulls it off with one picture. Where exactly was this open-shirted hottie last night? Who was he with and where's he off to now? Is he getting into that seaplane landing behind him? Are his tanned feet bare, below those white jeans? Is that a gun in his pocket or…? Whatever he smells of, we like it.
Givenchy Gentleman

Swoon. That's the only word to describe this photograph. While the frontal lobe of our brain might try to tell us it's just beautiful models in a studio doing what they're told, the imagination immediately has other ideas. You can practically feel the skin on skin. How they managed to convey such passion in one shot is quite miraculous and you just want to know more. Is their embrace illicit? Or are they reunited after a long spell of enforced separation? I'm feeling army (could be those shoulders…). To me this is Prince Andrei and Natasha from War and Peace and oh my lord, do I need to smell him, the most romantic character in literature, ever. Swoonavich.
Guerlain Habit Rouge

As befits the most classic of French perfume houses, this image has a more metaphorical feeling to it – the romance between a man and his horse, rather than that old une femme et un homme storyline. But is it a real horse, or an imaginary one? An expression of his innermost feelings? His essence (said in a French accent). Or, when you consider the meaning of the aftershave's name Habit Rouge, which is French for a huntsman's red coat, does it represent the male's eternal hunt for a mate? Whatever – cor!
Aramis by Aramis

Forget the silly text – which modern advertising has shown really isn't needed. This brilliant 1980s picture says it all for Aramis. She's a modern girl and she likes what she smells so much she's got him pinned up against the fridge. He's not going anywhere until she's fully explored all those intriguing wormwood and leather notes. But where have they been in their black tie outfits? Whose kitchen is it? And why does he look a little bit uncomfortable with his hands in his pockets? Might somebody be about to come in and surprise them?
FAMOUS FACES
David Beckham Urban Homme

Aftershave ads featuring famous chaps fall into two types – famous faces modelling for the brands and famous men who are the brand. David Beckham is a classic of the latter with seven aftershaves to his name, plus spins on those – all of them promoted by this sporting living national treasure in different moods. Sometimes casual in a classic T, showing off his tatts (Instinct Sport and Beyond Forever), in a fetchingly undone black tie (Instinct Gold Edition), or here in his full metrosexual glory in an immaculate mohair suit and crisp white shirt, ready for dinner at the coolest restaurant in town.
Jimmy Choo Man

The Jimmy Choo man is dark and brooding, a modern warrior in urban leathers and biker boots, ready to swoop to the aid of a damsel in distress – possibly because she is wearing such very high heels. And who better to pull that off than dark and brooding actor Kit Harington, Game of Thrones' tortured hero Jon Snow, who looks born to smell of suede and patchouli?
Mont Blanc Homme Exceptionnel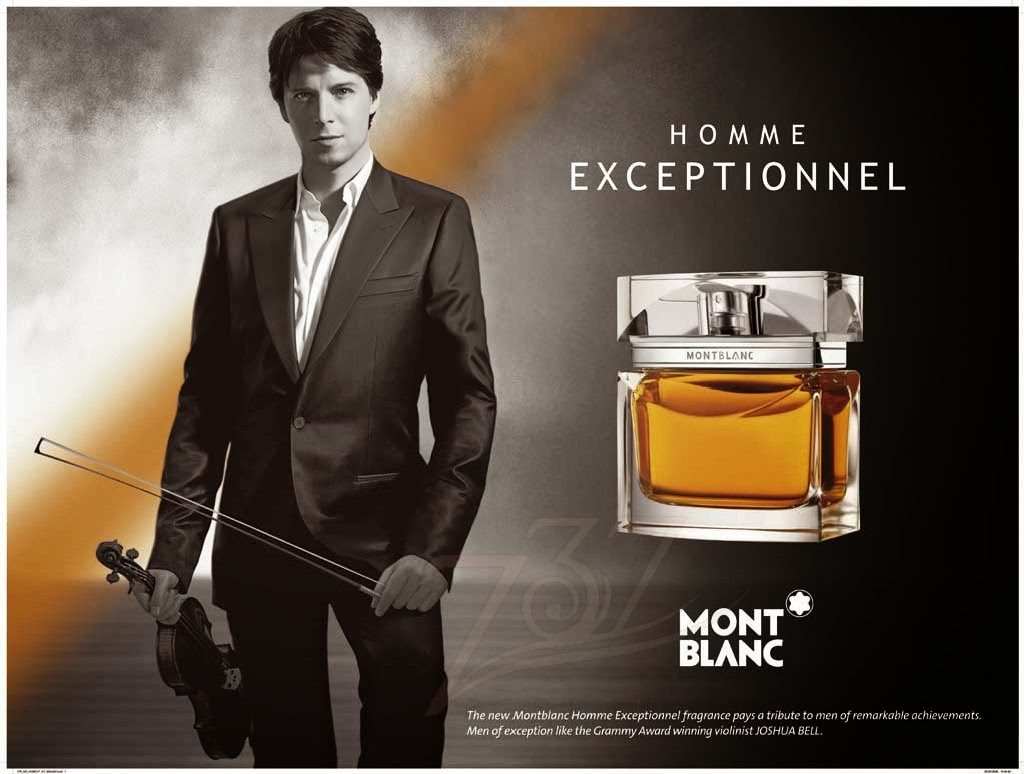 A sub-genre of the famous man aftershave advert is the man who is famous for something specific, not acting or modelling, or owning the brand. Brut owns the concept, with their legendary 1970s commercials with Henry Cooper. Other sportsmen featured included tennis player Vitus Gerulatiis, racing driver James Hunt and American footballer Richard Todd. Montblanc run a posher version of this, featuring men exceptional violinist (and hot tottie) Joshua Bell.
Bing Crosby

If you're going to go famous, why not go pure legend? LA based toiletries outfit Courtley Ltd. did, with a Father's Day ad for their 'virile Courtley fragrance' in 1946. The backdrop photo of His Bingness looks as though it might have been sent out by the publicity department of Paramount Studios which was also promoting his new film Road to Utopia on the ad, but a more personal connection has been shoed in by adding a cunning gift tag to the 'flagons' (their word) making the gift set appear to be a gift from four of his six sons. Can't see David Beckham's team trying that stunt.
VINTAGE TREASURES
Old Spice

'Joan Daly says she likes it when men wear Old Spice'. Likes what, exactly? But the finger resting playfully on lips and the position of her right hip ready to move into the twerking position gives a hint. The lower tag line is brilliant in its disingenuous simplicity. 'Girls like it. Is there a better reason to wear Old Spice?' Ms Daly was Miss Massachusetts in 1953.
Centaur

'Are you ready for Centaur?' Frankly not. If the ads looked like this, what on earth did it smell like? Goat blankets? The image alone is terrifying, but wait til you read the copy. 'It's the massage cologne. Half man, half beast, all male!' proclaims the headline.
And also a little bit sex toy, it would seem: 'Out of the Wild and Violent days of ancient Greece comes the exciting concept of Massage Cologne… Massage CENTAUR [so manly it always has to be written out in caps] into your arms, legs and loins. CENTAUR [can you hear us at the back?] has no alcohol [their itals] to irritate, so it massages with comfort into sensitive areas.'
SENSITIVE AREAS. [my caps]. But wait! There's more: 'CENTAUR adds a delightful new dimension to your body, a low level aroma that hovers close to the skin for hours, transmits its virile message only in moments of close and intimate contact.'
A virile low level aroma, like around hip level… Basically it seems to be perfume for his nether regions.
Brut

His rakish eye patch (not available on the NHS) and general air of nudity are just red herrings. This ad is really all about the way he is grasping the, er, shaft of that Brut bottle. But that really is a very small cigarillo.
Denim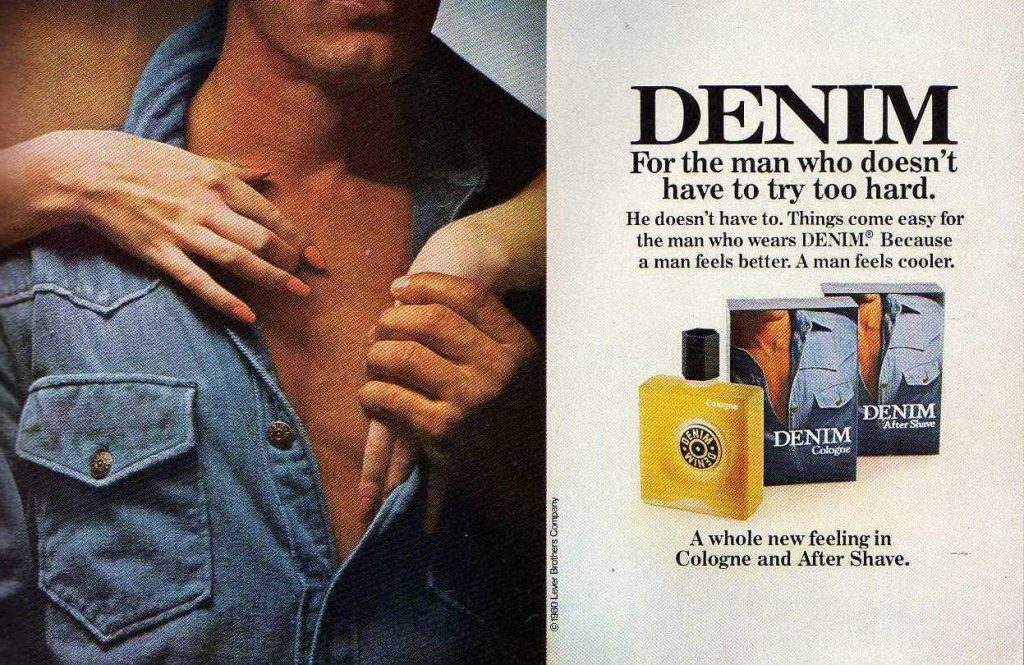 There's something rather contemporary about this image – and it still has sex appeal. It's just the name of the fragrance that adds the cheese. But then you get on to the copy, clearly written in the afterglow of a 1970s ad agency creative department expenses lunch.
'DENIM. For the man who doesn't have to try too hard. He doesn't have to. Things come easy for the man who wears DENIM (trademark). Because a man feels better. A man feels cooler.'
Despite seemingly being permanently off their trams on Beaujolais nouveau and Black Forest gateau, this shows what geniuses those copywriters were at subconscious messaging. Read it carefully and you'll see that this blurb has several key words planted in it: hard, easy, feels and man. Next stop, CENTAUR?
Tabac
'Peter Wyngarde smells… great' declares this ad for Tabac. How could we ever have thought otherwise? As the magnificently coiffed, Windsor-knotted and luxuriantly moustached Jason King, his performance was OTT top you could practically smell his aftershave through your TV screen. Really worth checking out on YouTube if you are too young to have witnessed Mr. Wyngarde's hilarious delivery in this early 70s classic TV show. He makes Austin Powers look demure.
Written by Maggie Alderson
maggiealderson.com