If you're looking to really spoil a fragrance-lover this Christmas, you can't go wrong with an ultra luxe fragrance gift. Perhaps they've hankered after a niche scent but haven't allowed themselves to buy it yet, or they adore the finer things in life but haven't known where to start with fragrance? Well, we've several suggestions for ways to treat them (or yourself!) without breaking the bank…
The joy of a luxury Discovery Set is the chance to indulge in the fragrances of ultra-luxe niche and designer houses, often giving your lucky gift recipient (or yourself, let's face it) the opportunity to try the entire collection of a particular perfume house. Or, perhaps, allowing the luxury of sampling the scented wares from cult brands not everyone knows about yet.
Very few of us could go out and purchase full-size bottles of every brand we want to try – with these luxury gift sets, you can afford to wear every single one!
If you have someone who's difficult to buy for, or you're not quite sure exactly what kind of scents they like – gifting a whole range ensures they'll fall immediately for at least one of the fragrances (and, in our experience, will come to love them all or enjoy sharing with a partner or friends).
To send to loved ones you can't be with this year, or to treat yourself after a year of woe? Not going to lie, we shamelessly do the 'one for you, one for me' rule of Christmas shopping, and most especially this year. Think of the hours of bliss you'll have! Trying all the fragrances for the first time, reading about the notes, the perfumers and history of the house (all the information you can find right here on this website, with our in-depth brand pages).
La Maison J.U.S Discovery Set £30
Taking their name from their motto: 'Joyau, Unique and Sensoriel'  (a 'unique sensory jewel'), this ultra-cool niche French house delight in doing things differently. Using vintage bottles in bold, neon colours, allowing their perfumers free-reign and with everything eco-conscious – the fragrances are just are vibrant, but oh so beautifully wearable. Appealing to artistic types who like to tread their own path, the scents are seductively unique (genuinely, we love ALL ELEVEN!) From the salted amber of Ambraser, coffee and oudh of Coffeeze, Cuirissime's leather, violet and iris; zesty ginger and absinthe in Gingerlise and darkly daring leathery floral of Noiressence. There's the whole rose (petals, thorns, humid air) of Rosamonda, sensual rose oudh and vanilla in SexyCrush or powdery soft rose in Sopoudrage to explore. SpringPop is green shoots, fresh cut grass and sea air, while Superfusion's silvery musk shimmers intriguingly, and UltraHot crackles with sensual saffron and incense. Oh wow, it's a fragrant journey alright – and we're re-using our pots for makeup brushes and pens!
Friends and business partners Christopher Yu and Laurent Delafon have been in the fragrance industry for over 20 years, founding United Perfumes, a prestigious fragrance distribution and development company, which afforded them unrivalled access to the finest ingredients and perfumers in the world, including extraordinary new extractions from LRM Naturals of 'vetiver, rose, patchouli and more. We realised that if we loved those smells, then there were surely other people who'd feel the same way.' And we surely do… At OSTENS they are 'ripping up the rulebook' – and we couldn't be happier about it. Each creation from this dynamic fragrance house is inspired by a raw ingredient, each one developed by a master perfumer (think Dominique Ropion and Sophie Labbé, yup!), given absolute creative freedom with no budget or brief. This refreshing, and simple, approach to fragrance creation has left us in awe. Now you can try the ENTIRE COLLECTION at home, exclusive to The Perfume Society, with six creations ranging from fresh and delicious Rose Isparta to Cashmeran Velvet (based around the seductive molecule Cashmeran), and two different takes on patchouli. This is creativity unleashed – and now you can dive in for yourself…
Manos Gerakinis Discovery Set £35
Inspired by childhood memories of Kavala, Greece, embracing his family's heritage in Istanbul, and the intertwining of art, history, and philosophy; Manos Gerakinis is the first niche luxury Greek perfume house, and the fragrances truly radiate the diversity and passion of their founder… From an early age, Manos Gerakinis knew that '…every bottle is more than a mere perfume; it is a living olfactory experience, unique and mysterious.' This heady mix of knowledge and respect for cultural heritage would later become 'the founding stones of the brand,' but of course life experience is always a key ingredient, and Manos travelled from Greece to London for the prestigious role of managing Harrods luxury department. This gave him unparalleled access to designers such as Valentino, Alexander McQueen and Dolce & Gabbana, and with London as his base for over a decade, he avidly explored the world as part of his job. 'Creating my own fragrance was always in the back of my mind,' he explains, 'and once I was given the opportunity, I grabbed it.' Delving further into researching and learning the technical side of the fragrance world, 'My initial goal was to create a powerful scent that was able to captivate anyone in the room. I wanted an alluring scent, mysterious and poetic.' He began curating a collection of exquisite essential oils and ingredients from around the world. The result? A collection as sumptuously beautiful as the artistic inspirations.
J.F. Schwarlose Discovery Set £35
Purveyors of fine perfumes since 1856, the history of heritage house J.F. Schwarzlose deserves to be captured in a movie.. From piano-maker to perfumer – selling scents beloved by the royal courts of Europe and Chinese Emperors alike – this always-innovative perfumery has survived war, inflation and changing tastes by always being one step ahead…When entrepreneurial piano-maker Johann Friedrich Schwarzlose established his own drug store at Markgrafenstrasse 29, beginning with production of perfumes, he quickly established himself. The company had been purveyor to the Court, and now the aristocracy flocked to the new fragrance shop. By 1897, Schwarzlose had taken on a business partner, Franz Köthner, and together they traded with the added title: 'Purveyor to the Court of His Majesty the Emperor and King'. Indeed, a flacon found in a collection of Emperor Pu Yi confirms their formidable reputation had already reached as far as China. What a phoenix this fragrance house is, in 2012 enlisting brilliant perfumer Véronique Nyberg as the 'nose', they remain 'in close contact with the last heir to Schwarzlose, Jutta Jank-Trabant, who is delighted to find the brand on display again. And how utterly joyous this important perfumery was saved once again! Now thriving afresh, the modern-day fragrances of J.F. Schwarzlose harness the grandeur of their heritage, and all they learned through history, but still stay true to leading the fashions rather than merely following them.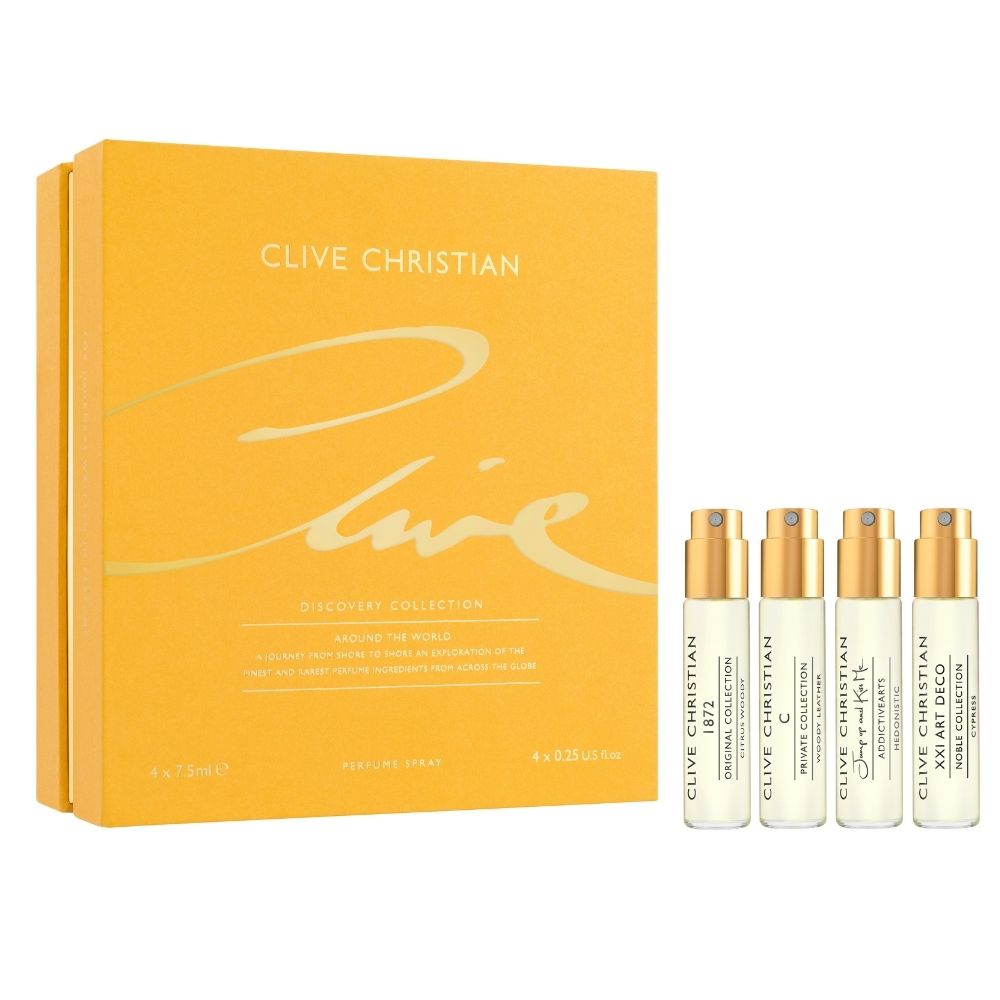 Clive Christian Around the World Discovery Set £150
Clive Christian Perfume creates the 'world's finest perfumes' – timeless classics, made without compromise. Each perfume has an oil inclusion of 20% or above in every bottle, they are intense and complex fragrances for opulent, pure perfume pleasure. We can't wait for you to discover these uniquely expressive, exquisite perfumes in the Around the World Discovery Set. Explore the heights of mountains, the depths of forests and the sunny warmth of tropical climates through this foray of fragrances – the ultimate globe-trotting perfume set. Here, you (or the very lucky recipient) can discover the exquisite fragrances below that will transport you around the world, via: Addictive Arts Jump up and Kiss Me Hedonistic  – an amber gourmand fragrance that opens with citrus notes of bergamot, grapefruit, neroli. Noble XXI Art Deco Cypress  – zesty bergamot and uplifting basil held by a surging heart of exotic yet warming spices. Original Collection 1872 Masculine – herbaceous and aromatic. Private Collection C Woody Leather  – a woody fragrance with a supple leather yet exotic twist. Considering each full-size fragrance is priced between £250 – £595 for 50ml eau de parfum, this beautifully packaged discovery collection is the perfect way to indulge in true luxury for far less.
Luxury fragrance gifts really are a fail-safe way of showing how much you care. Whichever of these you chose, they cannot fail to be utterly delighted – and perhaps discover a new fragrant love to explore further next year…