The new Issey Miyake fragrance, Fusion d'Issey, has inspired an immersive and interactive experience created in partnership with The Perfume Shop, to celebrate the launch…
We've been banging our drum about the many ties between music and fragrance for years – in fact, we recently dedicated an entire issue of our magazine, The Scented Letter, to Music & Perfume  – so we're delighted to see Issey Miyake showcasing Fusion in such an imaginative and multi-sensory way…
Sounds of Fusion is, they explain, 'the first drum machine inspired by nature in Fusion, where users are invited to create their own music composition using the sounds of elements in Fusion.
The experience immerses into an interactive home page inviting users to take part in an intuitive and easy creative soundscape page where they can create their own unique piece of music.
"Sounds of Fusion" offers a new playground for both novice and experienced music creators. It takes its roots in the popular organic and nature-inspired music genre.
The experience is composed of:
4 main themes inspired by nature: air / lava / water / stone sounds
8 different sounds representing the main themes, as different interpretations of each one
A play and pause button, there to start or stop the player
A record/share button allowing to download the composition when one's done, and share it on different social media channels
The digital platform is live now and open to anyone who is keen to become his/her own music creator inspired by organic sounds.
Be inspired & share your Sound of Fusion!'
So, why not spritz your scent and get inspired to create your own track to share with friends online? With Issey Miyake you're invited to 'Dive at the heart of the elements where the strength of nature is expressed through images and for the first time… through sounds. Just listen: water flowing on rocks, wind blowing through leaves, boiling lava, crackling rocks…'
For those of you who've not managed to get your noses on the new fragrance yet, Fusion juxtaposes hot and cold, a fascinating exploration of the perfumer's alchemy in conjuring coolness from citrus and coconut milk, the breeze of a solar-filled mineral accord (think sunlight sparkling on water). Earthiness exudes from the smooth sandalwood, while resinous patchouli provides the heat of the base.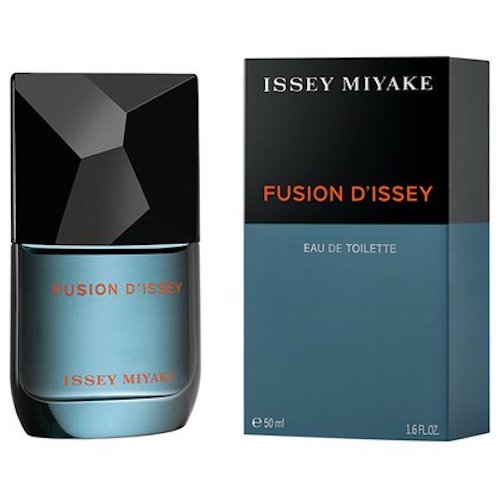 Issey Miyake Fusion d'Issey £49 for 50ml eau de toilette
theperfumeshop.com
By Suzy Nightingale