Shakespeare and his love of flowers are eternally entwined in our imaginations, and now we have hot-off-the-press news of a specially commissioned fragrance inspired by the bard…
Though much of what we know of Shakespeare's life is supposition, and hotly debated by historians to this day; what we can surmise is that he loved flowers – including references to over fifty types of them within his writing, using them to highlight the emotional tone of scenes, reflect character's thoughts or send messages his audiences would have readily understood in the 'language of flowers.' Artists, writers and musicians still find much inspiration in these floral allusions, and little wonder, given the veritable bouquet of creative suggestion Shakespeare proffers.
Botanical Shakespeare: An Illustrated Compendium, £20 (Royal Shakespeare Company shop)
Many of the flowers Shakespeare alluded to in his work have led to well-known phrases we still use, such as 'a rose by any other name' and 'gilding the lily', but it's worth pointing out, lovely as they are, these are slight misquotations. In Romeo and Juliet, the rose is used to there to garland Juliet's complaint about their families refusing to let them marry because of an ongoing feud, saying:
What's in a name? that which we call a rose

By any other name would smell as sweet. [Act II Scene II Line 43]
As for the lily, that pops up when painted, in King John, with a courtier commenting
To gild refined gold, to paint the lily

To throw perfume on the violet …

Is wasteful and ridiculous excess [Act 4 Scene 4 Line 11]
I respectfully arch an eyebrow at the slightly scathing mention of perfume, and though of course it's a literary way of saying that natural beauty need not be embellished, would point out that many fine fragrances have been created to evoke the violet (it being one of the flowers unable to have its scent naturally extracted); but shall forgive the courtier (and, therefore, Shakespeare) for not being privy to such scent chemistry knowledge.
Shakespeare's Flowers cards, £3.99 for 5 x A5 pack, DaysEyeCards
In any case, April 23rd is National Shakespeare Day, the anniversary of the bard's death, and though the exact day of his birth is unknown, also the day his birthday is traditionally celebrated (his baptism being recorded as taking place on April 26.) So, this would have been excuse enough for me to celebrate his gorgeous floral allusions by showcasing some fragrances I feel are particularly pertinent to Shakespeare's love of flowers. However, Fate intervened to reveal an even more intriguing story…
While thinking about writing a general Shakespeare and fragrance type article, a little bird (in fact, fellow fragrance writer and friend Amanda Carr, co-founder of We Wear Perfume, and currently organising the inaugural Barnes Fragrance Fair) happened to mention to me that 4160 Tuesdays founder and perfumer, Sarah McCartney had recently received a rather fabulous private commission to create a Shakespearean-inspired fragrance for none other than Gyles Brandreth. A noted Shakespeare expert, broadcaster, author and language-lover.
Currently named Sonnet No.1, the fragrance is actually for both Gyles and his beloved wife, the writer Michèle Brown, in celebration of their forthcoming wedding anniversary. Describing the ingredients she used for the composition, Sarah chose: 'Rose, violet, lavender, lily, narcissus absolute, musks and hay absolute,' with two versions having been made, one including beeswax absolute.
Before you ask if we can all get our hands (and noses) on it, Sarah explains, 'I only made it on Monday, so at the moment just 30mls exist, but it's gorgeous! (Though I say it myself.) I'd like to launch it, but it would have to go through its stability tests and all the official processes before it can go public.' Well, it probably does seem only fair to let Gyles and Michèle enjoy the fragrance first, but golly it does indeed sound gorgeous, so fingers-crossed. In the meantime, fragrance and Shakespeare lovers should consider another beautiful 4160 Tuesday's scent. Says Sarah:
Ealing Green was originally made for a fundraising event on Midsummer Night in Ealing, and I used herbs and flowers mentioned in the play… wild rose, thyme, grassy banks, violets and oakmoss feature.'
We were invited to make a midsummer scent for a 2013 charity evening in Ealing, West London, using plants and flowers named in Shakespeare's A Midsummer Night's Dream, so we imagined the scenes taking place by Pitzhanger Manor on Ealing Green, and created the aroma of a magical summer evening. Its perfect for wearing in the heat.
It starts with a wander through the herb and flower gardens of Walpole Park, takes in a picnic on the grass and ends up lying on the lawn by the pond, staring at the clouds floating by, smelling the warm earth.
4160 Tuesdays Ealing Green £65 for 50ml eau de parfum
What better time to purchase a bottle and immerse yourself in the floral imagery of Shakespeare?
So synonymous with flowers is Shakespeare, in fact, that seed boxes of Shakespeare's Flowers are now available from Shakespeare's Globe shop, where you can choose from '…the Shakespearean Growbar, containing the seeds of three Shakespearean flowers: heartsease, marigold and columbine. Or the Tudor Herbs Growbar, containing the seeds of three herbs familiar to the Tudors: fennel, lemon balm and winter savory.'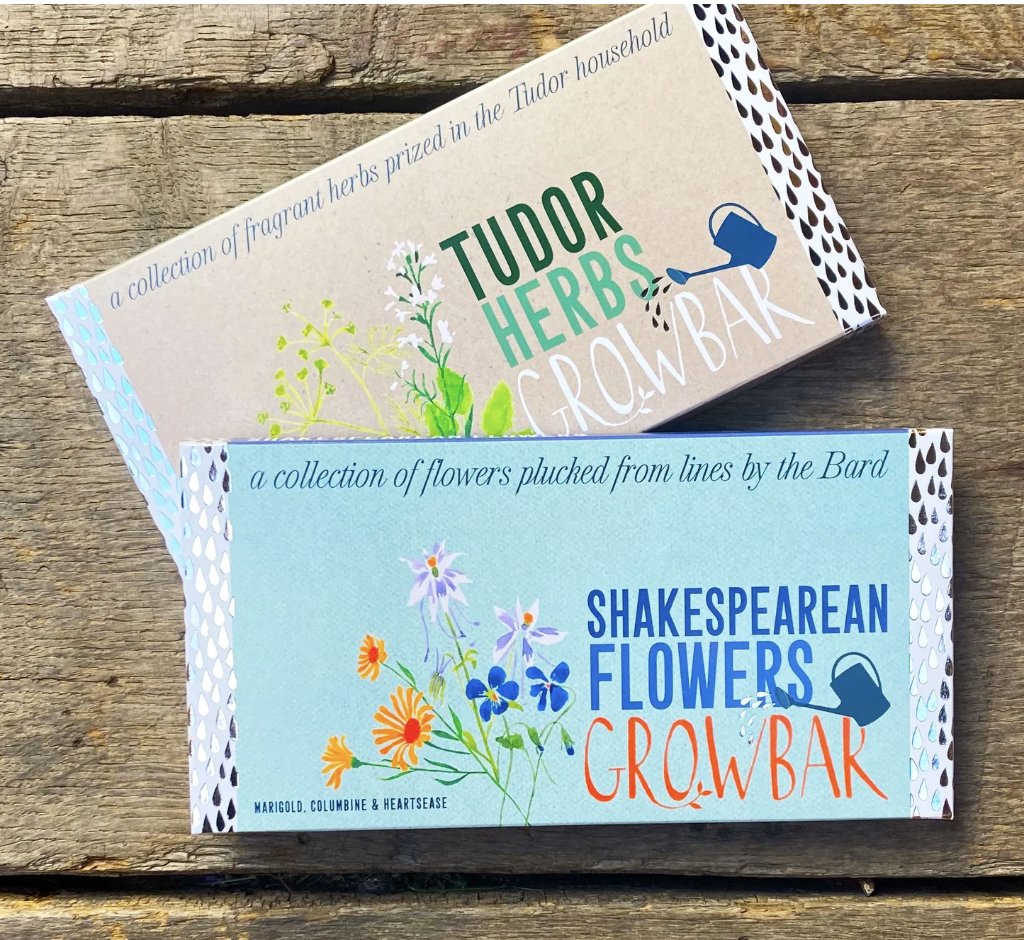 Shakespearean Flowers Growbar £12
[Just don't spray the flowers with the perfume, is all I'm saying. We know how he'd have felt about that.]
Written by Suzy Nightingale