Stranger Things has been one of the most successful drama shows of all time, certainly the most talked about and trending on Netflix for many years. And now, the show has proved so popular, it's been turned into an intriguing new stage show, called Stranger Things: The First Shadow – which seeks to explore the story as a prequel…
'Brought to life by a multi-award-winning creative team, who take theatrical storytelling and stagecraft to a whole new dimension, this gripping new adventure will take you right back to the beginning of the Stranger Things story – and may hold the key to the end.'
Explaining the way the stage show takes shape, they say: 'Hawkins, 1959: a regular town with regular worries. Young Jim Hopper's car won't start, Bob Newby's sister won't take his radio show seriously and Joyce Maldonado just wants to graduate and get the hell out of town. When new student Henry Creel arrives, his family finds that a fresh start isn't so easy… and the shadows of the past have a very long reach.' Predicted to be another smash-hit, Stranger Things: The First Shadow tickets are on sale now.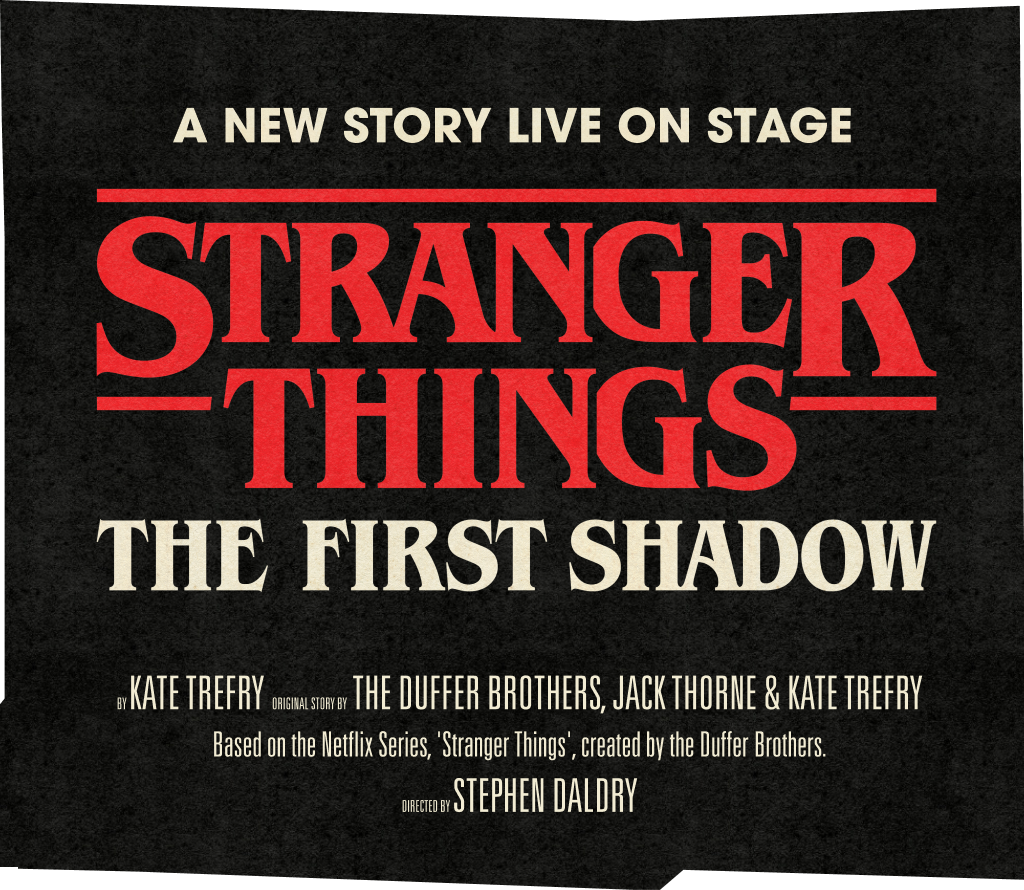 Inspired by classic 1980s teen horror movies such as Nightmare on Elm Street, with elements of The Goonies and the Alien franchise sprinkled around and about (and Upside Down); its mixture of nail-biting drama, truly terrifying moments and superbly nuanced (often laugh out loud funny, amidst the horror) script was part of the recipe for Stranger Things continuing success.
Of course, we when Season Four aired, we couldn't resist the opportunity for an olfactory pairing, so in celebration of the new stage show – and ahead of the much-anticipated final season of the TV show – let's settle down for that EPIC, scenting of Stranger Things, where we matched some of our favourite characters to fragrances we felt would most suit (or even help) them through the most recent season's tumultuous storyline…
Warning: Though we tried to keep this spoiler-free for season 4, there are references made to previous seasons' storylines, so proceed with caution if you're a complete Stranger Things newbie who's only just begun your journey!
Joyce Byers (played by Winona Ryder) – Maison Sybarite Spicy Calabria £160 for 75ml eau de parfum
Fiercely loyal, hugely resilient, Joyce has had to fight for her children, her independence and even simply to be believed, more times than most could stand. Having already battled supernatural beings, her sheer force of character is called on in far chillier climes this season, and so her scent must radiate the warmth of her soul while serving as a shield against those who seek to harm her (and the loved ones she continues to fight for). Here, juicy ginger and black pepper add to the spicy zing while powdery orris cushions the decadently wormwood-rippled base (perfect for those who've fearlessly faced darkness in their lives). Cedar adds a calming note of contemplation while limette thrums with woody oudh and patchouli, but the Calabrian citrus also reminds us of holidays – and gawd knows, Joyce deserves one (with business class plane tickets this time, please, luxury all the way).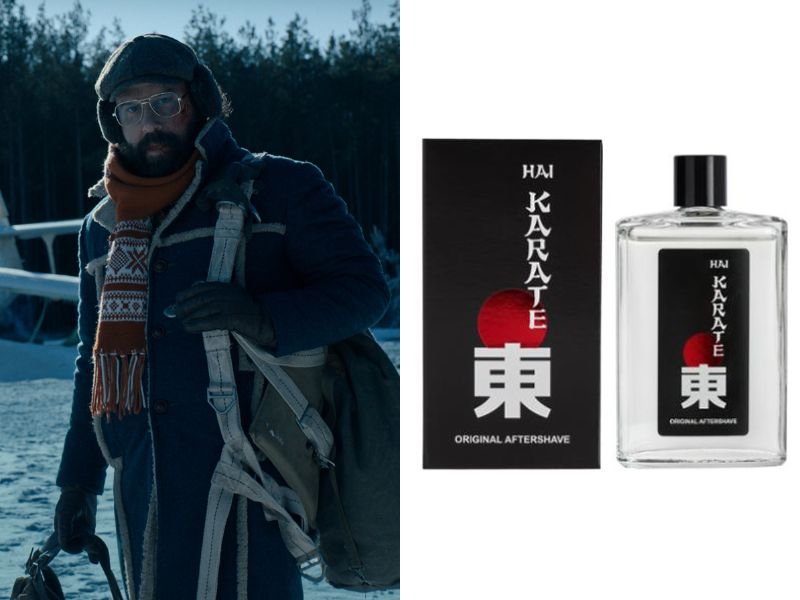 Murray Bauman (Brett Gelman) – Hai Karate £9.99 for 100ml Cologne
A former investigative journalist who first appeared in the season 2, Murray goes on to display a range of rather unexpected skills in this season, where he's paired with Joyce on their own deadly mission. Sarcastic, seemingly shambolic and yet surprisingly heroic in turn, we feel only Murray could pull off this (always very tongue-in-cheek) Cologne. First released in 1967 with the tagline 'be careful how you use it', Hai Karate remained a popular choice right through the 1980s, known for their (intentionally?) hilarious (now rather dated) TV ads. But Murray doesn't care about appearances, and there's something about the classic, retro barbershop freshness that's actually rather comforting to smell.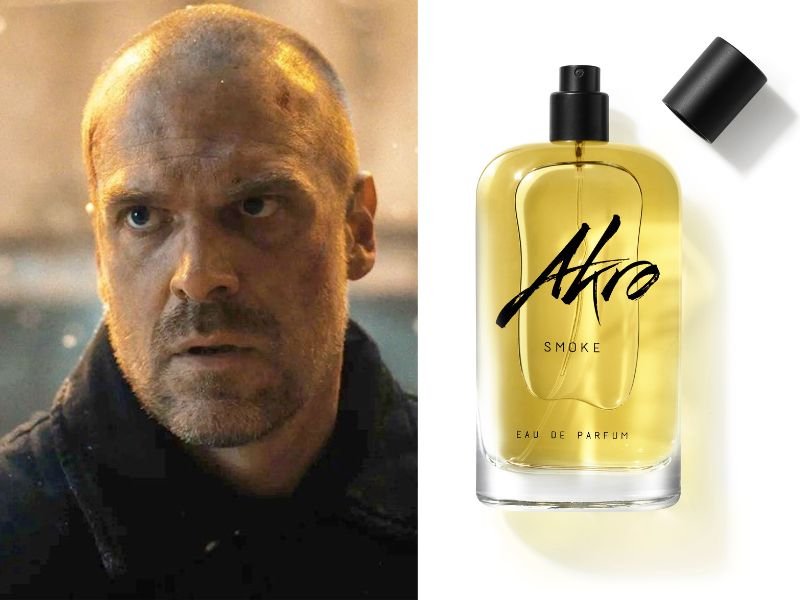 Jim Hopper (David Harbour) – AKRO Smoke from £70 for 30ml eau de parfum
Now Hopper has been through a lot already, and his troubles only increase this season. Former Hawkins Chief of Police, protective father-figure to El and revered by fans as a supposedly 'unlikely' sex symbol for the first seasons, we're sure he's swaying those who hadn't already swooned. 'Bottled without restraint or moderation, a concentration of excess,' the AKRO collection are inspired by guilty secrets and addictions – and we certainly can't get enough of this fragrance, or Hopper, come to that. Given his clever use of fire in one particularly nail-biting scene, and the fact that he really deserves a quick drag (OK, we obviously don't approve of smoking, but the man needs a cigarette break!) the deliciously resinous drift of tobacco smokiness in this scent would surely appeal…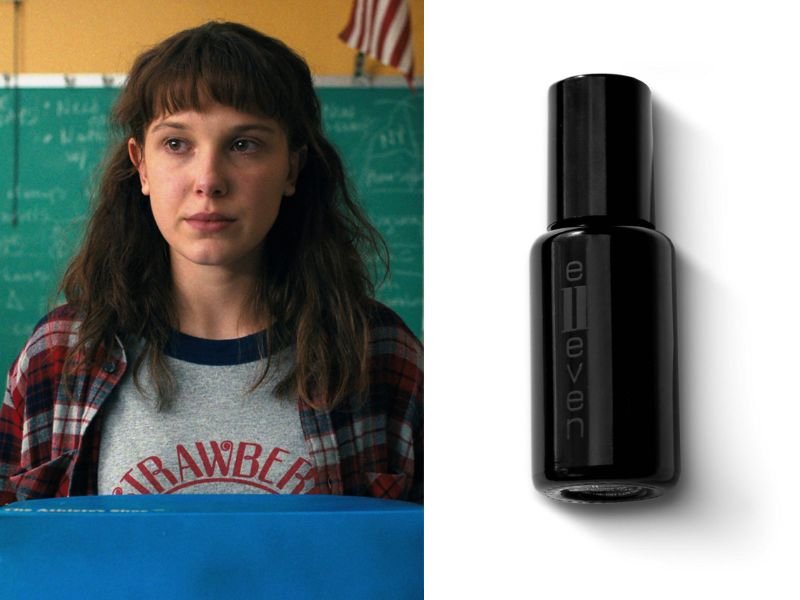 Eleven (Millie Bobby Brown) – E11even Fragrance Oil £80 for 20ml parfum
We know what you're thinking. You're assuming this fragrance was just chosen for the name, right? Wrong. Well, OK, partly it was, but mostly we selected this scent for its soothing nature  (which El certainly needs this season, more than ever, as she struggles to tap into her true powers while solving the mysteries of her past), and even for the meaning of the number itself. In numerology, so the house tell us, 'the number 11 represents two pillars, a gateway, representing awareness and consciousness.' Inspired by ingredients that help balance the soul, the head-clearing woody greeness of geranium boosts strengthening rose, while earthy patchouli and a warm amber provide a comfort blanket of softness. Encouraging the wearer to 'stop, take a deep breath, stay positive and consciously focus on balancing themselves,' it also 'awakens the senses, ignites intuition and makes the wearer truly unforgettable.' Just like El, herself.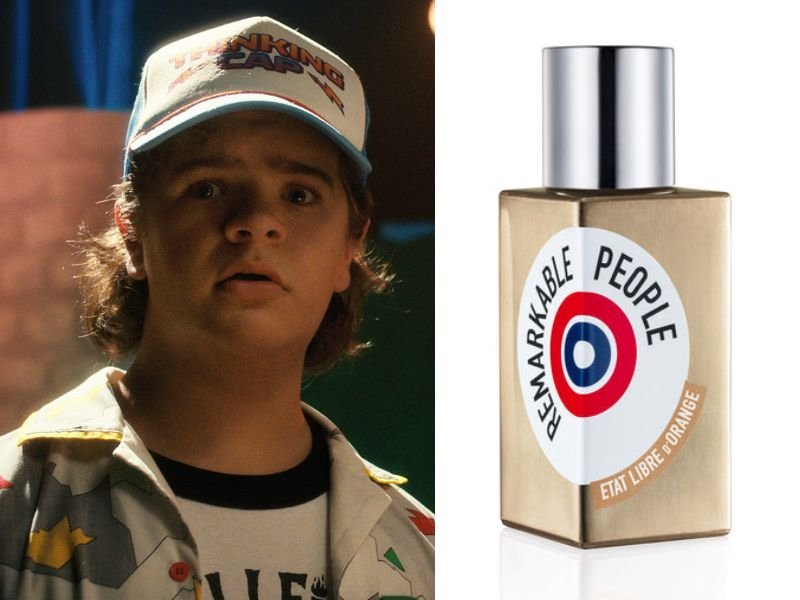 Dustin Henderson (Gaten Matarazzo) – Etat Libre d'Orange Remarkable People £128 for 100ml eau de parfum
Seen as a 'nerd' in the first season, Dustin more than proved the strength of his friendship, even though he regularly feels a bit isolated and left out of some social groupings. Quick-witted and gregarious, he's often the only one who sees things as they really are, though perhaps we'll pass over his pet 'slug', Dart, in season 2, actually being a juvenile demogorgon. Oops. Never mind, none of us can be perfect, huh? In a somewhat tempestuous long-distance relationship with computer genius Suzie (see below), Dustin is driven by a quest for adventure. Inspired by 'Demigods, explorers and those that remain unknown,' this fragrance fizzes with a Champagne-like exuberance then surrounds you in spicy, almost curried cosiness. New heroes are born every day, say the brand, and 'There is an element, an event, a circumstance, or maybe just a quirk in their personalities that changes them, empowers them, enables them to transcend the ordinary.' Dustin, you're our hero!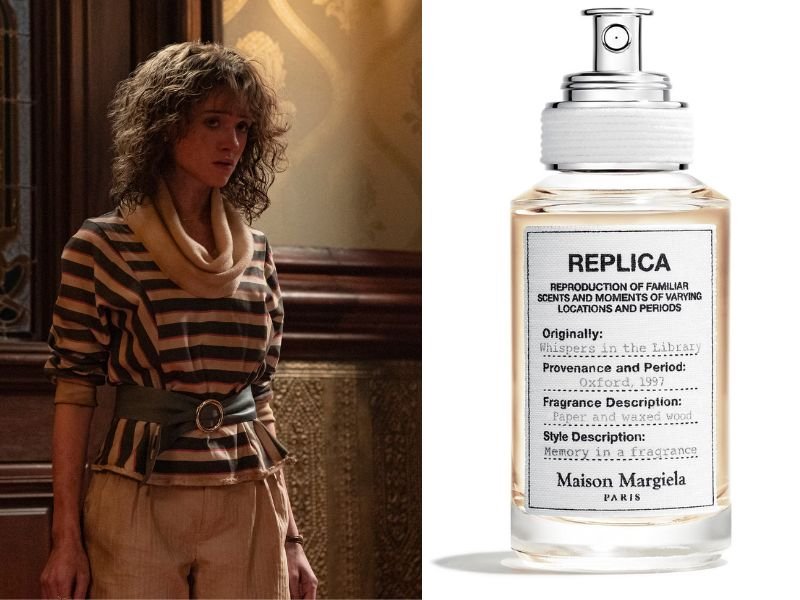 Nancy Wheeler (Natalia Dyer) – Maison Margiela REPLICA Whispers in the Library from £49 for 30ml eau de parfum
An aspiring journalist known as a bit of a 'princess' in the first season, her main concern, then, was merely trying to divide her time between her boyfriend, Steve, and her best friend, Barbara (oh, poor Barb!) When all hell (literally) broke loose, Nancy stepped up to become an integral member of 'The Party' of friends who try to save the world. Nancy's cleverness at piecing clues together also earned her the nickname of 'Nancy Drew', and she's desperately trying to focus on those clues this season, rather than the continuing confusion of her love life. With her love of books, we think this library-centric scent will appeal to Nancy's nose for extensive research. It's all waxed wood and leather-bound tomes with a twist of pepper adding spice to the pencil shavings of cedar, a sweetly dry rustle of vellum adding further intrigue as we finally get to the base of it all.
Steve Harrington (Joe Keery) – Penhaligon's Halfeti Hair & Body Mist Now £32 for 100ml
Known (and lovingly mocked for) his obsessively-tended and oft-touselled head of hair, Steve had a more supporting role as Nancy's cooler-than-thou boyfriend in the first season, before dropping most of his foolish ways and being propelled to main (mane?) cast status. Forming an unlikely, though charmingly fraternal, sparky friendship with Dustin, their duologues make for many of the season's funniest moments. He was a bit of an asshole, but he's fully blossomed, so we think Steve would very much appreciate and now truly desrves the sexy scent of Halfeti that's been imbued with protective and hair-shining properties in the hair mist. Worn alone in hot weather or layered with the fragrance for an even longer-lasting waft of woody sensuousness, the masucline rose even has smooth leather notes to remind him of his favouite jacket.
Robin Buckley (Maya Hawke) – Contradictions in ILK Realist £125 for 50ml extrait de parfum [try in the Discovery Set for £48]
Working with Steve at a new job in Hawkins premiere video rental store, her no-bullsh*t approach comes in handy for day-to-day wise-cracking at work, and quickly becomes her scene-stealing modus operandi as the story continues. Robin is funny but seriously intelligent, her quick-thinking and bravado vital to the gang throughout the season, and she provides a balance to the darkest moments. Her sharp contrast to Nancy's character means their friendship is often spiky, but quite apart from being independently brilliant, she's also an amazing team player when needs be. With a similarly down-to-earth approach, this travels from the cold of night to day break's warmth via yuzu citrus, the clarity of cedar and incense on a sea breeze. Providing clarity of mind and feeling spirit-cleansing to wear, it's the one to turn to when times are hardest.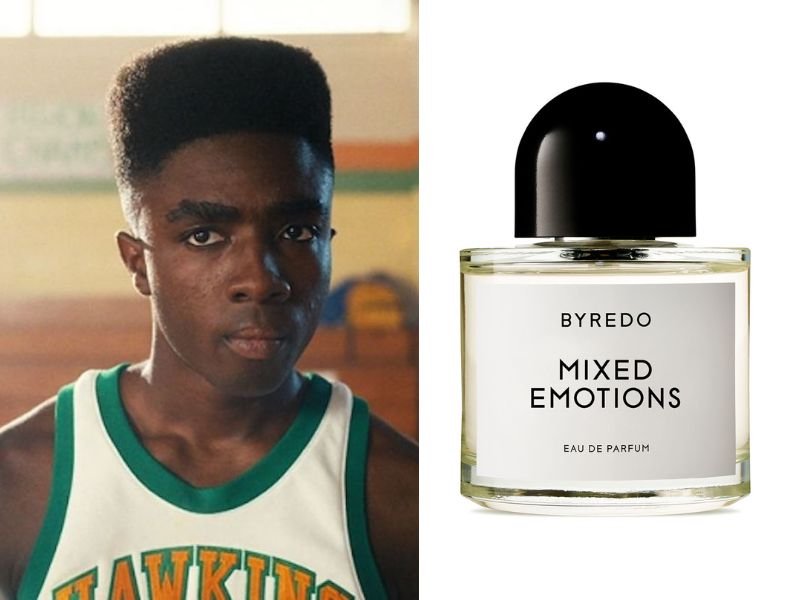 Lucas Sinclair (Caleb McLaughlin) – BYREDO Mixed Emotions £127 for 50ml eau de parfum
Lucas begins by being torn between two rival sets of friends. A difficult circumstance for any young person, it's made all the more horrific when lives (and tender feelings) are on the line. Mixed Emotions has been created, so we're told, 'to reflect the tumultuous nature of our times'. Yet the fragrance itself seems to offer something of a welcome antidote to that: a beautiful, cool blend of maté tea, sharply sweet blackcurrant, reviving Ceylon black tea, violet leaves, all strongly tethered by papyrus and birch wood. 'A refreshing reminder that it is OK to not be OK – and that from unsettling experiences, a new reality might emerge,' conclude BYREDO. Here's hoping Lucas emerges with a renewed sense of who his truest friends really are, and that it's alright to be ostracised if those people alienating you are all assholes. When Lucas taps into his emotional depths he's remarkably resilient, and this scent really encourages the spirit of 'you do you.'
Max Mayfield (Sadie Sink) – Olfactive O Skin £100 for 30ml extrait de parfum [or try in their Discovery Set for £30]
Having captured the game-playing jealousy, then potential love-interest of fellow arcade game players Dustin and Lucas in season 2, the Californian skateboarding cool reserve of Max could be read as snootiness, but in fact is down to her horrific home life (thanks mainly to step-brother, Billy, and her innate social anxiety). Having become a close friend of Eleven's, despite their initial shakiness, her on-and-off again relationship with Lucas provides another emotionally-challenging storyline – as though these young people aren't under enough stress right now. Though she might feel a special connection with another of the scents on this list (we can't tell you why without spoilering!) we think she'd find solace and extra courage in the universality, yet deeply personal connections of this one. Creamy, cocooning, the softness of ambrette seed, orris and magnilia swirl protectively around you, a second skin that can be layered to magnify another scent or worn alone to 'create the absolute essence of you.'
Eddie Munson (Joseph Quinn) – L'Artisan Parfumeur Passage d'Enfer Extrême £135 for 100ml eau de parfum
Leader of the Stranger Things Hellfire Club, the Dungeon & Dragons and Metal music-obsessed Eddie has become an instant fan favourite – his 'bad guy' stereotype soon punctured by his sweetness of character and his obvious (to his friends) sensitive side. Sadly, not everyone sees him this way, and it's not long before he needs all the help he can get. Apart from the fact this fragrance name sounds like a song from one of his favorite bands, it features a host of potentially spooky notes. The headiness of lily has been associated with spiritualism and the afterlife since Victorian times, here smouldering alongside the billowing yet sheer smokiness of incense and an intensely comforting woody muskiness that seems to offer hope even when everything around you is on fire. Despite the 'scary' name, it's a bit of a pussycat at heart this one, a place of sanctuary amidst charred wooden pews and dusty books, something that brings solace whenever you spray it. So, Eddie's gonna need backup bottles.
Argyle (Eduardo Franco) – Malin + Goetz Cannabis £78 for 50ml eau de parfum [or try in the Discovery Set for £22]
Your friendly local pizza and weed delivery guy, Argyle would doubtless rather be thinking up new toppings while taking another toke, but his hippy-dippy lifestyle comes abruptly to an end when he gets involved in the horrifying Hawkins shenanigans. So, we suggest this bohemian yet beautiful balance of rich, spicy and herbaceous notes. A surprisingly floral heart of muguet and magnolia has the laid-back chill of a lazy afternoon, but the base is what really steals the show: a combination of cedar wood, patchouli and sandalwood comes together to recreate this green, hempy, smoky haze of scent. It's dark, green, rich and altogether very moreish. As with all cannabis fragrances, this is free of THC (the ingredient that causes a 'high') so Argyle isn't going to be swapping this for his usual herbal preferences… but we suggest he might like to try smelling of something altogether lovelier. The dry down is fantastically earthy with cedarwood, patchouli and sandalwood creating a peaceful vibe we reckon he could probably do with after all the excitement.
Suzie Bingham (Gabriella Pizzolo) – Beautiful Mind Series Volume 1: Intelligence & Fantasy £95 for 100ml eau de parfum
With an ultra-dry sense of humour, Suzie is a mathematical computer genius who used her hacking skills to full effect in season 3 (despite having been kind of ghosted by her beloved 'Dusty Bun' Dustin: "Okay, let me just be clear on this. I haven't heard from you in a week, and now you want a mathematical equation so you can… save the world?") Called on once again for season 4, we feel she'd get on board with this collection by Perfumer Geza Schoen – dedicated to women with extraordinary talents. This first fragrance was inspired and co-created by memory genius Christiane Stenger, a vibrant blend of magnolia bud, citrus and Schinus molle (pink pepper) with luminous florals emboldened by exotic tiara absolute on a strong, woody base. Proudly get your geek on!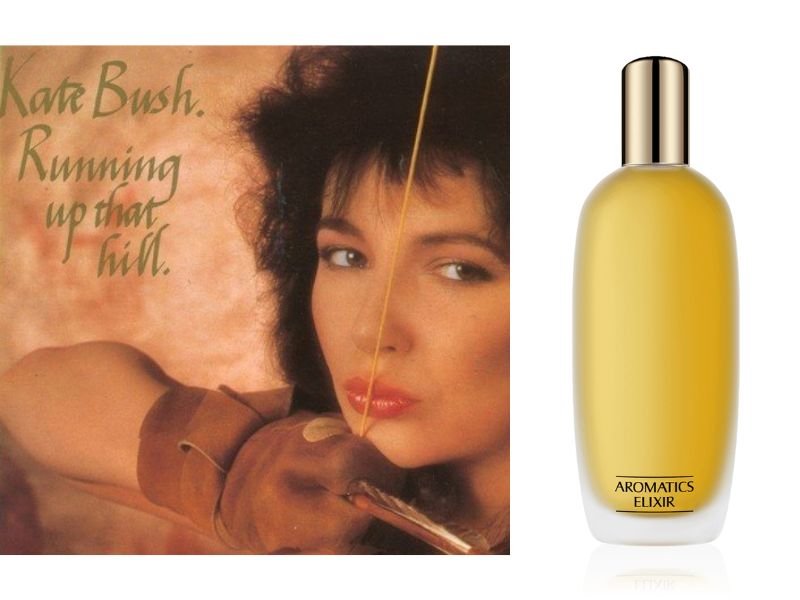 Kate Bush – Clinique Aromatics Elixir From £41 for 25ml eau de parfum
Okay, we know Kate isn't a character in season 4 per se, but as you'll have doubtlessly seen reported, like, everywhere; Kate's song Running Up That Hill features prominently – not merely part of the (always excellent) soundtrack, but in the culmination of a particularly important episode that proves something of a breakthrough in the supernatural plot. With her strongly independent and mysterious allure reignited for a new generation, we feel a perfect perfume match for Kate would be this groundbreaking scent, launched in 1971, the world's first 'aromatherapy' fine fragrance; a classic chypre style that's cool, grounding, rested on seductive, patchouli-rich base that fuses vetiver and amber which steadies us in a frenzied world, and is slightly weird in the best way.
Is your favourite character missing from this list? Well, before you get stroppy, can we just say it is an extensive cast, and we've tried to focus on some of the newer characters (or those with especially important story development roles) this season. But look, we know how frustrating it can be, so if you've a strong feeling for a particular character – perhaps have already imagined the fragrance you'd pair with them – do let us know! In the meantime, sit back and think how you'd scent your Stranger Things streaming.
Written By Suzy Nightingale