What does the phrase 'scents of the sea' immediately bring to mind, for you?
Forget those somewhat generic 90s beachy scents, pack your bucket and spade and get ready for a whole new generation of oceanic wonders…
Seaside and summer go together like sand in your sandwiches and an inevitable downpour (if you're in the UK, anyway); which leads to sitting in a car, windows steaming as tempers rise, eating somewhat flaccid chips while staring gloomily out to sea. In our heads, the image is somewhat different – crystal clear water, sunlight sparkling on white crested waves, fresh salty breezes whipping our hair into a perfect beachy bohemian vibe.
Don't leave these happy-making images in your dreams – spritz them in to reality by wearing any one of this new generation of 'by the seaside' scents. We've chosen seven holidays in fragrant bottled form, to be uplifting, awakening and definitely more reliable than our weather…
Magamare is an ozonic scent that takes its inspiration directly from the oceans, containing ambergris, seaweed and sea cucumber. Let Megamare wash over you this Summer – and we're not talking puddles or gentle lapping, here: it's a veritable leviathan of a fragrance with incredible lasting-power, and one for those who want their scent to take them on a seashore journey the whole day (and night) through.
Orto Parisi Megamare £138 for 50ml eau de parfum
libertylondon.com
If your seaside jaunts run to the racier resorts, you'd do well to re-disover the delights of this modern classic. Said to have been developed to the brief of licking salt off a man's hot skin as he emerges from the sea (steady on), Francis Kurkdjian's masterpiece of mint, cumin (for a slight sweatiness) and cardamom atop orange blossom and a smooth vanilla dry down is hard to beat.
Jean Paul Gaultier Le Male £38.50 for 40ml
Feel n' Chill wraps you in a blanket of fluffiness – soft musk shushing the freshness of lazy waves, lush coconut water and juicy watermelon adding a slight booziness to the dry down. Lay back and drink of England as you watch azure seas roll ever onward, your blood pressure dropping deliciously with every aromatic breeze.

JUSBOX Feel 'n' Chill £140 for 78ml eau de parfum
Exclusively at selfridges.com
A proper English seaside holiday, with all the sticky-fingered memories of candyfloss smiles, sudden downpours with the hope of 'it's meant to be brightening up, later!' Exploring mossy rock pools while smeared in suntan lotion, burning your thighs on pleather seats, minty sticks of rock that last forever and salty, kiss-me-quick selfies. Sheer joy, bottled, in other words.
4160 Tuesdays What I Did on My Holidays £40 for 30ml eau de parfum
4160tuesdays.com
Apsu's bright blend of verdant green notes drifts to a haziness of freshness, happily lapping into cool, clear water. Crunchy, almost celery-like  mixed with sunny bergamot to capture the lush vibrant spirit of nature and water in warm climates. APSU redefines freshness.
Ulrich Lang Apsu £89 for 100ml eau de toilette
libertylondon.com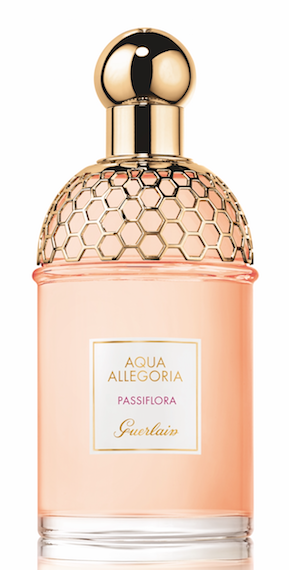 For the chic-est holiday-in-a-bottle you must spray this seaside-y breeze of a scent. Shimmering notes of lemon, grapefruit and mandarin are touched by a soft, salt-tinged wind, while crystalline waters of a lagoon glisten below trees of ripening passion fruits. Ylang ylang gives a rich exoticism to the composition, ensuring this is a Guerlain vacation you'll never want to forget.
Guerlain Aqua Allegoria Passiflora £52 for 75ml eau de toilette
harrods.com
The tang of lemon made even more mouth-watering with sprinkles of salt on cool, aquatic notes, a bracing slap of birch leaf and Spanish cypress oil to revive the most flagging of spirits. Intriguing accords of seaweed swathe a delicacy of green herbaceousness than lingers for hours.
Mare Pacifico By Linari £145 for 100ml eau de parfum
roullierwhite.com
by Suzy Nightingale