Now there's a distinct nip in the air, now is the perfect time to snuggle up with a good book – and we have a whole scented selection of great books to recommend you in our Fragrant Reads library of reviews.  All of them focus on our favourite subject (obvs), with some specifically on the topic of perfume, while others explore the wider scent-scape of our sense of smell.
We read A LOT of books about perfume, but we don't always have time to write up our reviews in full. So lately, we have been concentrating on updating our virtual library with some of the more recently published books we've come across, including this FANTASTIC volume by longtime Perfume Society subscriber, Catherine Maxwell, which we will pull out of the bookshelf for you now and examine below…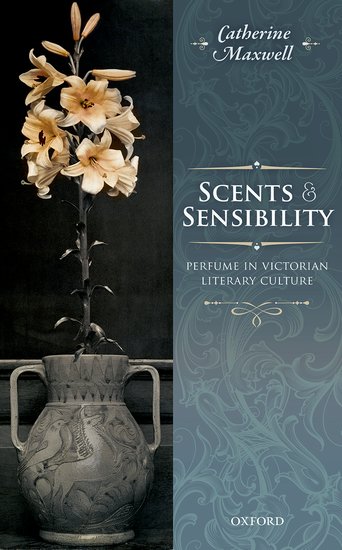 Scents & Sensibility: Perfume in Victorian Literary Culture, by Catherine Maxwell
We're honoured that Catherine has been a Perfume Society subscriber pretty much since day one, so when we heard she'd published a book, we couldn't wait to get our hands on it. And even more wonderful was the realisation that her choice of subject tied together two of our greatest loves – perfume and books. Delving deep into literary culture, she explores the myriad ways writers have been influenced and inspired by perfume, and how scent can become an invisible 'character' or reflect the inner workings of an actual character's mind. More than that – the way a writer describes and uses scent can give us an insight into their own personality. We were particularly fascinated by how outrageously catty Virginia Woolf, for example, could be!
Catherine's inclusions from her personal diaries and correspondence reveal Woolf loathed strong perfumes, and had very exacting opinions about those women who wore it (we feel she definitely wouldn't have approved of us!) On meeting the writer Katherine Mansfield, Maxwell relates, Virginia Woolf wrote in her diary that she wished 'that one's first impression of K.M. was not that she stinks like a civet cat that had taken to street walking.' Later, Maxwell cites Woolf's further biting comments regarding overly scented women, quoting an occasion Woolf condemned some women she'd met in the library, saying 'A more despicable set of creatures I never saw. They come in furred like seals and scented like civets.' Don't hold back, Virginia – what do you really think?! Further writers and their works are examined – from Oscar Wilde – Catherine also draws on a wealth of contemporary material such as ettiquette guides, advertising, beauty manuals and perfumer's guides. Altogether, it's the most eye-opening account – a scented snapshot of perhaps the greatest literary period in history – and a must-read for anyone who loves literature and wants to enhance their sensorial understanding (and enjoyment of literature.
Publisher: Oxford University Press 2017
At Amazon
*****
By Suzy Nightingale