Now those advent calendars are in the recycling already, why not treat yourself AND a superhero you know to the Super Man Discovery Box – a different scent to look forward to trying each day. Compare notes via texts or even a Zoom sniff-along!
Allow us a bit of 'silly season' scented musing time, here, folks, as we ponder the important question of what we might scent some of the superheroes with. The matches are predominantly male, only because we curated this selection with men and more 'masculine' scents in mind, but of course they can be worn by anyone.
Oh it's okay, we know you might not be feeling particularly heroic right now – the only superhero I currently resemble could be 'Cheesewoman' or 'Gin Girl' and I don't think they exist (they should!) But hey, having got through last year and ploughing onwards (and upwards) in the continuing face of uncertainty is heroism to be celebrated nonetheless, non?
Get your geek on…
[All original comic book images copyright of respective artists & publishers, credited individually.]
Gamora: ånd fragrance Frånk
The green-skinned alien is the last of her species (mirroring ånd fragrance's fund-raising effort to protect frankincense) and no stranger to balancing awesome blade-wielding skills with a sharp wit. So we've matched her with a fragrance that celebrates the fruitier side of frankincense, where the foresty freshness zings with restless energy, a mischevious melding of citrus and banana-esque ylang ylang shot through with luscious mango, resinous myrrh and silky seams of vanilla folded in for good measure.
Wolverine: Anima Vinci Wood of Life
There's something to be said for learning to harness one's rage, but we really think James could do with a nice sit down and some deep breaths, bless him. This fragrance is immediately grounding and provides a soothing space for mindfulness – palo santo has been used for centuries in spiritual ceremonies, to 'cleanse' negative energies and promote clarity of vision. In combination with sandalwood, spices and vanilla it's an olfactory moment of 'OM…..' Now put those knives away, dear, and chill.
Iron Man: Atelier Des Ors Cuir Sacré
Always an admirer of exquisite design, billionaire Tony Stark would surely fall for the gilded charms of this leather-rich fragrance. Imbued with perfectly blended hints of berries and spices, perhaps he'd forget to be grumpy and mellow into reveries of sauntering at sunset on a balmy evening while wearing a velvet smoking jacket. And if he gets stressed, he can shake the bottle to see the flakes of real gold swirl (a grown-up snow-globe, if you will) as the cedar, incense and saffron swoon to the intriguingly cool base.
The Human Torch: Caron Aimez-Moi Comme Je Suis
Smouldering ginger recalls heat and positively sizzles when the zing of grapefruit meets the unexpected pairing of hazelnut and vetiver. The wearer must be used to the fiery sensations, so who better than Johnny Storm? A founding member of The Fantastic Four, he's used to overcoming adversity while literally aflame – talk about leaving a trail! Spritzing this to soften his edges a little (not while actually alight: health and safety first, Mr. Storm), its warm and woody aroma create an irresistibly addictive character.
Batman: Floris London Vert Fougère
Vert Fougère is moody – perfect for the sometimes sulky Batman – and embraces its mossy heritage by adding sparkling modernity. And he could do with a bit of sparkle. A bittersweet blend of grapefruit, bergamot and neroli entwine ginger and lavender for added freshness while patchouli, cedarwood and smooth cashmere in the base ensure a lasting legacy. Traditional enough to tempt the wary, exciting enough to add a sashay; we see the latest Batman portrayer, Robert Pattinson, wearing this with aplomb.
Professor X: Initio Side Effect
With his exceptional powers of telepathy and mind-control, we feel Charles Francis Xavier would appreciate the hypnotic inspiration behind this scent. An irresistible combination of rum, leather and tobacco is sprinkled with a sweet frisson of vanilla and a tingle of warming cinnamon – the effect quite spellbinding. The woodiness and smooth hints of booze are perfectly appropriate for a study-dwelling genius, while the rich spiciness instills confidence and daring. The overall impression? Those who follow your fragrant trail will be left enchanted…
Spider-Man: Jimmy Choo Man
Peter Parker always appealed to the younger comic fans first, and there's something effortlessly youthful and effervescent about this fragrance. Aromatic and woody up top, an accord of lavender and mandarin is softened by deliciously succulent notes of honeydew melon. In the heart, pink pepper and geranium are mixed with pineapple leaf, as a sign of originality. Finally the fragrance unveils a web of patchouli, suede and ambery woods – joyfully uplifting and one for cheekily charming urban chaps on-the-go.
Captain Britain: Jovoy 21 Conduit Street
Brian Braddock very rarely gets a look-in when superheroes are discussed, (the name doesn't help, huh?) so we wanted to give him a moment with this fragrance. Revisiting an often overlooked classic of English perfumery while giving it a decidedly modern twist; the real secret of 21 Conduit St is the richness of its dual lavender – the radiantly aromatic essential oil further enhanced with an absolute. Rippled through rhubarb, almond and fir balsam to a woody base, it feels aristocratic yet complex, much like Brian himself…
Catwoman: Kierin NYC Santal Sky
Fabulously milky, this comfort blanket of cardamom-flecked sandalwood will have all villainous feline types putting their claws away awhile, as the soothing, creamy notes of fig swirl into decadent orchid and saffron-speckled vetiver as a final twitch of the tail. There's a sophistication to this scent but it truly feels effortless for any occasion. Rendering any gender instantly languorous, your only real problem will be getting anything done, as you'll want to curl up and revel in how purr-fect you smell.
Wonder Woman: Laboratorio Olfattivo Tonkade
Sumptuous waves of dried fruits and a perfectly choreographed dance between resonant sweetness and powerful clouds of amber-rich mystery, this is a regal fragrance fit for a superhero whose backstory now highlights her Amazonian heritage, and explains she's the daughter of Zeus and Hippolyta. But 'Wonder Men' can equally get on board with this – a stunner for anyone who should never to be underestimated: a powerhouse of potent accords that should immediately be lassoed into your own collection.
Spaceboy: Parfums de Marly Sedley
Hailing from the Umbrella Academy, Luther Hargreeves was the youngest person to become an astronaut, and struggles with his extreme physical strength (accident involving a 'Martian space chimp'. Don't ask) which masks his extremely sensitive nature. This feels uplifting – a sparkle of citrus awakening the power of mint, while Hivernal® Neo is a hyper-realistic reinvention of how water smells. Liquid silver, cool Sedley encapsulates a balance of opposites, where noble materials and futurist molecules collide.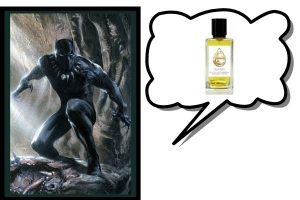 Black Panther: Ruth Mastenbroek Oxford
T'Challa is one of few superoes who boast a degree, having earned his PhD in Physics from Oxford, so this fragrant memory is entirely perfect for him. Those 'dreaming spires' are conjured through magestic composition, from smoky, shadowy layers juxtaposed by this scent's more luminescent jasmine and comfortingly cashmere notes. At its heart, Oxford's bold oudh and amber offsets the softer vanilla and vetiver for a daring fragrance that's certainly not for the faint-hearted. A perfume for the panther that stalks your soul…
Klaus Hargreeves: St Giles The Stylist
Another member of the Umbrella Academy, Klaus swaggers with the confidence and dress-sense of a rockstar, has the ability to talk to the dead while utterly beguiling the living – to the point where he accidentally becomes a cult leader and prophet (easily done). His sensual nature and natural style will thrill to the flashbulb of aldehydes and bitter orange up top, while the smooth rum, mango and triple-dose of silky vanilla cream help smother his inner demons all the way down to the base of tobacco absolute and oakmoss. Irresistible.
Superman: Versace Dylan Blue Homme
A fragrance for both 'the man of steel' and his everyday alter-ego of Clark Kent; the masculinity wafts forth with bold Ambroxan, refreshed with zesty hits of bergamot and grapefruit. The earthiness is zipped up with a punch of black pepper and papyrus wood before being enveloped by an intense cloak of incense, mineral musk, tonka beans and warming, spicy notes of saffron. Equal parts athletic and intelligent, it's bound to become your go-to when you've no idea what to wear. No need to quick-change in a phone booth, either – always a bonus.
Samples of ALL of these fragrances are available to try at home in our Super Man Discovery Box for only £18 if you're a VIP Club Member, (£22 to everyone else) and it also features these grooming extras…Weleda Skin Food (Thing from The Fantastic Four needs to incorporate this into his daily routine ASAP) and FISH Memory Fish Flexible Gel (which Aquaman could definitely do with).
No matter if it's a thank you gift for a superhero you know, or a gift to yourself for just getting through all this *gestures broadly* – here's to feeling infinitely more 'super' with every spritz: up, up and a spray! (Sorry).
By Suzy Nightingale