Some of our most beloved flowers and fragrant ingredients are, in fact, powerful poisons with a rich heritage of folklore traditions, used for centuries in suspected witchcraft practices, to render scented gloves quite deadly, and by spurned lovers sprinkling petals into potions. Once, during the reign of King Louis XIV, a murderer supposedly used poisoned perfume to kill so many royal courtiers it sparked a witchhunt ten years before those fingers started pointing in Salem. A notorious case named 'The Affair of the Poisons' by sensation-seeking newspaper headlines, it simultaneously delighted and horrified a public who began looking at perfumes in a new light…
You see, perfumes aren't merely 'pretty' – they can work as potent brews to bewitch, beguile and welcome you over to the darker side of scent, albeit in the most enticingly elegant manner. For 'spooky' scents must do more than simply scare, that's far too obvious and crass – very few people wish to be terrified by their own fragrance, and I say that even as a mostly reformed ex goth. What I yearn for are fragrances whose beauty belies a more sinister undercurrent – we must first be enchanted to be fully ensnared. Something history teaches us time and again.
Catherine de Medici's perfumer (and expert in poisons), Rene lé Florentin, was said to have made perfumed poisoned gloves at her behest, killing Catherine's rival, Jeanne D'Albret, who fell ill following a shopping trip and died under mysterious circumstances. No matter nothing was proved: the story was far too delicious not to spread the scandalous rumour of death by scent.
Laced fragrances were supposedly used to kill members of 'the perfumed court', with 194 individuals arrested and 36 executed between 1677 and 1682. In fact the whole 'Affair of the Poisons' masked a crime ring, and the growing concern of womanly wiles being granted by satanic pacts, which writer Anne Somerset thoroughly doccuments in her book The Affair of the Poisons: Murder, Infanticide and Satanism at the Court of Louis XIV (sadly out of print I believe, though you can often find second-hand copies). But the links between glorious smelling scents and deadly intents were now firmly ingrained in the public consciousness.
For the morbidly curious, the Poison Garden of Alnwick Castle provides modern visitors a chance to see the types of plants grown and harvested by alchemists and wannabe witches throughout the years. When Jane Percy became the Duchess of Northumberland, her husband asked her to do something with the neglected gardens. 'I think he thought, 'That will keep her quiet, she'll just plant a few roses and that'll be it,"' the Duchess commented to The Smithsonian magazine; '…but I thought, 'Let's try and do something really different.'" Despite the many signs and stern guides warning people of the danger of picking or even smelling some of the plants, apparently each year, several visitors sneak a sniff, with some being taken ill following their reckless actions. What is it about forbidden smells that makes them so… irresistable? Let's dare to find out.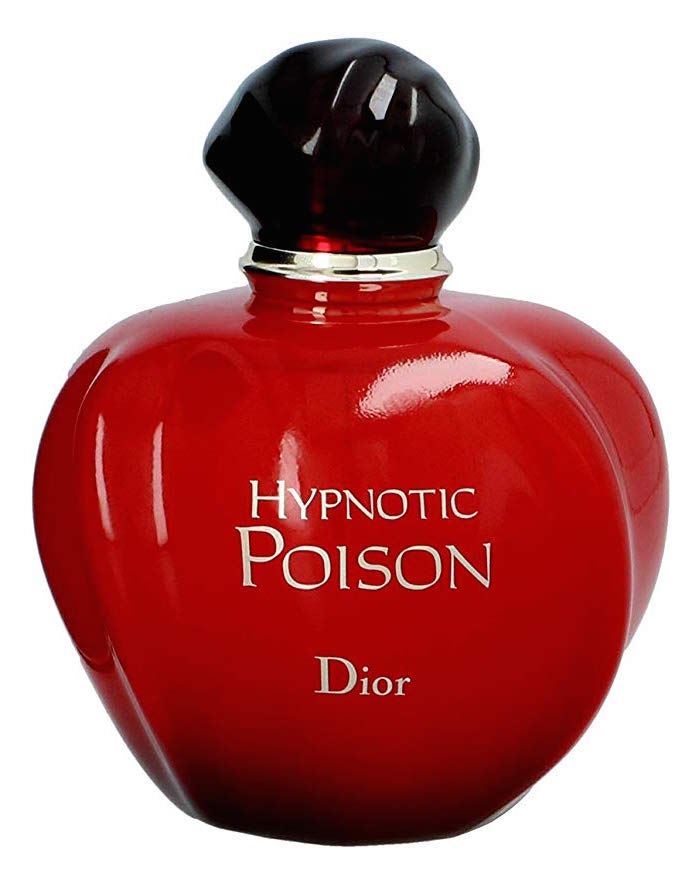 Cyanide smells like almond, cleverly cloaked here in clouds of fuzzy apricot, luscious plum and milky coconut. Waxy white flowers have their narcotic tendencies softly smothered by a blushing rose, creamy sandalwood and a fluffy base flecked with wildly addictive vanilla. Revisit this, and I defy you not to spend the entire day being enraptured by your own smell. Vanity's supposedly a sin, but oh! How wonderful to adore yourself.

Dior Hypnotic Poison £65 for 50ml eau de toilette
dior.com
Mandrake roots, often used in Wiccan rituals, were believed to emit a blood-curdling scream when dug up, but smell pleasingly of red apples. Happily married to sharp rhubarb, pomegranate and bergamot, the shriek is stifled by a deep, loamy patchouli, smoked birch and a caramel-like undertone swirled with cream. You'll be screaming for more of this poison-inspired range, I wager.
Parfums Quartana – Les Potions Fatale – Mandrake £115 for 50ml eau de parfum
roullierwhite.com
Socrates drank black hemlock to poison himself, but it's used here to far greater effect – oodles of the absolute lending mysterious shadows to a dusky forest, otherworldly whispers amidst the verdant undergrowth, all set against the backdrop of a violet-streaked, vetiver rich, amber-tinged, sunset. This one captivates crowds, and could easily conquer a whole court, should you so wish.

Ormonde Jayne Ormonde Woman £110 for 50ml eau de parfum
ormondejayne.com
Commemorating women burned as witches – such as Agnes Finnie, killed at Edinburgh Castle in 1645, screaming 'may the devil blow you blind' – hazelnuts are shot through with the red juice of blood oranges, woven with curiously curling tendrils of tobacco smoke, a hint of damp tweed and the mineral freshness of misty moorlands. Delightfully unsettling for those who dare ask the provenance of your perfume.
REEK Perfume Damn Rebel Witches from £85 for 50ml eau de parfum
reekperfume.com
Foxglove, a.k.a. Digitalis, is cultivated for its great beauty, though every single part of the plant can be lethal if swallowed. Imagining a scent for the odourless flower, this heady perfume oil oozes botanical history, blending blood orange with salt meadow grass, hyacinth leaves, jasmine and white cedar. It smells like tear-stained love letters tied in silk ribbons, tossed in a lake but never forgotten.
Joya FoxGlove £75 for 75ml parfum
net-a-porter.com
A slowly unfurling intoxication of transparent jasmine and white narcissus work their magic beneath greedy handfuls of succulent berries snatched in darker woods – a sense of half-glimpsed, tulle-draped ghosts flitting between the trees. Inspired by the notorious Deadly Nightshade, by the time you reach the chocolate-y patchouli base and musky vanilla dry down, it will already have cast its spell.
Shay & Blue Atropa Belladonna £55 for 100ml eau de parfum
marksandspencer.com
Light and shade have rarely been so beautifully juxtaposed: a dry, green rustle of fig leaves, luminescent orange blossom and herbaceous woodiness with the lingering, subtly sweet scent of white oleander. Oleander once accidentally poisoned hundreds of Napolean's troops, who'd roasted food on its branches; deliberately deployed in Janet Finch's White Oleander, when a scorned woman slowly poisons her lover by lacing his food (even sprinkling his bedsheets) with its lovely, lethal petals. 'How lovingly she arranged the dark leaves, the white blooms…'
Hermés Un Jardin en Méditerranée £48.80 for 50ml eau de toilette
johnlewis.com
Those of you who'd like to further indulge the heritage of fragrance and poisons, might like to consider a perfume bottle necklace engraved with belladonna. Fill the rollerball with your scented weapon of choice, and dangle wickedly at the next dinner party bore, perhaps? Then flamboyantly annoint yourself with the fragrance while smiling, beatifically.
Beads & Bones Belladonna Mini Rollerball Necklace $150-180
beadsandbones.com
The fragrances I recommend, above, can of course all be safely sniffed – though swooning may occur for for other reasons. They have been created by perfumers celebrating a darker side of fragrant history, but in a truly wearable and devastatingly compulsive way. I enjoy using them in the murkier months as a remedy against the seemingly endless Stygian gloom – for none of them smell 'dark' or oppressively heavy, despite their nefarious inspirations. And there's a particular pleasure at being complimented on them (something that will happen a lot when you wear any of these, I assure you), while knowing I trail a history of scented superstitions and olfactory aprehensions in my wake…
By Suzy Nightingale