For International Women's Day this year, we want to give a fragrant high-five to the strong women who've founded – and continue to successfully run – many of our favourite fragrance houses.
In previous years we've flagged up female perfumers we think you should know about, and we'll be taking a look at fragrance houses run by mothers and daughters in a forthcoming Mother's Day post; but for now let's celebrate and support just some of the incredible and entrepreneurial women who strode their own paths in the world of perfume…
Amy Christiansen Si-Ahmed – Sana Jardin
A former social worker whose c.v. includes time with the Bill Clinton Foundation, the Robin Hood Foundation and the Cherie Blair Foundation; Amy set about 'changing the world, one bottle of perfume at a time.' Working with perfumer Carlos Benaïm, she sources ingredients via a women's co-operative where, locally, they can now market orange flower water, candles made from flower wax, and compost made from the waste flowers.
Mona Maine de Biran – Kierin NYC
Following a successful international modelling career – which allowed Mona to traverse the globe and visit remote, exotic locations – returning to New York, Mona turned her experience into a successful  arts and lifestyle blog, before honing her passion for perfume and storytelling by launching her own. Wanting people to be '…inspired, not defined or confined, by fragrance', the house celebrate 'Diversity and inclusion… for young people of all ages, colors and nationalities.'
Mona Kattan – Kayali
Huda Beauty have been wowing the world for over a decade, building an empire that went from a humble beauty blog to a blockbusting makeup and beauty business. Believing 'scent is our most transformative part of our beauty routine, It has the power to completely change how we feel', Mona and sister, Huda, are American-born to Iraqi immigrants, both now running their businesses from Dubai, embracing diversity and often opening up about the bullying they faced in childhood.
Annabella Fasano-Leslie & Holly Hutchinson – Contradictions In ILK
Creative Director Annabella is a free-spirited perfume-lover with a background in human psychology and eight years of advertising industry experience; while Holly was already known for her luxury niche line, Memoize London. Melding their skills and passions, Ilk embodies none of being summed-up by a single character trait, so why not play with perfume & layer people's expectations of you?
Olivia da Costa  – Olfactive O
From Chelsea College of Art, Olivia went on to become fascinated by scent as a literary device in turn of the century novels, while then studying English Literature. The psychology of perfume led her to working her way up from shop assistant to buyer at John Lewis, and when a friend introduced her to a distinguished perfumer, the passion became reality in her personality led, story-telling scents.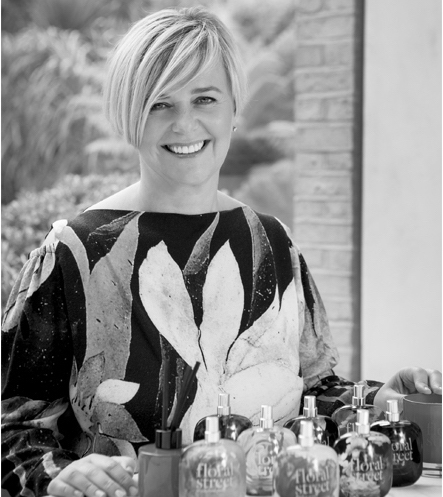 Michelle Feeney – Floral Street
Following her time at the Estée Lauder Companies, then revolutionary tanning name St Tropez, the always enterprising Michelle Feeney unveiled a fragrance line 'built on the streets of London'. With an ethos of sustainability, the vibrant fragrances celebrate florals in a so-modern way, and from a flagship Covent Garden boutique to huge success in Sephora, these bouquets are blooming.
Ruth Mastenbroek
Having discreetly created fragrances for many famous private clients, she made the famous Grapefruit candle for Jo Malone (which Jennifer Lopez loved so much, she bought 300 for her hotel room). The first perfumer to use advanced micro-encapsulation (in a scented bathrobe) she now has her own fabulous fragrances evoking treasured memories, perfectly balanced and captured forever.
Sarah McCartney – 4160 Tuesdays
Having written for LUSH for 14 years, Sarah studied essential oils, acquired a small kit of rare ingredients and made her first fragrance. She then wrote a novel about 'a woman who makes perfume to remind people of a time when they felt happy' and turned her hobby into a business. There are 4160 Tuesdays in the average lifetime, and Sarah squeezes the scented juice out of every single one.
Emmanuelle Moeglin – Experimental Perfume Club
Completing her extensive training at the French perfumery school of ISIPCA, Emanuelle worked as a Scent Design Manager for various global fragrance brands, then become an independent perfumer based in London. Wanting to make the fragrance world more inclusive, she runs incredibly popular workshops which led to her own line of exceptionally exciting scents, including kits to make your own.
Nathalie Vinciguerra – Anima Vinci
From 2006 until 2015, Nathalie was Head of Fragrance Development for Penhaligon's and L'Artisan Parfumeur – working with some of the world's best perfumers on award-winning fragrances. This prepared her for the massive leap in founding her own fragrance house, with a very particular aim in mind: fragrances encouraging you to embrace life full force, just as she has, with optimism and joy.
Nancy Meiland
Apprenticed to one of the UK's experts in custom perfumery, Nancy began her career creating bespoke fragrances, she took her dream and made it reality – all the while, dividing her time between town and country and raising a family. Now with her own artisanal line, she has the knack of conjuring emotional responses with lyrical fragrances that are contemplative yet so effortlessly sophisticated.
Rebecca Harrison – Vines House Parfum
Having seen first-hand the amount of work that goes into the creation of a brand and already achieved a successful career in the beauty industry, Rebecca began her work in skincare, which ultimately led to fragrance, and planted the seeds of a new passion: to be a perfume creator. Living amidst vineyards gave her the creative spark to launch her own fragrance house, 'with its roots in vines, both metaphorically and geographically.'
Rebecca Rose – To the Fairest
Inspired by storytelling and female strength, Rebecca first explored perfume via treasured vials from her grandmother. Later, still scent-obsessed, meeting fragrance expert Lizzie Ostrum encouraged her to launch her own company. Dedicated to giving back, Rebecca donates funds to charities, including a horticultural project working with vulnerable people; and during the pandemic, Head to Toe, who support people receiving mental health, community and social care.
Whichever of their perfumes you choose to explore, you will be amplifying and applauding the hard work and bravery of these female founders, every single time you spritz…
By Suzy Nightingale