Galentine's Day – okay yes, you can be cynical and view it as yet another spin-off from 'V Day', but instead we're seeing it as an opportunity to send our best gal pals a little scented something to say "I MISS you!"
Because oh, how we are all missing our friends right now. Many of us haven't seen our dearest friends for nearly an entire year, even for a five minute chat or socially distanced walk. So yeah, it's hitting hard, the lack of laughter, togetherness, compassion, love…
Of course we have incredible technological ways of touching base – for which we're all very thankful – but Zoom meets and endless text messages are no substitute for actually touching, hugging, just being with our dearest friends, who despite not being around person, have most certainly kept us (mostly) sane. So what to do?
The power of perfume to lift our spirits, soothe frazzled nerves or give us a boost of confidence to get through the day has been proven, but the power of the post arriving (and getting to open a something lovely) shouldn't be sniffed at, either! I'm not sure about you, but my postman probably thinks I want to marry him, the way I anxiously hang out the widow awaiting his arrival.
If you've several friends you'd like to send gifts tom why not buy a box and split the samples between them – popping a couple (well wrapped) in a card would be a joyous little extra to open!
Because there's an awful lot of antipatory joy in that satisfying 'thud' (of something that obviously ISN'T a bill) on your doormat – so here's some ideas to send a little happiness to someone you love and miss so much, for Galentine's or any day…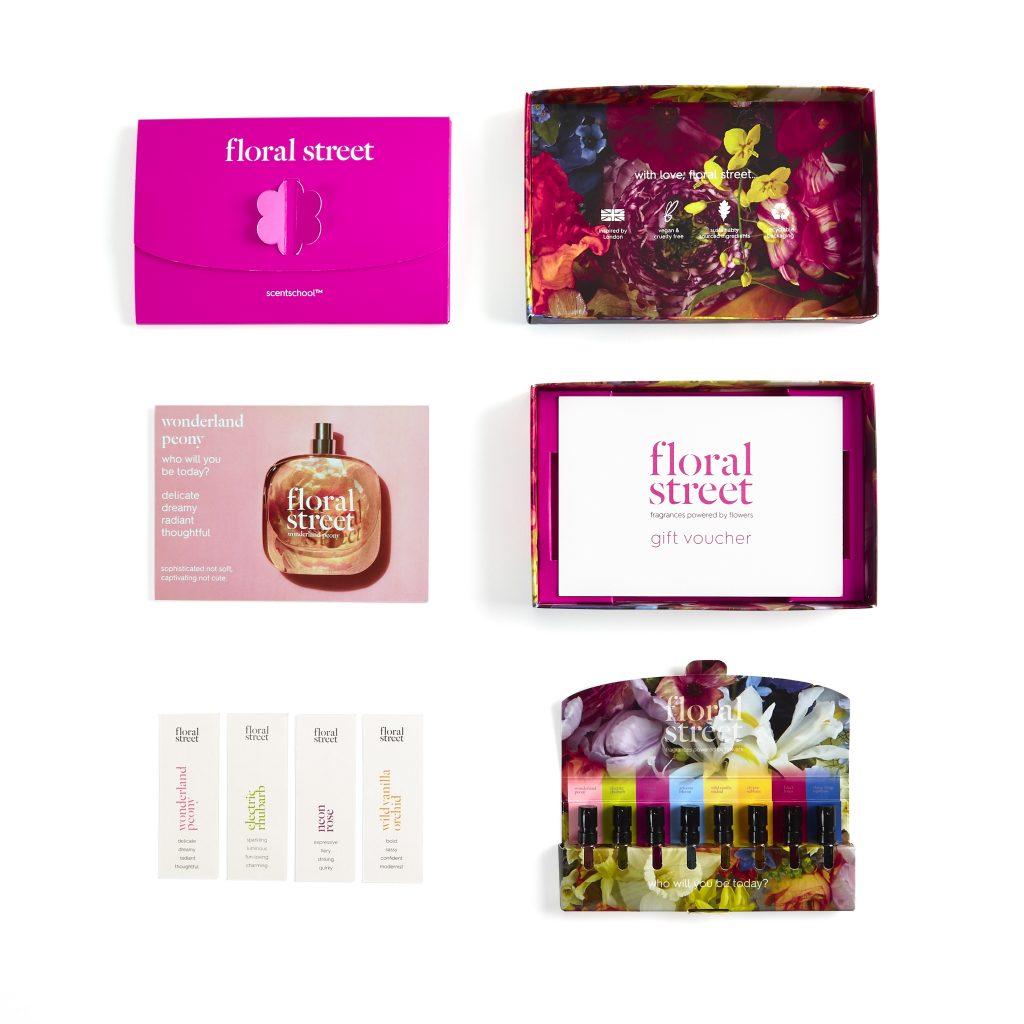 Floral Street scentschool™ in a Box
Back to school in scented style, and the perfect way to share your love of fragrance with a friends – even a whole gang of perfume-loving pals! Ingeniously, when you buy their special discovery set, containing eight fragrances, blotters and scented 'touch and smell' cards, you receive a code to book your complimentary live online class (one-to-one or for a whole group of you to do it together), plus a discount on your next purchase. There's even the option to add a voucher for a 10, 50 or 100ml fragrance for a pick-me-up treat when they've found their favourites.
From £24 for eight fragrances + online class
floralstreet.com 
La Maison J.U.S. Discovery Kit 
A gorgeous hatbox-style package of perfumed wonders to explore, with vibrant, contemporary and beautiful scents by some of the most famous 'noses' around: Céline Ellena, Fabrice Pellegrin, Aliénor Massenet, Aurélien Guichard, Alexandra Carlin… From fabulously sexy florals and chic, supple leather to refined seascapes and magical gardens – every taste is catered for, especially those creative, artistic friends who welcome exquisite design combined with innovation. Such a wonderful gift to receive for one special person, or might we suggest you keep the box and your favourites, and share the others with friends the fragrances remind you of…?
£30 for eleven fragrances
The Perfume Society Shop
Molton Brown Lily & Magnolia Blossom Gift Set
Who wouldn't appreciate a luxurious set from Molton Brown? Revelling in fragrant baths or showers and taking time to treat your skin with a nourishing body lotion are simple ways of adding self-care into our daily routines, and so important for a mind re-set, we find. But it's strange, isn't it? While we may happily treat a friend to luxury items as a gift, we might deny ourselves. Ditch the guilt and treat yourself to daily bliss with this new fragrant duo – redolent of springtime buds and sparkling sunlight at last.
£48 for 300ml Bath & Body Wash + 300ml Body Lotion
moltonbrown.co.uk
Goldfield & Banks Discovery Set
Why not travel to Australia with a group of girlfriends (via your noses!) in this exceptional exploration of materials hitherto unknown to the perfumery industry. Using indigenous ingredients beloved by founder, Dimitri Weber – such as blue boronia, finger lime and pacific rock moss – this unique collection invites a sense of freedom, the feeling of sunshine and wide, open landscapes to adventure in. From ocean-inspired freshness to the sunlit canopies of a rainforest, from velvety oppulence to enveloping woods, let your senses rein free as you encounter each scent.
£26 for eight fragrances
The Perfume Society Shop
Sana Jardin Discovery Set
This stunning portfolio of perfumes were created very much with women in mind – not that men don't also adore the fragrances, but this socially-conscious, luxury fragrance house works with a sustainability program to help the Moroccan women who pick the orange blossoms used in several of perfumer Carlos Benaïm's stunning creations. Founder Amy Christiansen Si-Ahmed wanted to 'change the world, one bottle of perfume at a time' and these seductive scents evoke golden, shimmering light, swags of heady flowers and the sensual powers of night-blooming jasmine. Simply dreamy…
£30 for eight fragrances
The Perfume Society Shop
By Suzy Nightingale