Regarded as a lucky charm ever since its first introduction from Japan to Europe in the Middle Ages, lily of the valley has become synonymous with the month of May and 'the return of happiness'.  One of the reasons The Perfume Society chose lily of the valley as our symbolic flower, and why we launched on May 1st – to our astonishment, that was NINE years ago, now!
For the French, May 1st traditionally represents the start of gifting bouquets of "muguet" to loved ones to signify the regard in which they're held and as a token of prosperity for the year ahead. A tradition supposedly begun when King Charles IX was presented with a bunch of the delicate blooms, and decided to gift the ladies of his court, too.
In Europe, 'bals de muguet' were historically held – lily of the valley themed dances that offered the tantalising prospect for young singletons to meet without their parents' permission.
An iconic (and ultra-chic) lily of valley fragrance was the original Dior Diorissimo, designed in 1956 by Edmond Roudnitska. Composed in homage to Christian Dior's favorite flowe, the lily of the valley was to be found on his personal stationary, jacket lapels, printed on his fashion designs, and, on one occasion, inspired his entire 1954 spring collection.
A more recent icon is Penhaligon's Lily of the Valley, which was launched in 1976 – tapping into the fashion trend for romantic nostalgia – and which is wonderfully described as 'Lacey leaves. Dappled light. Green, clean, wholesome. Lily of the Valley is as fresh and optimistic as the morning dew, grounded by notes of bergamot and sandalwood.'
With the young gals dressed in white gowns and the dapper chaps at those historic bals wearing lily of the valley as a buttonhole, we're sure there was many a 'return to happiness' on such evenings… Now the custom is tied in with France's Labour Day public holiday, and the tradition of giving lily of the valley to loved ones during May still holds strong.
Lily of the valley has also made its way into countless bridal bouquets (including that of Kate Middleton for her wedding to Prince Willliam);  in many countries, it's linked to this day with tenderness, love, faith, happiness and purity.
So what does lily of the valley smell like?
Almost spicy, so green and sweet, with crisp hints of lemon: that's lily of the valley. The flowers themselves are really mean with their oil, though, and synthetics are more often used to recreate lily of the valley's magic:  Lilial, Lyral and hydroxycitronellal are among them.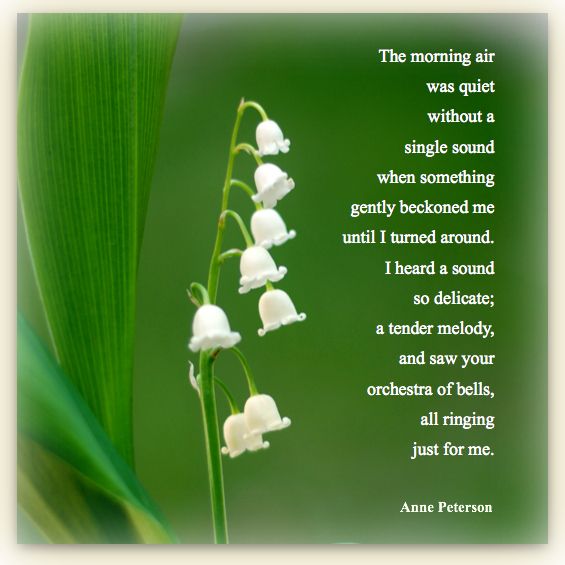 Far from reserving this magical note for May, or thinking that it has to be 'old-fashioned' smelling in a scent, we love the way perfumers use lily of the valley to 'open up' and freshen the other floral notes in a blend. It can smell like a woodland walk just after a rainshower (so very apropos for our weather right now, in the U.K.) or add some gentle sparkles of sunlight amid more verdant or deeper, shady phases as a scent unfurls on your skin.
No wonder we chose this delightful, flower-filled date in the calendar to launch The Perfume Society – incredibly, NINE years ago, now – running hither and thither all over London handing sprigs of lily of the valley to fragrant friends!
And my, how our friends have grown in this short time! With a readership that stretches around the globe and our Instagram followers now topping 67.8K, we have been delighted with some of the truly beautiful pictures some of our followers have been sharing there. Just feast your eyes on the stunning pictures we've sprinkled throughout this post…
With your help we've come so far. We wish we could come and give every single one of you a sprig of lily of the valley to show our heartfelt appreciation for all your support, but for now, accept this symbol of love and luck, from us to all of you…
Written by Suzy Nightingale