There are so many fabulous, fragrantly-themed books we're adding to our scented bookshelf of Fragrant Reads, and now more than ever we are relishing the time to curl up with a comforting drink and a good book, how about you?
The latest we've had our noses firmly stuck in since we got it is The Rose in Fashion: Ravishing by Amy de la Haye which is described as 'An exploration of how the rose-the most ravishingly beautiful and symbolic of flowers-has inspired fashion over hundreds of years​.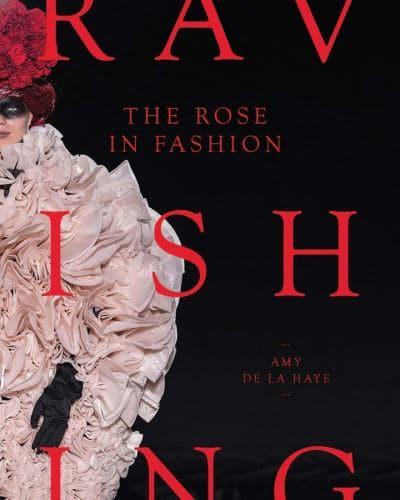 Drawing upon fashion clothing, everyday dress, millinery, fine jewelry, perfume, and artificial and fresh roses, multiple expert contributors make reference to love, beauty, sex, sin, gendered identities, rites of passage, transgression, degradation, and death. This sumptuously illustrated book also includes a contribution and stunning images of roses by visionary photographer Nick Knight. Wild yet cultivated, savage yet delicate, this flower has remained an enduring symbol perhaps due to its versatility and the dichotomies it represents.' The Rose in Fashion: Ravishing is perfect to read right now – I've already spent many happy hours with it –  being a beautiful but deep dive into our centuries-long love affair with the rose.
In perfume, fashion, interior design and language, the Queen of flowers has imbued and enriched our lives, presumably ever since the first human saw the beauty of the bloom – and then caught a whiff of its magnificent fragrance. Amy de la Haye is professor of dress history and curatorship at London College of Fashion, so necessarily this coffee-table worthy tome is filled with the most extravagent examples of rose-bedecked clothing and textiles – from '18th-century woven silks to the latest gender-neutral catwalk trends and Alexander McQueen rose dresses.'  But it's far more than just another book about fashion. The symbolism of the rose is also explored – beyond being pretty, what has the rose meant to differing cultures and classes around the world? And why are we still so drawn to roses today?
I especially loved the section on fragrance – of course! – in which Mairi Mackenzie explores 'Scent: The Inward Fragrance of Each Other's Heart', a line from the Keats poem, Isabella: Or, The Pot of Basil (1818). 'One does not need to be a perfume connoisseur to recognise the scent of a rose,' she begins. 'Its liberal use in modern perfumery, cosmetics, toiletries and the household goods of everyday life has familiarised us with its characteristics, and made the rose a part of olfactory language.'
But while we may be familiar with its smell, she asserts, we may be less aware of how its symbolism in fragrance has changed. 'Throughout history, rose perfumes have been variously used to annoint royalty, cleanse heretics, symbolise Gods, express virginity, cure ailments and flavour celebratory food, but this correlation between scent, beauty and divinity is not fixed.' Ineed, the rose has also been used to denote sinful antics in the scented boudoir, associated with death, degeneration and to '…demonstrate the tension that exists between the phenomenological and the culturally contstructed in our olfactpry preferences, as well as in our persistent, if volatile, relationship with rose and its perfume.'
Later on in the chapter, Mackenzie looks at the history of distillation and symbolism of fragrant roses in poetry, but there's also a fascinating Focus Study on Une Rose by perfumer Edouard Fléchier for Editions de Parfums Frédéric Malle; and another Focus Study on the Osmothéque in Versailles. In this, Mackenzie explains some of the work they do on conserving and re-creating significant fragrances, and includes a list of iconic rose fragrances through history, from1896 to 2000. How wonderful that so much time was spent on including a chapter about rose in perfumery – perhaps a signal that historians are starting to entwine scent in their discussions as an important aspect to consider when exploring society and sybolism? We can but hope…
Altogether, this book more than lives up to its 'Ravishing' title – glorious pictures galore – but within the beauty is a scholarly, imaculately researched and still lively discussion of the symbolism and continuing fascination we have with roses; to adorn our bodies with their imagery and their fragrance to this day.
Buy it at Blackwells
By Suzy Nightingale