Love's language may be talked with these
To work out choicest sentences,
No blossoms can be meeter
And, such being used in Eastern bowers
Young maids may wonder if the flowers
Or meanings be the sweeter.
ELIZABETH BARRETT BROWNING, 1806 – 1861 
With our 'Step in to the Garden' issue of The Scented Letter Magazine hot off the press, and more of us craving the colours, textures and (of course) scents of flowers more than ever in these uncertain times… floral inspiration is springing up all over!
Penhaligon's have published a fascinating guide to the ancient 'Language of Flowers' – the hidden meanings attached to seemingly innocent blooms, and how these could be used to send secret messages that bypassed stringent social ettiquette in the past…
What's more, Penhaligon's are inviting you to construct your own virtual bouquet to send to someone special, and when you sign up to their Penhaligon's Times newsletter, both you and your friend will receive a £10 gift voucher to enjoy.
The newsletter is always packed full of interesting scented snippets, and here is their explantion of that secret scented Language of Flowers, first printed in the Penhaligon's Times:
'What could be more pleasurable than receiving an unexpected bunch of flowers! A bunch of bluebells to brighten a day. Lily of the Valley to celebrate a lover's return, or a simple rose to nurture a budding romance. How much more pleasurable may be if the flowers themselves carry a hidden meaning. From ancient times flowers have been symbolic. The Romans honoured their heroes with laurel wreaths and Greek mythology tells how many flowers were created.
Poets have always extolled the virtues of flowers, and since Elizabethan times have written on their meanings. But it was the Victorians who turned flower-giving into an art. Inspired by a book entitled Le Langage de Fleurs by Madame de la Tour, the Victorians practised the new floral code with the same dedication with which they built their cities and furnished their homes.
The choice of flower was all important, but so too was the manner of presentation. If the flowers were upside down the opposite meaning was intended. Thus tulips presented with their stems uppermost meant blatant rejection from a lover. If the ribbon was tied to the left, the meaning referred to the giver, if tied to the right, to the recipient. On the other hand, one could always respond by wearing the flower in different ways – on her heart of course meant love, but worn in the hair implied caution. Both are acceptable locations for a light mist of scent.'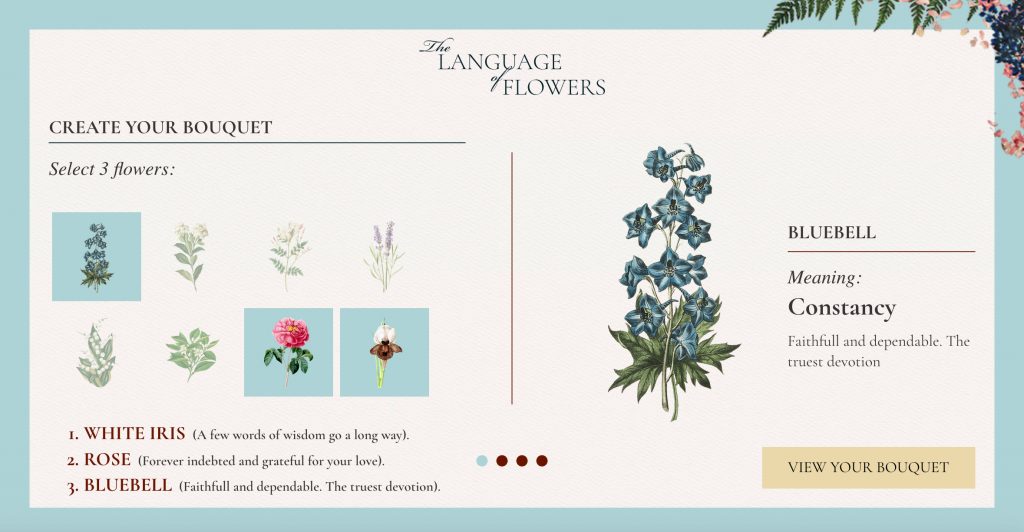 So now, what will your virtual bouquet say in this secret Language of Flowers, we wonder…?
Written by Suzy Nightingale