You can actually smell the Anima Vinci roses in Grasse before you see them. I had been driven from Nice airport to the fields by renowned (and now independent) perfumer, Thomas Fontaine, and have to admit that, as we cruised along the motorway with the steeply exotic looking hills of Grasse surrounding us, I felt like I was (as the young people say these days) living my best life. As I opened the car door a wall of fragrance greeted me, an all-pervading scent that at times was tantalisingly sheer, carried away by a sudden breeze; but mostly hovered like an olfactory canopy, a ceiling of scent.
How to describe the fragrance? Centifolia roses are the epitome of dewy freshness, gathered in the early morning before the sun can evaporate the precious oils, and with a delicate ripe raspberry note flickering through a green, graceful core. Probably the best way I can make it manifest is to say they smell like their colour, but nothing can quite do justice to the experience of closing your eyes and breathing in that smell for yourself.
We were visiting the rose fields owned by a farmer called Mr Joubert, who looks exactly as you hope a French rose-field farmer would – frayed flannel shirt and skin long-tanned by his lifetime of hard work in those fields. In fact, I later learned that his family had owned them for centuries, his strong, careful hands expertly cupping the pale pink petals and quickly, so-gently, twisting them to come away as a full bloom. The buds are left on the bush and tomorrow, the process repeated until every petal has been safely gathered and taken in hessian sacks to what basically amounts to Mr Joubert's garage. Piled en-masse, they're weighed and transported within two hours to the place that processes them in to 'concrete', a solid (or sometimes semi-solid) product resulting from solvent extraction. When the concrete is washed with alcohol, it finally becomes what we know as an 'absolute'.
Incredibly, it takes around 12 tonnes of fresh flowers to produce just one kilogram of rose absolute, the harvest season for Centifolia roses is only a few days – and what has been gathered represents that entire year's crop. The back-breaking highly skilled work, the sheer amount of petals it takes to produce the final product and the risk of bad weather or disease affecting the quality explains why Centifolia rose absolute is one of the most expensive materials known in perfumery – currently, the price is between 15 000 / 20 000 euros per kilo.
Nathalie's fingerprints are all over the perfume world – previously Head of Fragrance Development for Penhaligon's and L'Artisan Parfumeur – but she'd always wanted to start her own business, where she could ensure the quality, authenticity and sustainability through every single stage of a perfume's production. Every year she makes sure to personally visit the rose fields to assess the quality, to make sure the farmer is happy and to continue to build these vital relationships that, ultimately, shape the way we smell when we purchase that final bottle of perfume.
Wearing it now, I can be transported back to those sun-baked fields in a flash, and really that's the power of perfume, isn't it? To capture a moment for eternity, to gift us the experience of travelling back there with every eager spritz, to allow us to dream. But what does the future hold for precious, labour-intensive fragrant crops such as these?
Some farming families in Grasse used to own jasmine fields, too, Nathalie tells me, but the majority were forced to abandon them when companies found they could buy (lesser quality) jasmine far more cheaply, elsewhere. 'Their children didn't want to take on such work with such risk – they could make far more money through selling the land for property or even for "glamping", or you know, they go and work in IT…' Nathalie tells me.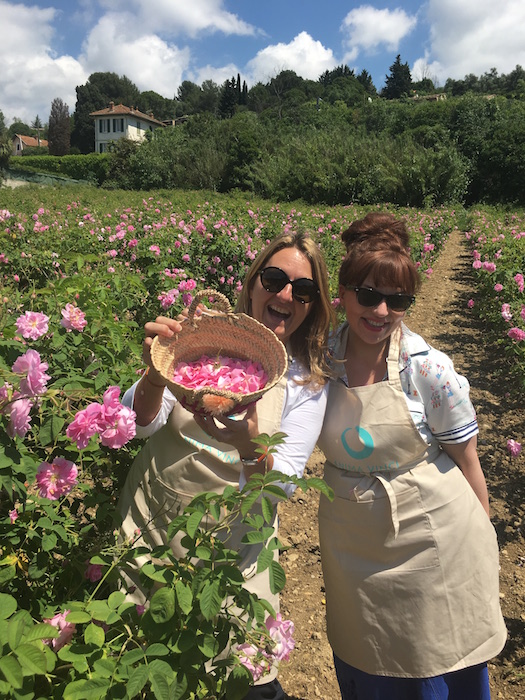 Visiting these fields – meeting the producers first-hand – cannot help but drum home to anyone with even a fleeting interest in fragrance how vital it is to support these companies who genuinely care about that future. And so, the next time you reach for a bottle of what purports to be a 'rose perfume', do you know exactly where those petals grew? I guarantee that if you do, your pleasure at wearing it can only increase…
Anima Vinci Rose Prana £150 for 100ml eau de parfum
Buy it at animavinci.com or Les Senteurs
Written by Suzy Nightingale