Jasmine and rose are the two 'foundation stones' of perfumery. VAST numbers of scents feature a type of jasmine somewhere in their construction, and little wonder we are addicted – the smell of jasmine has enraptured and inspired human civilisation through centuries…
every year it seems
the jasmine
creeps back
into my life
just when I begin to worry
nothing will smell sweet
anymore

— Samantha Rae Lazar
Since ancient times, jasmine flowers have been prized for their antidepressant, anti-inflammatory, relaxing and even aphrodisiac qualities. The scent is certainly potent (most powerful at night) and its Jasmine gives a richness and intensity to fragrances:  a sweet floral note, but with a dead-sexy muskiness to it.  If you smell different concentrated 'absolutes' (the oily liquids created through macerating the jasmine flowers), they have their own characters:  some smell medicinal, some sweet, some musky, some green.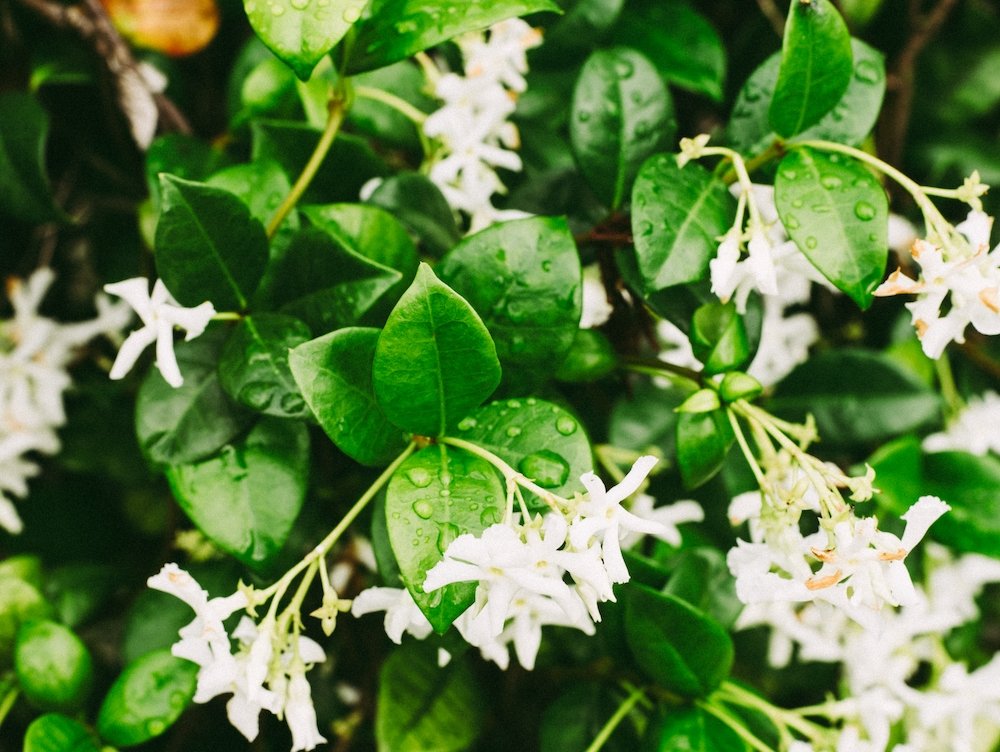 Jasmine has variously been referred to as both 'the Queen of Flowers' and 'the King of Flowers', and in different cultures is synonymous with love, romance, weddings, passion, seduction and beauty. It is also known to perfumers, quite simply as 'La Fleur' – or 'the flower' – such is jasmine's importance.
Even though jasmine may not be listed in the pyramid of ingredients, chances are there's a touch in there somewhere; it's one of the most widely-used ingredients in perfumery.
The name itself is Persian, meaning 'a gift from God'.
In Persia, Ancient Greece and Egypt, jasmine's healing powers were already recognised: aromatherapists still use it for improving digestion, weight loss, accelerating the metabolism – and for its aphrodisiac effects…
There are actually over 200 species of jasmine – but two members of the beautiful white-flowered family are prized above others, by perfumers. The first is Jasminum grandiflorum – which translates as 'big-flowered jasmine'. The other is Jasmine sambac, a.k.a. 'Arabian jasmine' (something of a misnomer, since it originated in southeast Asia).
Jasmine actually originated in China and India and – who knew? – is a member of the olive family.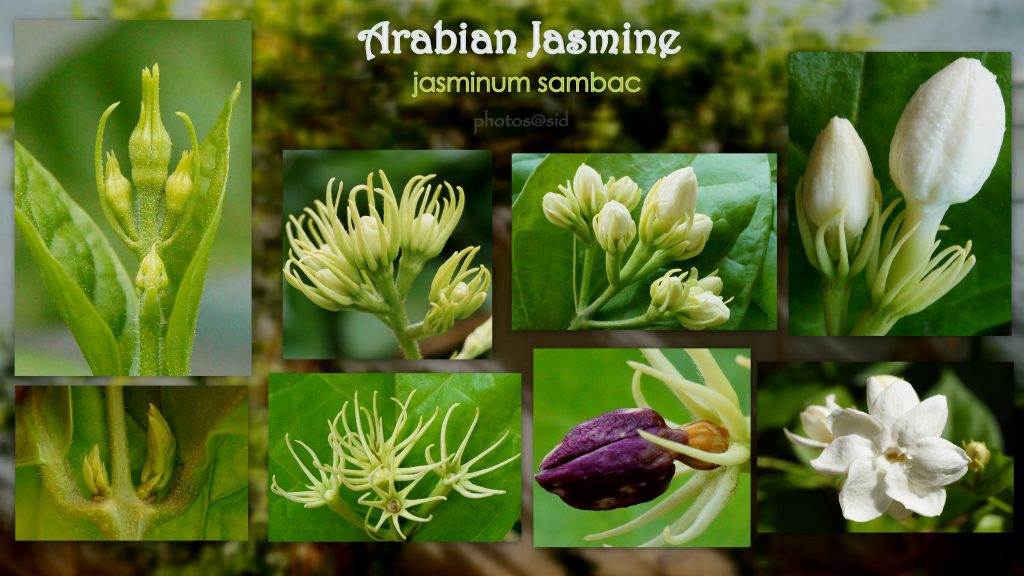 The website jardineriaon.com gives a delightful recounting of some of the mythology surrounding jasmine, including this tale…
'…the meaning of the jasmine flower occupies an important space within Arab mythology. In this mythology it is said that a beautiful young nomad whose name was Jasmine used large amounts of veils to protect herself from the harmful sun rays that are in the desert. A prince belonging to a North African race was fascinated by Jasmine's beauty as people described her. In order to find out if that woman was real or not, he marched through the desert in search of her. This is when he found her walking among the desert sands and dunes and was able to observe her graceful demeanour.

The bearing was so graceful and reminded him of mythological goddesses and fell madly in love with her, even though she always kept her face covered. The prince proposed to her soon after, and the woman agreed to live in his palace and leave the desert. However, with the passage of time, he realised that he was not from and since he had lost freedom when leaving the desert. For this reason, in one night she escaped mounted on a horse and returned to the desert where she belonged. She opened her arms to the sun and released all the veils that enveloped her. It is then that the sun decided to immortalise it in the beautiful flower that is known today as jasmine.'
It's extraordinary that a single plant can smell so different, depending on where it's grown. The genius of perfumers is knowing just what they have to do, to blend those into perfectly constructed scents for us to wear – and on this (scented) note, we'll be following up with the perfect jasmine fragrance suggestions in the weeks to come.
For thousands of years, though, jasmine's precious scent has been naturally extracted for perfumes through enfleurage – a lengthy and labour-intensive process whereby countless flowers are pressed into layers of fat, gradually the scent impregnating the fat with each new layer of the blooms, from which it could eventually be extracted.
Observe
the jasmine lightness
of the moon.

— William Carlos Williams
When the solvent evaporates from the mass of petals, what's drained off is a semi-solid mass known as a 'concrete':a wax-like substance with a long shelf life; and a whopping 400 kilos of flowers are needed for just one kilo of that concrete. That translates at around 8,000 hand-picked blooms to produce one millilitre (1 ml) of the 'absolute' – which is why it's so extraordinarily expensive.
But jasmine can also be recreated synthetically with other aroma chemical versions of white flowers and added ingredients to create an 'accord' (though perfumers and connoisseurs will always explain that the real stuff is the best, as far as jasmine's concerned, and why fragrance houses who use it are so keen to share their scented stories).
The smell of jasmine makes people tell their secrets.

— Jandy Nelson
Seducing writers, artists, poets and perfume-lovers, alike; there's no doubt that your nose needs to get know jasmine, intimately. So, watch this space in the coming days and weeks for even more jasmine-centric scented facts, history and fragrance suggestions…
Written by Suzy Nightingale