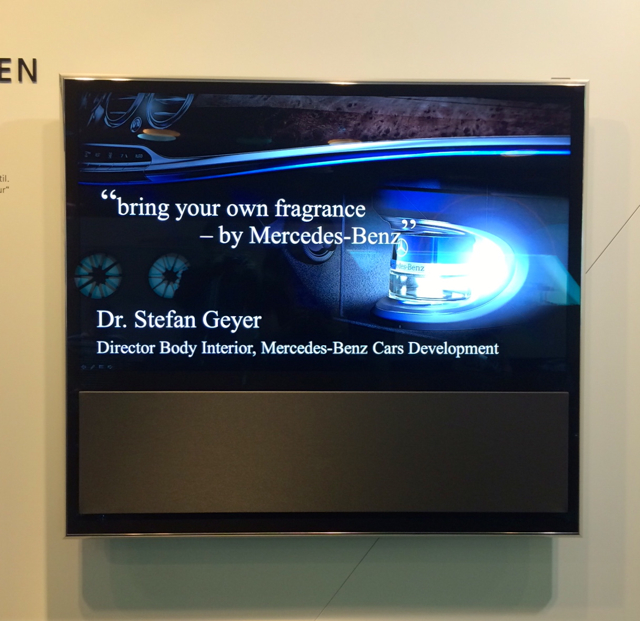 With any luck, Mercedes-Benz just killed stone dead the 'Magic Tree' – which has long dangled from rear-view mirrors. And they've done it with the chicest of in-car fragrance technologies: the AIR-BALANCE Package. (It's a 'package', because – just like an ultra-luxe choice of leather, the new Swarovski-crystal indicator lights or the option to have colourful 'mood lighting' that can be changed at the touch of a button, it's an add-on to the S-Class Mercedes and – as of today – the C-Class, too.)
We're writing this from Berlin, where the world's leading fragrance bloggers and authors (from I Smell Therefore I Am blogger Brian Pera to Sniffapalooza's Karen Dubin via Scent & Subversion author Barbara Herman) have been gathered to experience this innovation in 'perfuming, ionisation and air filtration', designed to turbo-charge the pleasure of driving a Mercedes even more, by making it a fragrant journey.
This goes way beyond the 'new car' leathery smell you'd expect from a luxury car. Symrise perfumer Marc vom Ende has created four fragrances with different 'moods', to be dispensed by a really clever bit of kit accessible via the glove compartment. (The 'dragon's egg' version you see here is just a prototype, though we're definitely hoping Mercedes – no slouches on the merchandising front – offer them as in-home fragrancing systems.)
The idea for this ground-breaking project has been kicking around for 16 years, it seems, and is the 'baby' of Sabine Engelhardt, the brand's 'Futurologist', who had to push the 'feminine-related' fragrance topic into the decidedly male-dominated car engineering culture. It's taken time, not least because the scents had to be allergy-tested and approved as acceptable to asthmatics by the relevant official body.
The four scents are pretty special in their own right – and required specific expertise in formulation, using particular solvents rather than alcohol (which would just evaporate).Downtown Mood offers a sheer, flowery fusion of jasmine and lilac, magnolia, rosewood and peach, on a soft and sensual base of ambergris, musk and cashmere. (Definitely the one if you're planning to seduce your passenger, we'd say.)
Sports Mood is green and airy, with fresh-fruity elements of grapefruit and watermelong, touches of gardenia and violet, and lots of the linden that's a signature smell in Mercedes-Benz's home CITY of Berlin. (The launch took place on the very famous Unter den Linden street, where the Mercedes-Benz Gallery is situated.)
Nightlife Mood smoulders with spices and intrigue: lots of woody notes alongside cardamom and pink pepper, for an 'alive' quality, on a silky base of ambergris, frankincense and vanilla.
But Freeside Mood is probably our favourite of the Mercedes quartet: uplifting notes of green tea and linden, certain to keep you alert while hurtling along the motorway.
What really had us excited, though, was the invitation: 'Bring Your Own Fragrance'. Because the AIR-BALANCE Package also offers an empty glass container to slip into this gizmo of gorgeousness, into which you decant your own scent.
We spent ages dithering over which perfume to take, and ended up with so-fresh Hermès Pamplemousse Rose, which we reckoned would be really uplifting – and so it proved.
And as something of a 'wild card', we grabbed a small but precious bottle of a scent that Sarah McCartney of 4160 Tuesdays has made, for the delectation of a select few, with the fabulous name of Tart's Boudoir. It's a fruity-floral beauty, reminiscent of YSL Champagne (as was): a joy on the skin and – trust us – very lovely when pulsed into the air as you glide around Berlin, chatting to a talented German perfumer while sunk into butter-soft leather seats in the back of a purring, top-of-the-range S-Class.
The pulsing of the AIR-BALANCE is really clever: you can choose three 'intensities' – as with a normal fan – but it goes off after 10 minutes and quickly evaporates. (As a result, it doesn't seep into the fabric of the car itself.) Then a few minutes later, and hey, presto: it's back on again. And so it continues, which means that you're constantly 're-experiencing' the glories of your chosen scent, rather than becoming immune to it (which happens when you wear perfume on your skin).
Our fellow guests' choices were fascinating, but the scent which (aside from ours) seemed to work best was Atelier Cologne Silver Iris, which hums with leathery notes that somehow seemlessly blend with the luxury ambience of the car itself.
The AIR-BALANCE Package will set Mercedes-drivers back 350 euros (on top of the price of the car); each bottle of scent will fragrance the interior for 1500 hours and refills are just 45 euros. (Compare that to a scented candle – which of course is entirely inappropriate for in-car use.)
This further reinforces our observation that one of the most exciting areas in fragrance right now is the development of new technologies like this – and of course the oPhone, which you can read about here.
Frankly, driving anything without an AIR-BALANCE is going to be a let-down, from here on in.
Read more about the AIR-BALANCE here