Taking inspiration from their unique heritage, Clive Christian recently celebrated their beautiful Matsukita fragrance in artful style at an exhibition in Mayfair's Jovoy perfumery. We were honoured to catch up with the world-famous artist Yukako Sakakura and talk to her about creating the most stunning multi-layered painting directly inspired by smelling the scent…
Matsukita was inspired 'by a fabled Japanese princess who awed the Victorian royal court with her elegance and grace' and first launched in 1892 by Crown Perfumery, advertised with lavish, hand painted illustrations. Clive Christian have dipped back into this intriguing heritage to recreate some iconic fragrances with a distinctly modern feel – the meeting place of historic references and scents that have a certain classic style, but are thoroughly contemporary in character when you wear them.
With this juxtaposition in mind, today Matsukita 'has been reimagined to capture this illusive elegance.' A deliciously woody chypre, there's an invigorating freshness wafting around the top notes to keep this breezy and simply beautiful. Green bergamot, pink pepper and flecks of nutmeg swoop to the floral, woody heart of Chinese imperial jasmine infused with refined notes of black tea. The smoke dispersing to reveal an amber-rich base swathed in whisper-soft musk add further to the 'sense of mystery and grace' they hoped to capture of the original.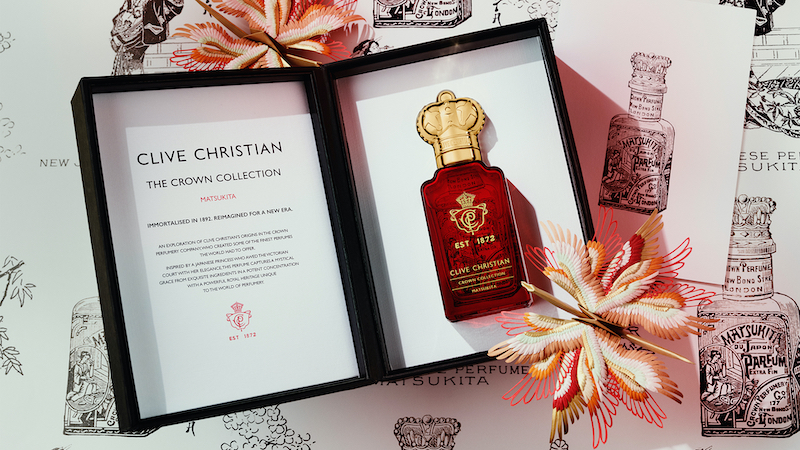 Further expressing their heritage in modern ways, Clive Christian has long heralded contemporary artists, and they were delighted to partner with artist Yukako for a sensory collaboration around the scent of Matsukita, the experience of smelling which formed the inspiration for her extraordinary painting, 'You Close Your Eyes to See Our Spring.' Yukako explains: 'I've always liked painting natural elements, because flowers link with emotions. In Japan we use these natural elements in art a lot, so it therefore feels quite natural for me to use these symbols to express feelings.'
'I love to use layers within my work, so many I sometimes lose count! It's usually 50 plus layers, anyway. I finish my flowers first and paint over the whole surface, then I change the shape of the flowers with further layers. If I didn't have the layers, everything looks too flat to me, it's not wavy enough! I want to make sure all the flowers are kind of singing the same song, it's a way of breathing life into the landscape; so, I just paint over and over again until it feels like all the flowers are breathing with the same rhythm. To gauge when it's finished, I must sit in front of the painting for ages, sometimes five hours (with a cup of coffee), looking closely and making sure everything is doing the right thing.'
 

'I smelled the fragrance first, and then wore it as I painted, it helped feed my imagination and it's as though I felt the energy of the scent go down my arm into the paintbrush. I know that might sound strange to some, but I started learning calligraphy at the age of three, and that's all about imagination, getting to know what kind of brush marks you can make…'
'In calligraphy, you learn that before you make a single mark on the page you have to spend time imagining it all in your head, and then you join those energies of thought and process. For my Matsukita painting, it was all about smelling the fragrance and connecting to the emotions it gave me, then translating these into images, and they flow from my brain to the brush. You know, I did all my studying about art in U.K. I've not done any art studies in Japan, and I find that when I'm in the mood for 100% concentration, I speak English, even in my head.'
'I find I talk to colours [Yukako giggles] and I have changing relationships with them. For instance, I used to hate yellow years ago, and it would creep into my paintings sometimes and I'd get angry with it for spoiling them and tell it to go away, but now I absolutely love yellow! I knew I wanted yellow in this as soon as I smelled Matsukita. I must explain that I don't talk to the colours out loud. It's all in my head – it's part of the way I communicate with the world and translate my feelings to the canvas. Again, while smelling the scent I knew the roses must dance first in the painting. I don't let anyone in my studio when I'm painting because it's disrupting to my conversation with the painting itself! My family all think I'm very weird, but it's the way I work…'
What an incredible privilege it was to meet this visionary artist and see her work in the flesh – for seeing pictures of the paintings really cannot convey their extraordinary depth of feeling and movement. You really can sense the 'sway' and 'dance' of the flowers and petals in the breeze, standing in front of the picture itself. And isn't that the way of fragrance itself, too? Talking about individual notes can only bring you so far – to really know a fragrance and feel its emotional connection, you must wear it on your skin. And we urge you try Matsukita this way, to truly feel the character of the scent yourself…
 Clive Christian Matsukita £350 for 50ml at Jovoy
 Written by Suzy Nightingale