L'Orchestre Parfum harmonise perfumers and musicians to create fragrances 'to smell and listen to.' We just know they're going to strike a chord with you…
We talk of perfumers 'composing' a fragrance, using 'harmonic' 'notes' and 'accords'. Traditionally, a perfumer would arrange their fragrant ingredients according to 'top, middle and base notes', on a 'perfumer's organ'. We explored the long history of Music and Fragrance in The Scented Letter Magazine, and L'Orchestre Parfum are a niche perfume house that really turns up the musical inspiration to eleven…
All of the fragrances evoke the central instrument associated with particular styles of world music, with L'Orchestre's founder, Pierre Guguen, visiting the workshops of the artisans who create the instruments – smelling the types of wood and materials they use and, wherever possible, then getting perfumers to echo these in the notes of the final scent.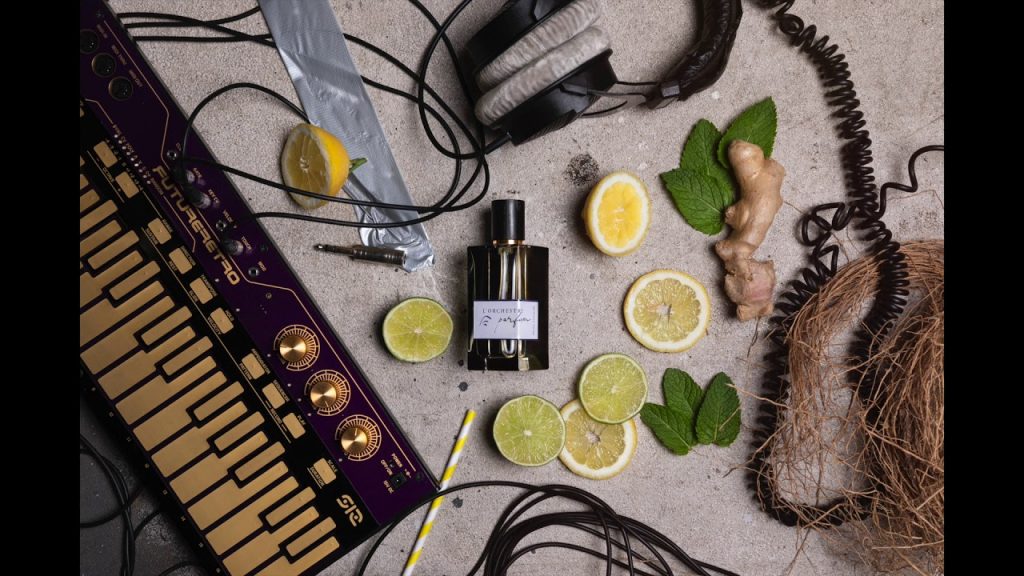 Everything L'Orchestre do has a musical inspiration, each scent comes with a QR code to scan, so you can sniff and listen simultaneously.
Simply click on the name of the scents to be whisked to the musical accompaniments…
ARABIC
Thé Darbouka eau de parfum, composed by perfumer Amelie Bourgeois and interpreted by Nicolas Leroy, evokes a Sahara desert dawn coloured by the nomadic rhythm of a darbouka, a goblet drum that has been around for thousands of years. Thé Darbouka is an elusive unisex sweet and spicy fragrance with main notes of bergamot, caraway, candied fruits, immortelle, oud, cocoa and styrax.
TECHNO
Bouquet Encore eau de parfum, composed by perfumer Pierre-Constantin Guéros and interpreted by POPOF with Animal & Me, evokes irresistible techno waves, a fluorescent rhythm in black light with collective adrenaline surging. It is a sublime ultraviolet bouquet of tubéreuse and jasmine amplified by explosive timut pepper. Irresistible Madagascan vanilla, ambroxan and sumptuous musks reinforce the addiction of this euphoric mix. Sensual, carnal and addictive, Bouquet Encore is a narcotic, unisex floral fragrance.
HOUSE
Electro Limonade eau de parfum, composed by perfumer Nathalie Feisthauer and interpreted by NIID, takes you to a terrace overlooking the Mediterranean Sea at sunset, with a 'chill out' cocktail in hand. A perfect mix where the fresh essences of lemons, clementines and Italian bergamot dance alongside a mint 'canaille' and cocktail bubbles. Rhubarb and orange blossom lead you into a night where the groove is hovering over amber wood bass, incense and Haitian vetiver. A fizzy, sparkling and aromatic electronic unisex fragrance that accompanies you until the early hours.
FLAMENCO
Flamenco Néroli eau de parfum, composed by perfumer Anne-Sophie Behaghel and interpreted by Mathias Berchadsky, evokes the gardens of the Alcazar Palace in Seville where an evening walk is guided by the subtle arpeggios of a flamenco guitar. Flamenco Néroli is a luminous unisex citrus-woody fragrance with main notes of néroli, bergamot, bigarade, ginger, jasmine, Virginian cedar and Atlas cedar.
CONTEMPORARY
Piano Santal eau de parfum, composed by perfumer Jean Jacques and interpreted by Edouard Ferlet, evokes white sheets and somnolent skin scents in a woody, surrealist, musical cathedral. A white woody dream, languorous, pheromonal and milky, it is a mystical moment and unforgettable movement between dream and reality. Piano Santal is a unisex fragrance with main notes of white sandalwood, cedarwood, white musks, heated skin, bergamot, ambroxan, warm milk and caraway.
JAZZ
Rose Trombone eau de parfum, composed by perfumer Anne-Sophie Behaghel and interpreted by Nicolas Benedetti, evokes a Jazz Club in Harlem, New York, where magnetic glances are exchanged during a torrid trombone solo. Rose Trombone is a sensual, clean and aldehydic unisex fragrance with main notes of rose, 'clean' notes, pear, vanilla, sandalwood, white musk and rum.
By Suzy Nightingale