Roland Mouret has commissioned the work of French artist Leyman Lahcine on a limited-edition collaboration for his fragrance, Une Amourette with the cult house of Etat Libre D'Orange. As the fragrance was one of the loveliest launches of 2017 – which we're still wearing and finding new facets of – suffice to say, we're excited.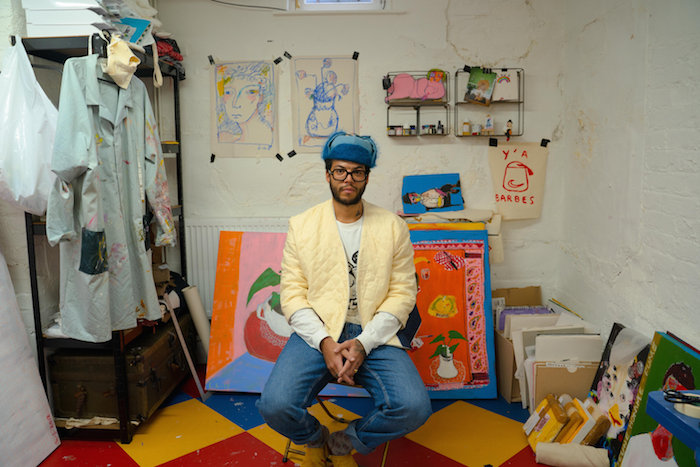 You can watch a short video of Lahcine explaining his artistic influences, below; but first, let's remind ourselves of how the fragrance smells, and then we'll dive in to the distinctive new bottle design…
What does it smell like? It all begins like a lover's caress, the sense of entangled sheets and warm skin, unmistakable carnality with indolic white flowers and roses scattered across the bed. Bone dry, the spices make their presense known immediately, with cardamom lingering throughout, a peachy succulence and creamy vanilla peeping above the naughtiness, somehow rendering them all the more provocative, like a glimpse of bare flesh beneath velvet coverings. A cool breeze of iris feels infused with a metallic shimmer, and the opoponax (incense) smooths the way for an insouciant, animalic dry-down of akigalawood that lasts the whole day through.
For this new limited edition bottle, the 'faux naif' artist Leyman Lahcine, who cites Jean Cocteau as one of his key influencers, explored the intensity of the Une Amourette fragrance with his perception of love expresed through his distinctive illustrations.'I always try to follow and trust my creativity, so I stay loyal to my identity as an artist.' he explains. 'Shaping a style that is personal to me is the most important aspect of being creative.'
Not merely using the drawings and then scanning them on to the shape of the bottle, each design was hand-drawn onto the bottle itself by Lachine – a real meeting of art and perfume. In one drawing, Roland Mouret explain, 'the moon is depicted lovingly gazing at the sun in its embrace, while another depicts hands and petals, capturing a bold, playful and somewhat irreverent spirit. A celebration of love, visualised.'
As Mouret wanted the fragrance to encapsulate a moment of two opposites coming together – masculine and feminine characters entwined, with aspects of each rubbing off (quite literally) on the other, this artwork perfectly harmonises the central inspiration of the scent itself, rather than being just another pretty design.
Only 50 limited-edition bottles will be available exclusively in the UK, in their flagship store at 8 Carlos Place, London W1K 3AS and online at rolandmouret.com
Une Amourette 50 limited edition £130 for 100ml eau de parfum
Expected to sell quickly, to collectors of art bottles and fine fragrance alike, we'd suggest moving fast if you want to secure one for yourself.
By Suzy Nightingale