We know you're likely caught up in a flurry of fairy lights and mild festive panic, but this is a gentle reminder that The Royal Mail have suggested the latest recommended posting dates before Christmas this year – something to keep in mind if you're ordering online and want to wrap and post the presents to loved ones…
Tuesday 18 December – 2nd Class / Royal Mail Signed For 2nd Class
Thursday 20 December – 1st Class / Royal Mail Signed For 1st Class / Royal Mail Tracked 48hr
Friday 21 December – Royal Mail Tracked 24hr
Saturday 22 December – Royal Mail Special Delivery Guaranteed
Do check with other postal service providers for their last-posting dates, and consider ordering and sending your gifts well before the final deadlines, as there's always a last-minute rush, and nobody wants to be disappointed at Christmas!
We've made ordering online a complete breeze, with a number of handy gift guides suitable for every age, fragrant taste and budget. Have a browse through some of them now, and get your gift list checked off at the click of a button…
How to buy fragrance at Christmas
Let's start at the very beginning (as the song goes) – because trying to work out exactly what will suit whom best can be a bit of a headache, we know. That's why we've done all the leg-work for you and curated selections of scents with particular types of people in mind, and perhaps with a little something to tempt you, too. One to point bewildered relatives at when they demand to know what you want!
For perfume-lovers who have everything
We're SO delighted to have got the Master Parfums Pocket Quiz £11 in stock in time for Christmas – it's a brilliantly addictive card game developed by a former professional fragrance trainer, with questions on each card in differing categories and ideal for any level of knowledge, from complete beginner to absolute addict. This will definitely liven up the dinner table!
Luxury Gift Boxes
If you know your loved one adores fine fragrances, and always likes trying something new, have a look at this list of ultra-luxe boxes you can buy at surprisingly affordable prices. There's genuinely something to suit everyone here – masculine, feminine and gender-neutra – the ideal way to discover a new house, with lavish perfume gift sets from only £14!
Stocking-fillers
Pocket-friendly options for smaller gifts to stuff the stockings of lucky people – from perfume-related jewellery to mini-sizes of scents they love or would like to try. There's even suggestions of must-have gifts that no self-respecting perfumista could do without (and which everyone would thank you for being thoughtful enough to buy), with prices starting from just £5…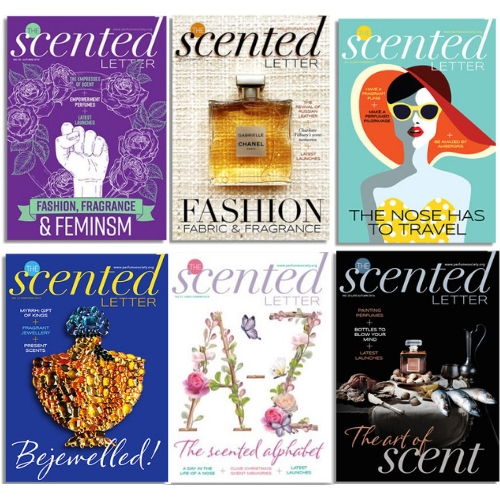 Overseas
Sadly, due to postal restrictions on fragrance, we can currently only ship products within the United Kingdom (we do not ship to The Channel Islands), BUT do not despair – scent lovers living abroad can be gifted a full year of award-winning fragrant reading for only £20, with an International Subscription to The Scented Letter Magazine.
Let them choose
A fuss-free solution for those uncertain about what to buy that perfume-loving someone, The Perfume Society Gift Card is available in denominations of £15, £25 and £50 and can be redeemed across any item in our SHOP section of our website: our magazine or copies of The Perfume Bible, VIP Subscription, Discovery Boxes and more. Includes FREE UK DELIVERY!
Still confused?
If you just can't decide, or have just left it a bit long to send them something yourself – buy them a VIP Club Membership, a £25 gift that last all year! You get unrivalled access to exclusive perfume events, a year's free electronic editions of The Scented Letter magazine, a fabulous Discovery Box to choose from, monthly VIP offers from top fragrance houses and incredible prize draws only Club Members may enter..
Whatever you send loved ones – or treat yourself to for a change – we hope you'll agree we've managed to put together a great selection of gifts with everyone in mind. It really is our pleasure to seek out and gather together hard-to-find, unusual and brand new scented offerings each year. Fragrance is a joyful, mood-lifting and constantly thrilling thing, so no wonder it makes a perfect (and so thoughtful) gift to show you care.
Happy scent-sharing season, everybody!
Written by Suzy Nightingale