Ever wondered how the world's most powerful (and glamorous) people actually smell? Well settle down for a tale that involves a president, his brother, a sarcastic socialite, a butler and a beautifully presented (we think very sharable) sensational scent…
The Story: 'One night during the summer of 1937 in the French Riviera (Côte d'Azur), Albert Fouquet, a young socialite and perfume connoisseur, met an American student who was touring France: John F. Kennedy. Within minutes of being introduced, the vain JFK was captivated by the essence that Albert wore. John's charm and congeniality persuaded Albert to leave him a sample of his cologne with a note at his hotel the following morning:
'In this bottle, you will find the dash of French glamour that your American personality lacks.'
(The shade of it all! Rather daring to address one of the Kennedy's in such a manner, but we guess if you were a particular kind of socialite, such cutting remarks were part of your stock in trade…)
Eight & Bob continue the story by describing how, on returning from vacation, 'Albert received a letter from JFK thanking him for the fragrance and informing him of its success amongst his friends. He requested that Albert send him eight samples, "and if your production allows, another one for Bob".
The order wasn't fulfilled until Philippe, the family butler, found beautiful glass bottles in a Parisian pharmacy for the cologne to be housed in. Albert ordered several boxes with the same pattern as the pinstripe shirt that JFK was wearing when they met, and then labeled the bottles and boxes with John's request: "EIGHT & BOB".
A few months later, Albert began receiving letters from America with requests from various Hollywood directors, producers, and actors such as Cary Grant and James Stewart. Everyone wanted their very own piece of "EIGHT & BOB".
In the spring of 1939, Albert died in a car accident near Biarritz (France). Philippe, the only person who could create and handle the orders, continued Albert's legacy and in his final shipments hid the bottles inside books to prevent the Nazis from seizing the cologne.
The Fragrance: Decades later, thanks to the family of Philippe, the formula for "EIGHT & BOB" has been completely recovered, along with its carefully crafted production process. Once again, it has become one of the most exclusive colognes, worn and desired by the world's most elegant men and women…'
Top notes: pink pepper, cardamom, lemon
Heart notes: violet leaf, labdanum, dry woods
Base notes: sandalwood, amber, vetiver
The Review: A warm tingle of pink pepper ripples through breezy lemon infused with the cool, aromatic cardamom. A whisper of green violet leaf cuts through the resinous sensuality of the heart, leading to a musky, woody trail that's devastatingly suave. Think sneakers worn with an impeccable suit, tanned skin and crisp white shirts worn with minimal accessories and a dazzling, heartbreaking smile.
The Special Edition: To mark the 50th anniversary of Robert F. Kennedy's death, Eight & Bob have partnered with the Robert F. Kennedy Foundation, 'a prestigious and internationally recognised organisation managed by Kerry Kennedy, daughter of RFK.' What's more, they will donate a percentage of the revenue received from this special edition fragrance to the foundation, 'as a tribute to RFK's dream of a more fair and peaceful world.'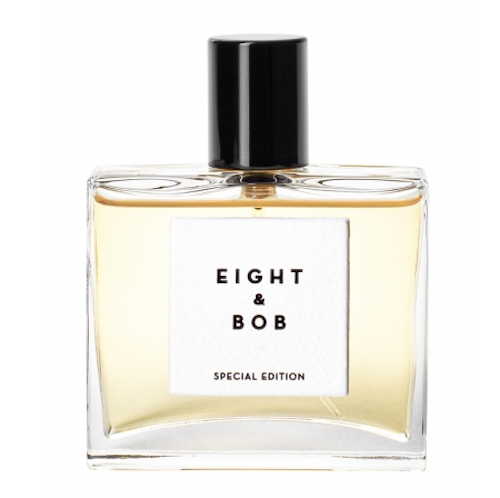 Eight & Bob RFK Special Edition £110 for 50ml eau de parfum
Buy it at harveynichols.com
Written by Suzy Nightingale