Fragrance consultations have moved out of the perfumery and on to our laptops, with many notable houses now offering free ways to discover your next new scent online – via so-clever 'perfume personality' quizzes, one-to-one Zoom experiences and even group 'scent school' classes you and your friends can take together.
With the beauty counters still closed in most places (and the fragrance testers removed from all others) it's been extremely challenging to actually get your nose on a new scent, if you didn't want to 'blind buy' a full-size and pray to the olfactory gods that it suited your skin.
Many of you have been delighting in our Discovery Boxes and Brand Sets of samples and mini 'try me' sizes for just that reason (the perfect way to explore new perfumes from the comfort of your home). And of course you've been taking to our Fragrance Finder, which brilliantly uses algorithms based on your preferences to suggest six new scents for you try.
But we've been so happy to see that many fragrance houses have also stepped up their innovation game and made it far easier to navigate your way through their collections.
Whether a fun multiple-choice fragrance quiz to take in your tea break or an in-depth consultation with an expert, think of them as a scented stepping-off point to exploring and be 'matched' with your perfect perfumes online….
Molton Brown Fragrance Finder – free (online quiz)
Created in tandem with trend forecasting and innovation agency The Future Laboratory, in this quick and easy profiling quiz, you're invited instinctively to choose from a series of images that represent textures, interior design styles and note-inspired pictures, and at the end you'll discover which 'psychological perfume profile' you match. It's spookily accurate [NB: both our Senior Writer and Editor have very similar tastes in scent, and sure enough, this matched them both with the same one] and an insightful start to your fragrance journey.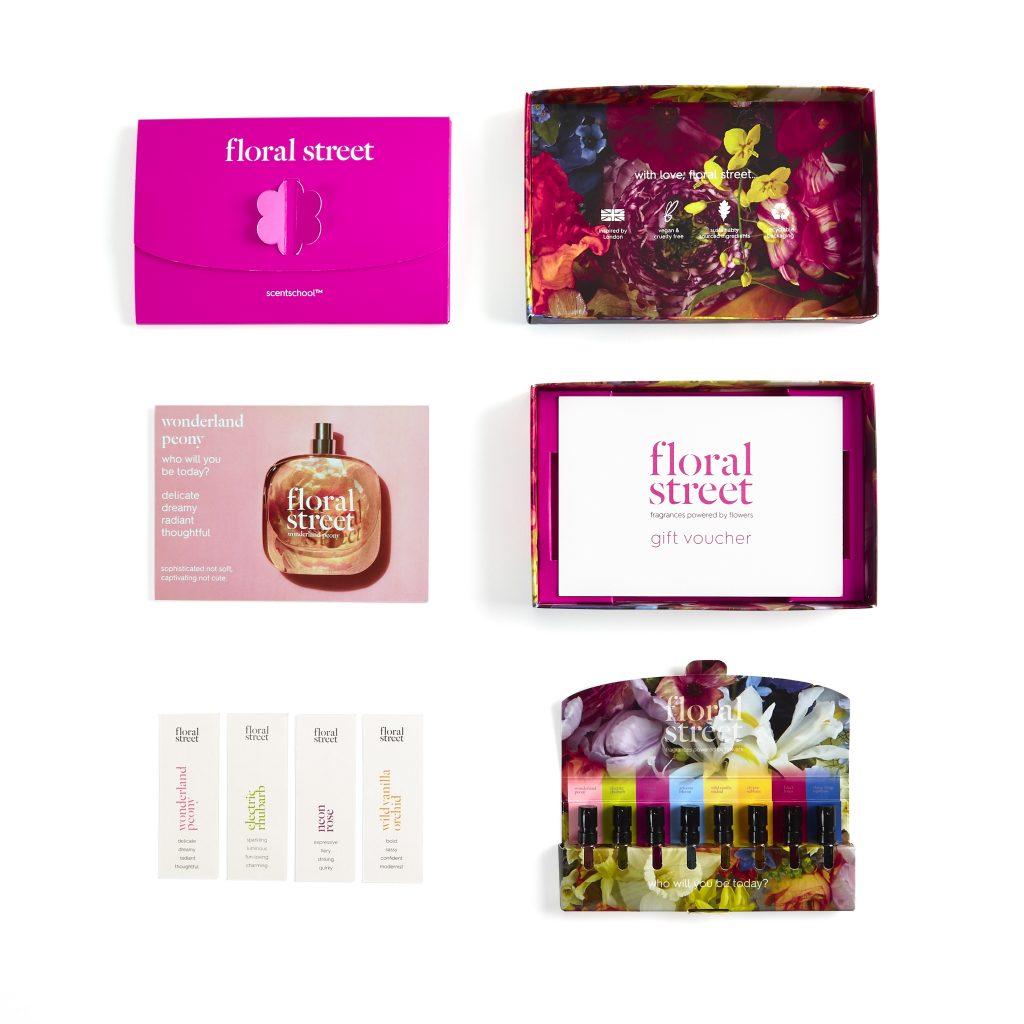 Floral Street scentschool™ in a Box – from £24 for eight fragrances + online class
When you buy this special discovery set of eight fragrances, blotters and scented 'touch and smell' cards, you also receive a code to book a complimentary live online class to delve deeper into the fragrance notes and help you find your faves, plus there's a discount on your next purchase. You can do this one-to-one, or there's even the option for a whole group of friends to do this together. Such a fun activity (and it will make a change from Zoom quizzes!)
Shay & Blue 15 minute Fragrance Consultation – free (online chat)
When you hop on the Shay & Blue website, an online chat box opens up, inviting you to schedule a free 15 minute consultation. They explain that it's been designed to combine '…the best of the convenience of shopping online with the personal touch of human conversation. We spend 15 minutes getting to know you and your perfume choices and we are then able to select what we think will make you smile.' Ultimately, they say 'the more information you can give us the better,' and then you can be guided to 'the one' (or several) for you to try.
The Merchant of Venice Personal Shopper – free (online consultation appointment)
To aid your navigation of their website, The Merchant of Venice tell us you can 'interact with specialists in a sophisticated presentation of the collections' that will guide you in your choice of the perfect perfumes for you to try. So, from your home, you can 'take advantage of a private, tailor-made and highly professional service as in The Merchant of Venice boutiques.' Personal shopper Christian Waas will be your scent-presenter, and you can make a free appointment by emailing: [email protected]
Penhaligon's Live Video Consultation – £15 for 1 hour + 5 fragrance samples
Penhaligon's now warmly invite you '…to try our new video appointments and enjoy a personalised consultation with our obliging team. Answer a short questionnaire aimed to discover a little about your likes and dislikes and a selection of 5 fragrance samples will then arrive through the post to assist in your nasal education. The cost of the appointment is 'fully redeemable after your session with our sommelier either online or in-store,' so peace of mind while you're helped to peruse their perfumes. Alternatively…
Penhaligon's Online Profiling – free (online quiz)
If time is of the essence, the free online profiling quiz is jolly good fun (as you'd expect from Penhaligon's) and only takes about a minute to complete. Choosing from categores such as the time of day you'd like to wear it and how it should make you feel, your most suitable fragramce is then revealed (with the option to purchase a sample and a selection of others you may like).
Creed Fragrances Ask a Scent Expert – free (online chat / video)
As you can't currently take advantage of their fragrance advice at the Marylebone boutique, Creed are offering the opportunity for an online chat via a message box that pops up on their website as you browse. Alternatively, you can request to be connected via a video chat if that's easier for you, and you'd prefer to actually see the expert you're chatting to! Afterwards, if still not sure, you could always buy yourself a pack of the samples, either 'Men's', 'Women's, 'Univerdal' or 'Royal' to try at home.
Guerlain Fragrance Consultation – free (online quiz)
Designed to help you choose 'a perfume for yourself or a loved one… Thierry Wasser, Guerlain's Master Perfumer, and Guerlain Perfumer Delphine Jelk select the rarest and noblest raw materials to create exceptional fragrances.' Taking the overall atmosphere and main notes of the fragrances as choices, you're then presented with either one or several scents that should fit the bill. It doesn't beat being in-store and revelling in the glamour of sniffing be-ribboned glass stoppers, but really, nothing does… and this is a good starting point if you've no idea where to begin.
Indeed, all of the quizzes, while great fun to take online, can of course only guide you so far. Some perhaps work best for those who already have an inkling as to which fragrance notes or main families they prefer, but need a little bit of help to guide them through the virtual shelves.
So what to do if you need some more in-depth or specialised help, but can't book a video consultation (or don't feel comfortable with that)?
Our new Perfume Agony Uncle, James Craven, says that 'Helping a client to find the perfect scent requires the combined skills of a psychologist, palmist and priest', and often talks about the expertise a skilled fragrance consultant will pick up over the years; learning to do 'a cold read' when someone walks through the door and, as well as listening to what they say, picking up on their reactions – sometimes what you don't say can be just as revealling!
Luckily, James is going to be answering some of your fragrance questions in The Scented Letter magazine, so if you're still struggling to find the right scent, ask your questions, here…
By Suzy Nightingale