If you haven't seen the show already, you'll definitely have heard about it, because – love it or hate it – Tidying Up With Marie Kondo seems to have got the entire Internet talking.
Lifestyle guru Kondo helps people tackle clutter that she feels is holding them back. And for Kondo, choosing what to keep all comes down to one question: does it spark joy?
It seems in some quarters her philosophy has sparked controversy and even anger, with memes quoting her out of context, suggesting she wants everyone to throw their books away, for example (she doesn't). But if we all calm down a litte bit and focus on that central ethos, perhaps we can all have a good sort-out of our collections and therefore get even more pleasure from those perfumes that are often hidden away or forgotten about.
To get a sense of what the series is all about, have a look at the official trailer, below.
Now let's suppose that, seeing as you're here, perfume sparks a lot of joy for you. Perhaps you have a collection of hundreds of bottles, or would just like to organise the few you have in a more aesthetically pleasing (and practical) way? Have a look at some of the ingenious storage solutions and suggestions below, and perhaps have a January re-jig of your own…
Rather than riffling through an old shoe-box, acrylic shelves and boxes allow you to store smaller sizes and decants, while seeing at a glimpse what you want to wear next. Muji always have a great selection, but check out Hobbycraft and stationery shops, too.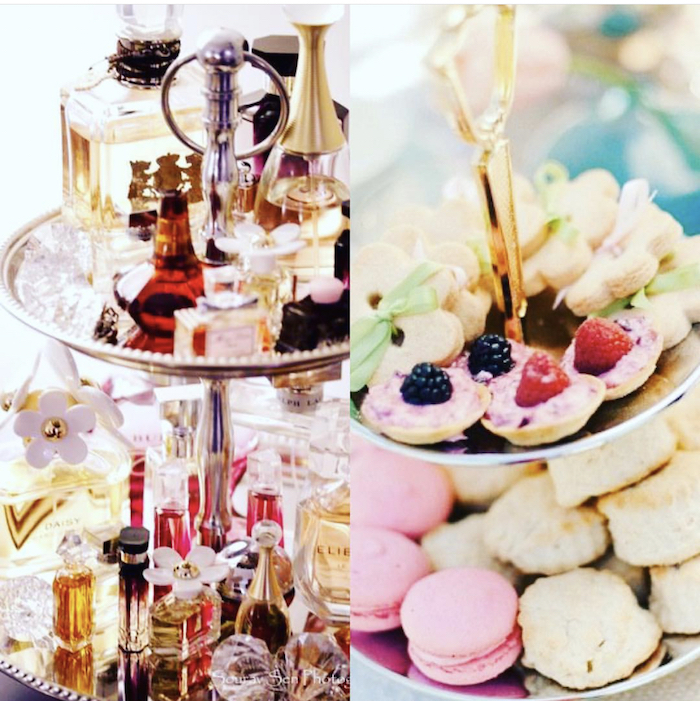 Places like Etsy and Not on the High Street are great places to search for vintage cake stands – why not choose all those fragrances that are 'sparking the most joy' for you right now and arrange them on the tiers, with lighter scents on top, going down to more sultry or heavier, evening-appropriate ones on the bottom layer?
In the days when travelling was infinitely more glamorous, one carried one's essentials (perfume, obvs) in specially made trunks. Look on auction sites, in second-hand shops and boots fairs for similar vintage cases. Stack them up in a corner, with the top case open, holding your chosen fragrances for the month(s) ahead.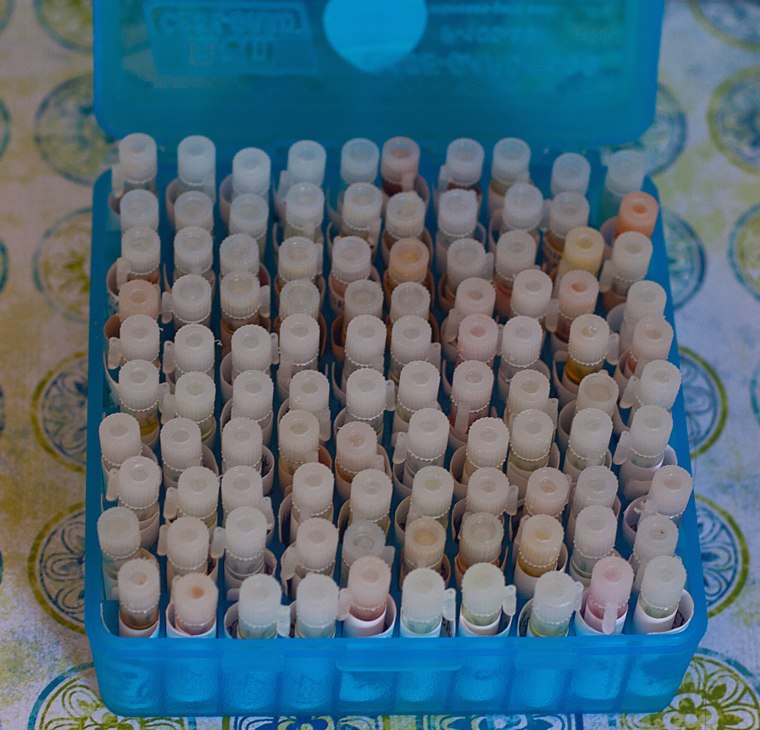 Sample bottles and tiny vials can be tricky to store en-masse, so consider using lab equipment items like test-tube holders and racks, or look for bullet boxes, fishing tackle boxes, and tool boxes. You can often find these on Ebay and similar sites, so when trying to store these smaller items – think outside the box!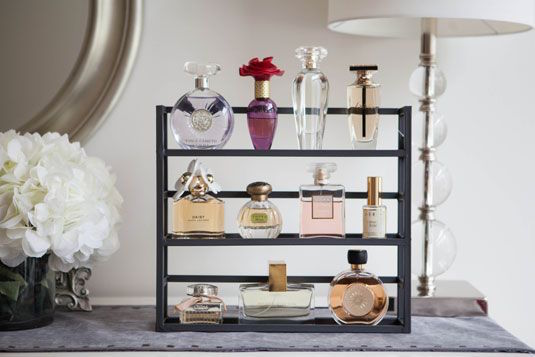 Spice racks used to be a feature of everyone's 1970s kitchen, but now we're more likely to have whole cupboards-full of exotic ingredients than a faded jar of 'Mixed Herbs', so you can usually find the racks cheaply in charity shops. They're perfect for holding miniature bottles! Also search for nail varnish shelves online, and consider the homeware section of your local £1 shop or hardware store.
Consider challenging yourself to trying new fragrances each week (be they samples or bottles you have but rarely use). Lay them out on a pretty tray – easily found in a charity shop or jumble sale – and it will focus your attention on them, rather than falling back into the same old habits of wearing the same old thing. And if they're not sparking joy? Swap them with friends, or treat yourself to something you'll really love from our Discovery Box sale selection.
PS: Our boxes are the perfect size to store your samples neatly – sort them alphabetically, by name of house or type of fragrance – but most importantly, make sure you use and enjoy them!
By Suzy Nightingale