It's really quite incredible to think that Shalimar is 100 years old – having been first launched in 1921 – and that Guerlain's most romantic fragrance is still worn and adored to this day. If you're already a fan of the fragrance you'll know how special it is, but if you've never tried it… oh, you're in for in a treat!
Jacques Guerlain – Guerlain Perfumer 1890-1955
'A good perfume is one whose scent corresponds to an initial dream.'
The History: The most prolific of the Guerlain perfumers, Jacques' rein lasted for an astonishing 65 years. He took over from his uncle Aimé in 1890 and was responsible for creating the ultimate signature of Guerlain, the 'Guerlianade': an accord which blends vanilla, bergamot, balsams, tonka bean, iris, rose and jasmine, and has been at the heart of (almost) every fragrance since the early 1920s. His most celebrated creations include L'Heure Bleu, Mitsouko and of course, the astonishing Shalimar, launched in 1921, which remains one of the bestselling fragrances in the world.
The flacon for Shalimar is almost as fascinating as the fragrance inside. Sometimes described as the 'bat' bottle (we hadn't until now quite realised it resembled outstretched wings!), it is also said to resemble a basin that could be admired in the Mughal gardens in India, and was designed by another talented Guerlain, Raymond, with a dark blue stopper chosen to evoke Indian starry nights. The bottle won first prize at the Exhibition of Decorative Arts and Modern Industry in 1925.
Why perfumers love Shalimar: When we interview perfumers, we often ask which classic fragrance they wish they'd created or most admire. One of the most frequent answers? Shalimar, of course. Carlos Benaïm told us, 'My grandmother used to wear Shalimar. It is magnificent, absolutely wonderful, with that mossiness – not just oakmoss, but the other mosses which we're restricted from using so much these days…' And Alberto Morillas – another nose often cited as one of the most talented perfumers working today – explained, 'If you ask me what is the greatest fragrance ever created, I'd say Guerlain Shalimar. Some might imagine it's old-fashioned but it's also very modern. There are all sorts of contrasts inside it – but it works so well.'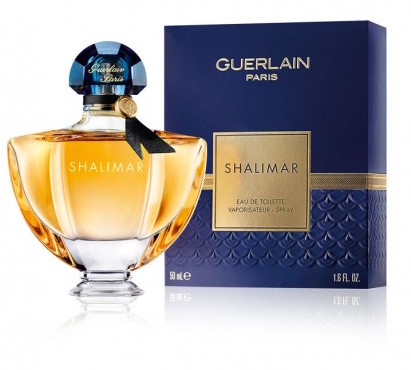 Guerlain Shalimar £83 for 50ml eau de parfum selfridges.com
Why we love wearing Shalimar: Imagine a silky pair of 1920s pyjamas worn as daywear (or with heels, to a cocktail party) as uplifting lemon and bergamot swirl with honeyed, night-blooming flowers of heliotrope and jasmine. Beautifully rounded by powdery iris and cocooned in a comforting, vanilla-plumped base of patchouli, benzoin, ambergris, tonka bean, incense, vetiver, sandalwood and musk. To wear Shalimar is still the ultimate gesture of olfactive romance.
Quite simply, it's a masterpiece that's effortlessly glam. And it's one of those perfumes that people will still be wearing and talking about in another 100 years, we reckon.
Many Happy Returns, Shalimar!
By Suzy Nightingale