Whenever people are asked what their favourite smells are, along with 'bread baking ', 'freshly cut grass' and (oddly) 'petrol'/gasoline' we most often find that the smell of their loved one is key. Top of that list is, for many, the smell of their children – and of course here poetic license must come in to play… When those people close their eyes and fondly imgine the scent of their beloved offspring, they are possibly skipping over the inevitable secretions, spillages and lumps of baby food slowly drying on wallpaper and instead focusing on the clean, warm, softly powdered babe in arms.
Renowned for their brilliant lifelike bottling of weird and wonderful smells inspired by life – from Dirt and Thunderstorm to Gin & Tonic – happily, The Library of Fragrance have captured the essence of these smells in a triplet of scents. New Baby, Baby Powder and Baby Shampoo are the spriz-able evocations of blissful, comforting memories. Their Baby Powder cologne was already on the market and proved such a phenomenal success they've launched it in a jumbo size of 120ml (compared to their usual 30ml bottles) and with two new scented siblings to join the 109 already in the family.
And for this new launch, The Library of Fragrance have really put in the hours (well, years) of research, as the New Baby cologne was hotly anticipated. As they explain: 'It's quite a relief for us to finally launch this fragrance – one that a customer asks for each and every week – after no less than 15 years of development…'
As we learned at the IFRA Fragrance Forum recently, it really does seem as though smells from our childhood have a particularly strong influence over our scent preferences in later life, and this was something The Library of Fragrance took very seriously while reserching and developing these fragrances, consulting with Dr. Rachel Herz, the internationally acclaimed leading expert in scent psychology and author of best- seller, The Scent of Desire.
Explains Rachel, 'Our olfactory system is the very first sense to develop and we actually have a fully functioning sense of smell by the time we are twelve weeks in the womb. This means that even before we are born we are learning about the important scents in our environment, such as what our mother eats, and by the time we are born we are fully able to learn how to make sense of the world through our nose and to remember important associations. For example, studies have now shown that babies can distinguish the scent of their own mothers, from other mothers, only hours after birth.
Odour is indelibly embedded into the infant's world in a way that other senses are not. Our visual system, in stark contrast, takes several years after we are born to mature to a point that visual experiences can be fully processed, stored and recalled. The sight of a bottle of Baby Powder won't mean anything to an infant, but the smell of Baby Powder – if it was used on us as babies – will immediately elicit feelings that are associated with being cared for, soothed and cradled.'
Among the myriad highly complex and sophisticated perfumes available on the market, it's interesting to note that when we seek comfort in these often distressing times – it's those simple pleasures we reach for time and again to cosset and soothe with happy scent memories…

'Inspired by the iconic talc from Johnson & Johnson, this scent really triggers strong emotional links. Advancing scientific research is showing us that scent is processed deep within a part of our brains that also manages emotion and memories. It's not likely that many of us have tangible memories of being a baby, but it's very likely that the scent of our Baby Powder fragrance subliminally takes us right back to feeling soothed, cradled and cared for. And who doesn't want to feel like that at least some of the time?'
The Library of Fragrance Baby Powder £30 for 120ml Cologne

'Powdery, creamy and enveloping, its soothing, hushed tones balance the nostalgic aromas of baby talc and shampoo with a blend of musks that somehow capture the scents of warm skin and clean, soft laundry, taking us right back to those very earliest of days.'
The Library of Fragrance
New Baby
£15 for 30ml Cologne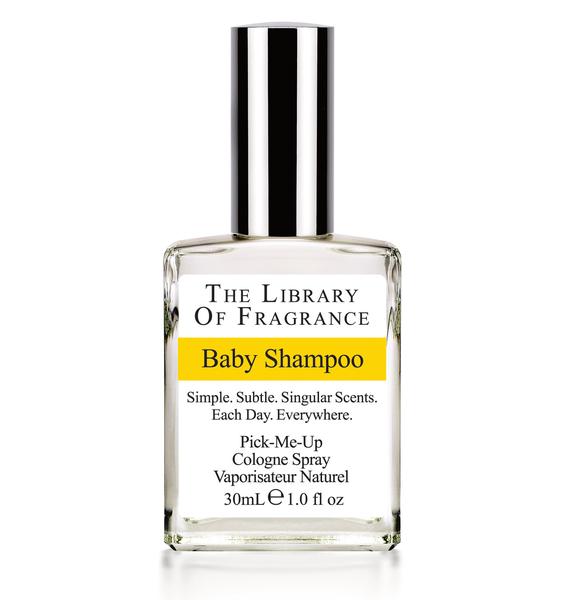 'Inspired by the nostalgic scent of Johnson's Baby Shampoo, this is one of the freshest, cleanest, happiest smells on earth. It somehow makes us feel as we imagine we did then, splashing around and giggling from under bubbly beards.'
The Library of Fragrance
Baby Shampoo
£15 for 30ml
Buy them at
thelibraryoffragrance.com
Written by
Suzy Nightingale