So many wedding days were postponed or re-scheduled thanks to the pandemic, but now the nuptial season has truly kicked into gear again. Panic not – we're here to help guide you to the perfect perfume, suggest some imaginative gift ideas for bridesmaids / groomsmen & wedding parties, and along the way learn which scents the stars have favoured for their own wedding days…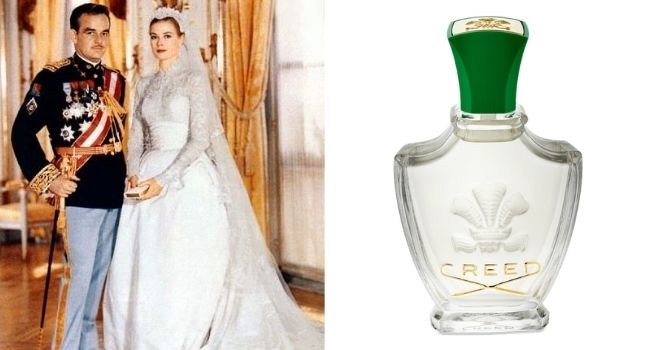 Grace Kelly commissioned perfume house Creed to create a bespoke scent to wear for her wedding to Monaco's Prince Rainier III in 1956. The result was Fleurissimo – an elegant blend of sparkling bergamot atop the swooningly sophisticated floral heart – which you can still fall in love with today.
Princess Diana chose Houbigant Paris Quelques Fleurs for her 1981 wedding to Prince Charles. The heady bouquet of tuberose, jasmine, lily of the valley and rose evoked the fulsome flounces of her romantically designed gown, and the scent itself has continued to capture hearts since 1912.
Quelques Fleurs l'Original £50 for 30ml eau de parfum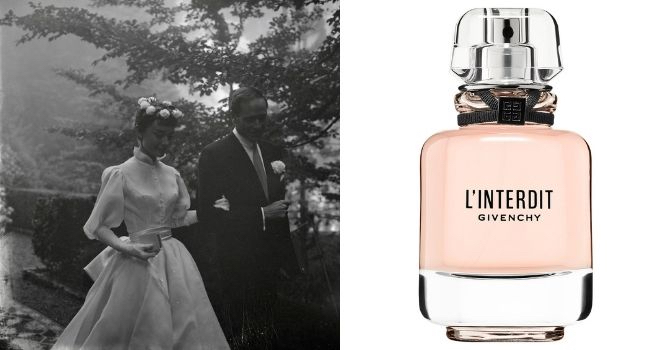 Audrey Hepburn wore the fragrance her friend Hubert de Givenchy created for her in 1957, for second wedding (to Mel Ferrer). L'Interdit is a chicly luminous white floral shot through with intriguing, darker notes. Hepburn reportedly loved it so much, she refused to have it mass-produced, but it was finally released in the 60s (and reformulated for the present day version).
Givenchy L'Interdit £52 for 35ml eau de parfum
Always deeply interesting (and potentially psychologically revealing, we find!) to discover what they wore, but of course a fragrance is such a personal choice. Here's some tips to set you on the path to a perfumed 'happily ever after'…
– It's vital to live with a fragrance for several hours (better still – an entire day) on your skin. That scent you spritz and immediately fall for may turn into something less than loveable as the notes develop.
– The very best way to try is in the comfort of your own home, with zero pressure, scroll down to our hand-picked selection of samples for you try, below (they're perfect for bridesmaids gifts and wedding favours, too!)
– Try not to test more than a few fragrances at one time, because too many at once = a muddle (and you'll likely forget which is which, anyway!)
– Following on from the previous point, when testing a fragrance, be sure to write down the name of it on a blotter or jot down on your phone. By the time you get home a pile of random bits of scented paper will mean nothing to you.
Scared to branch out? Type the name of a fragrance you already know you love into our Fragrance Finder, and we'll immediately suggest six new scents we think you'll fall for.
Don't know where to start? Book a bespoke fragrance consultation as a couple (or on your own if you prefer) – we've listed seven scent sittings for you try, and many are completely free, so what do you have to lose?
– When you find a fragrance you love, consider following the fragrant theme through to your floral arrangements, colours, mini-versions (to give as bridesmaid gifts or wedding favours), and matching scented candles to use for table decorations… ?
– Getting married in a colder climate or later on in the year? Fragrance writer Viola Levy gave us her suggestions for the best Winter Wedding fragrances.
– Consider gifting your bridesmaids a beautiful box of try-me scents to make their choice from, such as the just-launched Eau So Fresh Discovery Box £23 / £19 for VIP Club Members
– Gift the Groomsmen a luxury box of hand-picked masculine fragrances that have been chosen to be ultra smooth & dapper, like the Suave Scents Discovery Box £23 / £19 for VIP Club Members