Sarah Baker recently ramped up the ravishing longevity of their fragrances by adding Extrait to their collection. But hang on… WHAT does 'extrait' mean, and how does it differ from an eau de parfum? Or, come to that, a 'parfum'? Here, we're de-bunking the fragrance myths, finding out how you can try sample-sizes to compare and contrast, and feast your nose on even longer-lasting, full-size fragrances…
Contemporary artist Sarah Baker's photography, sculpture and films are inspired by 'fashion, luxury and celebrity', but little did she know that when she created a fictional fragrance house as part of her artwork, her passion for the project (and the public's reaction to it) would result in a real-life fragrance house. Still very much artistically inspired, luckily for us they're now ready to (actually) wear… and now these intensified, ultra-long-lasting versions of the scents are on the menu and even more voluptuously desirable!
From Colognes to extraits, 'splashes' to after shaves – there are SO many differing types of fragrance strength descriptions now that it can get really confusing!
Terms like Eau de Toilette or Eau de Parfum are used to identify the strength or concentration of oil in the carrier (or base – usually alcohol) in a fragrance composition. These concentrations can vary from fragrance to fragrance, brand to brand, depending on how that particular house like to blend their scents, but this is a very general rule of thumb (or nose!)
Extrait / Parfum – 20-30%+
Perfume – 15-25 %
Eau de Parfum  (EDP) – 8-15%
Eau de Toilette (EDT) – 4-8%
Cologne (EDC) –  2-4%
Body cream/lotion –  3-4%
After Shave/Splash  – 2-4%
Soap – 2-4%
Don't think of higher scent strengths as simply turning up the volume, it's rather more nuanced than that…
An extrait (often also called Parfum or 'extract') is generally the highest percentage of fragrance-to-base that a house creates. These differing strengths perform differently on your skin, too. An extrait will stay on your skin for far longer than an EDP, but it may not project as much, so although it might not kick open a door of a party and announce itself by shouting into the room, it will linger longer, warming with your body throughout the day and night (and into the next day!) creating a sensorial, sensual bubble of intimacy for you – and those lucky enough to be near you – to share the pleasure of.
Some people like to layer scent strengths throughout the day. Here's how:

Begin with a refreshing splash of Cologne to get those senses revving, and then wear an Eau de Toilette for day time.

In hot temperatures, consider layering a Cologne or Eau de Toilette with a matching (or unscented) body lotion, as dry skin makes fragrance fade faster.

Try one of the many new hair perfumes – a delightful way to wear your scent, often imbued with moisturising, protective properties as a bonus when temperatures soar (and alcohol-based scents can sizzle dry hair).

As evening falls and you head out on the town, switch things up by adding a spritz of Eau de Parfum to leave a sultrier trail that will last as long your night does.

And for the boudoir – a dab of pure Parfum or Extrait will tempt until the next day (or night) but wont project as far as an Eau de Parfum. Think of them as stronger concentrations, but in a hushed form – only for you and whomever you allow to get that close to nuzzle your neck and admire…
Is your nose twitching to find out more? See our brilliant FAQ section – there to answer your questions and put the sense into scents.
Meanwhile, if you're ready to take the extrait perfumed plunge, let's look at Sarah Baker's transportive, evocative (and often deliberately provocative) scents to explore, and scroll down to see the sample set of extrait fragrances for you to try…
'Why be a star when you can be a legend?' asks the always artistic, eternally glamorous Sarah Baker, introducing perfumer Chris Maurice's enticing composition for her house. Balancing bergamot's brightness with the honeyed headiness of orange blossom, petitgrain pierces through the sweet swirl of butterscotch and dusting of sinfully dark chocolate. Cradled in Laos oudh, Suyufi agarwood and amber, it's the '24 Karat glow' of celebrity's golden age, made manifest.
£145 for 50ml extrait de parfum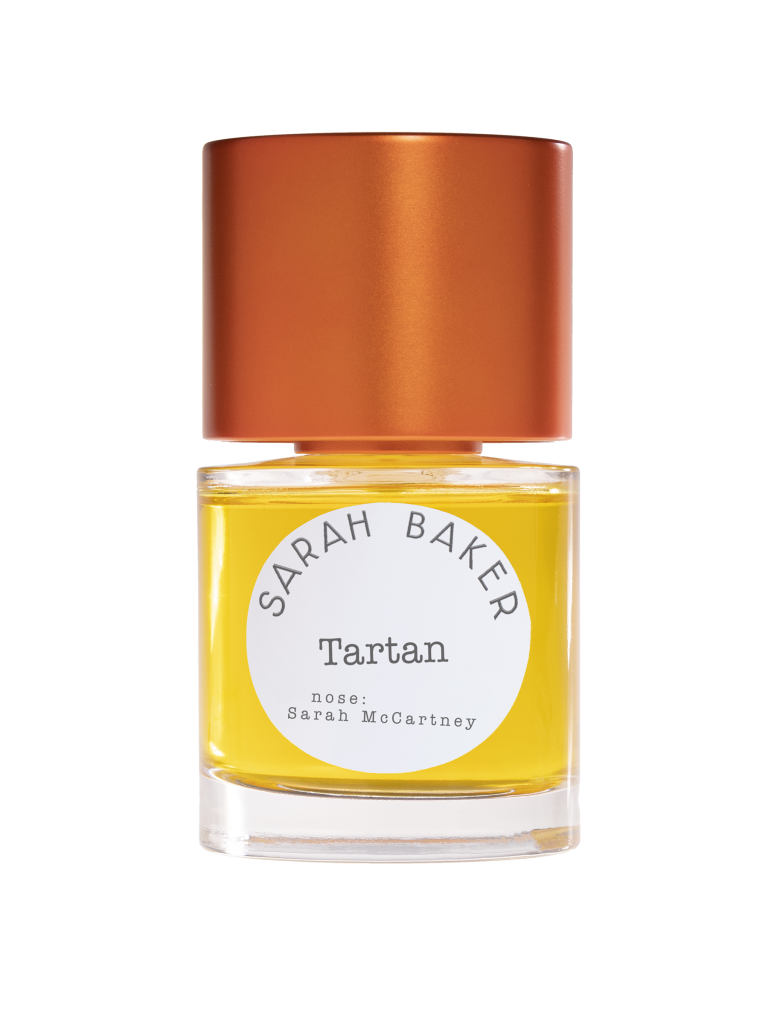 This is a classic of the collection that's been adored since the scents were first launched. Sarah Baker, the nose for this one, is better known as the founder of quirky British house 4160 Tuesdays, but here collaborated with Baker to compose this marvel. Picture it: A fire is roaring in the library. You savour a rare single malt. Warmth and heritage envelope you after a walk through mossy ruins in Scotland's Highlands. Autumnal.
£145 for 50ml extrait de parfum
Oh now this is completely addictive, we warn you… One to wear when you simply want to smell irresistible – we've heard tell of several glossy mag beauty editors who cannot be without this having tried it on their own skin, and having sampled it ourselves, we totally understand why. Playful and sweet with the flavours of childhood appetites, it dries down to something seriously grown-up. A beloved game encountered in the attic, realising years later it was the seed of your adult prowess; the sensual, sexy and clever you.
£145 for 50ml extrait de parfum
Another from the original collection we fell in lust with at first sniff, this swaggers with glamour, it's that 'shoulder pads in a bottle' scent which we all need sometimes for an instant spritz of confidence. It evokes the strength within, a purr of suggestiveness, a soap-opera bottled that could get out of control if you allow. An epic night out. Heady excess and a whiff of scandal. A big cat signifying power and the right to luxury. The only choice when good behaviour is not an option. Decadent.
£145 for 50ml extrait de parfum
Now this one will surround you in a shield of perfumed protection, but in the most audaciously fabulous way. Too much or not enough? We think it's the perfect perfume to wear when you need to let your inner diva take the steering wheel and drive you to beyond the limits of your own imagination. Inspired by cult star Divine. A bubblegum mélange of tropical fruits, seductive flowers and predatory tones. A scandalous first impression unveils a balance of audacious combinations. Dare to walk your own path.
£145 for 50ml extrait de parfum
This may well have been the first fragrance we ever smelled from this incredible niche house. Having just launched, we were blown away by the freshness, both of this breezey scent (which wafts the promise of holidays and happiness) and the inventiveness of their collection. Here, fragrance floods Aegean isles, turning fresh on crystal waters. A yacht where a famous affair plays out above and below decks.The sun glistens on your body. A drama that remains fresh forever.
£145 for 50ml extrait de parfum
What a scent, oh boy, you'd better be ready to fall headlong for the lustful trio of tuberose, honey and ylang ylang. It's fragrances like this that linger so longingly on the skin – like the tingle of a passionate kiss that seemingly last forever in this strength. One to waft when you desire others to follow your trail for hours, unbidden, helplessly seeking another sniff. Ah yes. Cross and double-cross. Who's fooling who when the stakes are high? A lingering vapour of classic silver screen sophistication. Impeccable.
£145 for 50ml extrait de parfum
There are occasions that a scent rises above a smell and becomes a texture, a colour, a shimmering sensation that evokes so much and plunges you into an olfactive memory. Here, we find ourselves half dreaming, half remembering, waves kissing our legs, warm sun caressing the skin, a feeling of nakedness that sighs contentedly. In a mythical ocean, a sea shell gives birth to the goddess of love. Desire lingers beneath the shimmering surface. Fresh and beautiful, with an undertow. Salty.
£145 for 50ml extrait de parfum

Try Extrait Samples…
We're thrilled to be able to offer you a way to try these fabulous new extraits altogether – so you don't have to choose between them, giving each a chance to drape itself irresistibly over your skin and radiate ravishingly in turn. Only then can you truly decide which one(s) must be yours…
Sarah Baker Extraits Discovery Set £45 for 8 x 2ml extrait de parfum
Written by Suzy Nightingale