Imagine the excitement of smelling spices for the very first time, and then realising you could waft fragrantly (and flamboyantly – these were hugely expensive and kept in locked chests) smelling of success and radiating your wealth… The Elizabethan era saw an influx of exotic goods arriving from all over the world – including luxurious, never before seen perfumery ingredients – the valiant explorers bringing a bewitching treasure trove of scented materials to Europe. Men like think Vasco de Gama (1469-1524), Magellan (1480-1521) and Columbus (1451-1506) brought vanilla, pepper, Peru balsam, cardamom, sandalwood, clove, cocoa… Many were used for flavouring, but also found their way intro fragrant creations.


A growing trade with the East resulted in the transportation of living plants, too: orange trees (producing not just fruit, but that most romantic and innocent of fragrant blossoms), jasmine and rose. With perfect timing, the distillers were getting ever-more-expert: essential oils could soon be distilled from frankincense, pine, cedarwood, cardamom, fennel, nutmeg, agarwood ('oud' as we know it today), sweet flag, anise and more.


Mostly, though, it is supposed that perfumes were still used to mask awful odours – which made lingeringly heady scents like tuberose, jasmine and musk particularly popular. Queen Elizabeth I beckoned Venetian traders to Southampton to offer their scented wares: it became fashionable to wear musk and rose scented pomanders and sachets, in particular.
Here's another charming snippet from an Elizabethan recipe – remember, most of these fragrances would be made at home, and such recipes were often found in household books along with food and medicine recipes. Could you follow the instructions now, do you think? And more importantly – would you wear it if you could?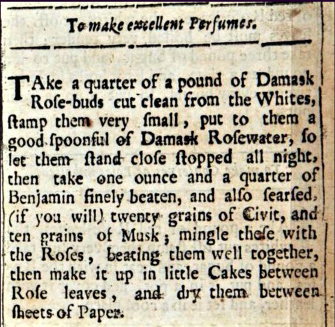 Perhaps our noses are more atuned to complex aromas these days, with modern innovations meaning we can combine the best of nature with purer extractions and headspace technology (digitally analysing the scent of pretty much anything and allowing scientists to recreate the smell synthetically), but isn't it fascinating how we can time-travel with our noses?
Now, why not continue your fragrant journey by exploring another fragrant era in our section devoted to the history of perfumery…?
Written by Suzy Nightingale