The perfume universe is divided into 'families'. but what does this terminolgy actually mean to someone searching for a new fragrance to wear? We know it can be baffling to work out, so are here to help guide you with a new feature decoding and exploring the main fragrance families, and choosing an example we think your nose should get to know…
What are fragrance families?
Technically, 'fragrance families' are a classification system the perfume industry has used for years, to place individual perfumes into olfactory 'groups', based on their dominant characteristics. It's part of the language of scent.
A true family, of course, has lots of members – and so it is with fragrance. Most of the eight main fragrance families will have some variations on their theme, particularly these days, as increasing numbers of fragrance houses describe their scents as 'fresh woody floriental' and suchlike, which is rather confusing for everyone! Here. we'll try to break down the characters of the main families so you can discover which you're most drawn to.
Will I only suit fragrances from one family?
Not necessarily – but it all depends on personal taste, the time of year, your mood and even what you've eaten recently (spicy food can mask the more subtle notes and alter how others smell on your skin for up to two weeks, for example).
In reality, very few of us have a completely jumbled wardrobe of scents from lots of different families: often without even realising, we tend to fall for one main family time and again. Just as you might open your wardrobe and find that a certain colour dominates. Instinctively, we prefer scents from some fragrance families and dislike others – although we may tend towards one particular family for colder weather, another for sunny times (or moods).
What is 'fresh'?
Uplifting, zesty, cooling: most eau de Colognes fall into this family. They feature a whoosh of notes like lemon, bergamot, orange, grapefruit, mandarin. (These notes are also slightly randomly referred to as being 'hesperidic' – after the Hesperides, the nymphs from Greek mythology!)
Fresh fragrances usually smell clean, and often come in the eau de toilette and Cologne versions, though now we're finding longer-lasting eau de parfum fragrances evoking that zingy Cologne style. These are the best of both worlds, because many citrus-based scents disappear more quickly on the skin – the oils are the lightest in perfumery so evaporate more rapidly, particularly if you have dry skin. Stronger concentrations (like Aventus Cologne – see below) allow the freshness to give you jolt of energising enjoyment for several hours – hurrah!
Ideal for splashing, and generally more suited to summer, some conjure up a sea breeze, while others smell like bottled sunshine. Many people find fresh fragrances give them a 'lift' – a bit of a perfumed kick up the proverbial when you're feeling drained or in need of a quick hit of happiness.
With all this in mind, let's take a look at a brand new fresh fragrance we feel exudes the very best of this family's characteristics…
Aventus Cologne
FAMILY: FREsh
TOP NOTES: ginger, mandarin, pink peppercorn
HEART NOTES: patchouli, sandalwood, vetiver
BASE NOTES: styrax, birch, musk, tonka bean
How does it smell?
Lusciously juicy mandarin fizzes with a rasp of freshly grated ginger, a gentle spicy heat enhanced by the addition of pounded pink peppercorns. Just as your nose is getting used to the sunshine warmed top notes, a supremely smooth patchouli swathes creamy sandalwood and cooling vetiver for an interplay of textures and temperatures that continues to intrigue. Finally, the resinous base pulses in a throb of almond-like tonka beans amidst soft drifts of smoky musk that demands to be nuzzled…
The original Aventus is a best-selling fragrance around the world, and most particularly known for the iconic pineapple top note. Wanting to create a more summery alternative, instead of just weakening the strength and turning it into an eau de toilette, perfumer Olivier Creed – sixth generation master perfumer for the house – crafted a luminous, utterly radiant fragrance that feels like a younger (more tanned) sibling of the original. It's uplifting and vibrant, but still carries itself confidently for hours of perfumed pleasure!
Try a sample of Aventus Cologne
You can try a sample of the just-launched Aventus Cologne at home – it's one of an incredible SEVENTEEN fragrances we put together in The Explorer Discovery Box of more masculine-styled scents for you to wear and explore your feelings for. Will you fall for this fresh example…?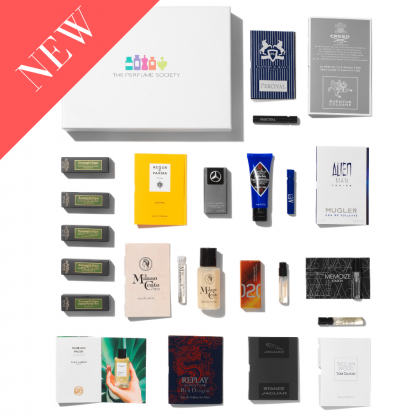 The Explorer Discovery Box £19 (£15 for VIP Club members)
PS: Don't forget to order for Father's Day on June 16th – our last posting day is the 11th to make sure it arrives in time!
By Suzy Nightingale