Ermanno Scervino is one of the hottest fashion houses around, and with the catwalks of the world having been freshly strutted, we wanted to pay tribute to the house currently wowing the perfume world, too, with their just-launched first fragrance…
'As a boy, I was immediately attracted to the world of beauty and aesthetics,' Ermanno Daelli admits, and even his childhood was full of fashion fantasies, as he reminisces spending the summer '…in Forte dei Marmi and the Cote d'Azur and winter in Cortina. These places were always crowded with the great divas of Italian and Hollywood movies, such as Monica Vitti, Sophia Loren, Elizabeth Taylor or Kim Novak.'
Rather more fabulous-sounding than our own childhood holiday memories of wet weekends in Bognor, we have to say! Among such glamorous icons, he '…dreamed, one day, to be the one who dresses such beautiful, talented and inimitable women.' That dream came wonderfully true, as his clothes have been worn by Amal Clooney, Nicole Kidman, Angelina Jolie to name but three.
There's an airiness of the materials the designer favours in his collections and an insouciance in the way they are styled: exquisitely gauzy gowns worn with precisely (yet so-relaxed looking) Italian tailoring. Now, this refined but playful aesthetic is translated perfectly in the first perfume from the house. And with his love of strong, brilliant women, Ermanno chose a trio of female perfumers – Julie Massé, Véronique Nyberg and Mathilde Bijaouo – to compose it.
Ermanno Scervino for Women encapsulates the frothy frivolity of a couture dress, opening with an irresistible gourmand Giaduia (chocolate and hazelnut) accord shot through with the sunshine of neroli and the sharpness of green mandarin, balanced against a fluff of white flowers.
The trio of perfumers visited the Ermanno Scervino boutique to get closer to the couture while creating the fragrance together, and you can see a video of that trip, below…
Julie Massé notes that '…composing a fragrance is like tailoring: mixing and matching raw materials, readjusting the formula, until it's the right fit.' Véronique Nyberg adds that Ermanno's juxtaposition of fabrics, '…inspired us to create a multi-textured fragrance.' Agrees Mathilde Bijaoui: 'Giving texture to a fragrance is key,' explaining: 'In this creation, we created it from the top to the dry-down.'
That white heart simply billows with hushed, velvety tuberose absolute, a transparent jasmine and the coconut-water like Jungle Essence extraction™ – an exclusive formula from the fragrance house MANE. Set against the creamy vanilla, cashmere wood and white musk of the base, the overall effect is of white tulle on a backdrop of sunshine: sparkling, refined, and simply beautiful.
We are thrilled that Ermanno Scervino wanted to give you the opportunity to try a sample of this new fragrance in our #FROW Discovery Box!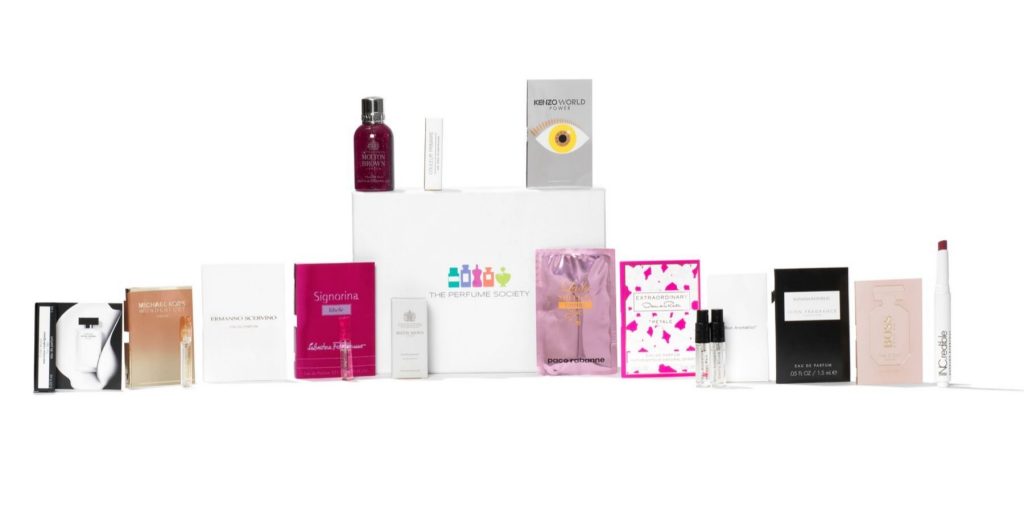 There are THIRTEEN fragrances to sample at home, from the chic and uplifting Banana Republic Neroli Woods to dazzling Oscar de la Renta Extraordinary Pétale via creations by the hot new niche brands Mihan Aromatics and Les Eaux Primordiales. There's a fragrance for every look with Michael Kors, that fabulous Ermanno Scervino, Kenzo – and so many more...
The box also includes a FULL SIZE INC.redible Semi Matte Lip Click (worth £10 alone) and an invitation to wind down into colder nights with the shimmering, decadent new Molton Brown Muddled Plum Bath & Shower Gel.
The entire box is only £19 + P&P (£15 for VIP Club members), so if you want to get front row to be in the know – and make sure you're dressed in the best that fragrance has to offer – you can get your hands on the box right here…
By Suzy Nightingale