We love an effortless scented solution, and most especially when they're as attractive as Anthropologie's new Floral Diffusers. Forget all images of dusty old sticks in a vase, for these will be diffusers you'll gladly display, front and centre…
Anthropologie have collaborated with a company called Herb Family for this range of stunning scented display pieces, the house starting life as DongSung Herb Farm in Korea herb farm back in 1987, which has now grown into a leading manufacturer of home fragrance products.
Anthropologie say: 'Inspired by a floral bouquet, we have developed 5 floral bouquet in 4 fragrances that allows you to mix and match any of the four fragrances with the floral bouquet of your choice.' And having had a look, we must say, quite fancy one for each room, really.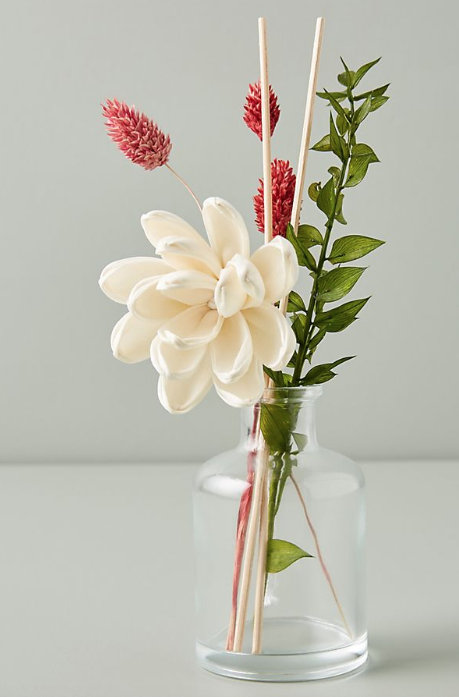 Chosing from Pussy Willow, Red Wheat, Baby Breath, Classic Wheat or Eucalyptus Pods, whichever you plump for, we think these would make great gifts for any home fragrance and interiors devotee – or for any friend that isn't blessed with green fingers, and somehow manages to kill any living plant within a ten-metre radius. A fab option for your desk at work, too, we think – zero maintenance, fuss-free and they really radiate the scent around the whole house.
These Floral Diffusers are sold separate to the fragrance oils – available in the following options…
Fresh Cut Bouquet: Blend of fresh florals with soft hints of citrus and sandalwood
Mulled Cider: Blend of crisp apple, fresh mulled spices and a touch of orange and musk
Amber Woods: Blend of wood notes with white cedar, amber and sandalwood enveloped by a sweet vanilla touch
Autumn Spice: Blend of sweet pumpkin, brown sugar, cinnamon and creamy vanilla
But we think it's a bit of a bonus, as it means you can use any home fragrance oil you currently have, or re-fill with something else entirely of your choice!
Anthropologie Floral Diffuser £32, Floral Diffuser Oil £8 for 4.5 fl. oz.
By Suzy Nightingale