We've all come to realise how important it is to carefully consider what we do with packaging these days, before simply chucking it in the nearest bin – and with so many stunning bottles (and boxes) around, it's never been a better time to reuse and upcycle your perfume collection. Watch some of the super-easy crafting videos below, or browse for fragrant inspiration…
What to do when you've come to the end of a favourite fragrance (other than pop out immediately to re-purchase)? Craft Corner have come up with a brilliant way of creating an illusion that flowers grow from the flaçon itself, using clear resin to resemble water and faux flowers (though we think you could use dried if you prefer). So clever, and a great gift that would be cheap to make, too!
If you prefer written instructions and a step-by-step guide, the DIY Decorator blog has a great post explaining in easy to understand terms how to create a vase out of just about any perfume bottle – including how to remove the sprayer and top safely – which, they say, will only take you ten minutes. Which of your perfumes would you choose to turn into a unique vase?
Those of us who'd like to adorn our necks with perfume in more ways than one can find inspiration for upcyling mini bottles into the most gorgeous necklaces on the Quiet Lions blog. There aren't precise instructions, it's more of a visual feast of ideas, so you might need some jewellery-making know-how already before accomplishing these. But for a far easier version – why not loop some pretty ribbon around the neck of a miniature and turn it into a necklace that way?
Sometimes the boxes are just as fabulous as the fragrances, and it's such a shame t get rid of them. We use ours to store precious letters and cards, buttons and various bits and bobs – so good for organising your kitchen drawers for all those random keys, or makeup drawers to prevent an overspill! And for larger boxes – why not use to store all of your perfume samples? If you have as many as we do, you may want to collect quite a number of boxes to keep… For another idea, we loved watching this realxing video by Eversea Design, on how to turn perfume packaging into a gift box to pass on the love to someone else.
Pinterest is full of ideas for how to reuse and upcycle pretty much anything you care to name – be prepared to fall down the proverbial rabbit hole once you start exploring – but how darling is this little pin cushion made from an old bottle of perfume? Another lovely gift idea to give to friends who sew, or to display on your own shelves.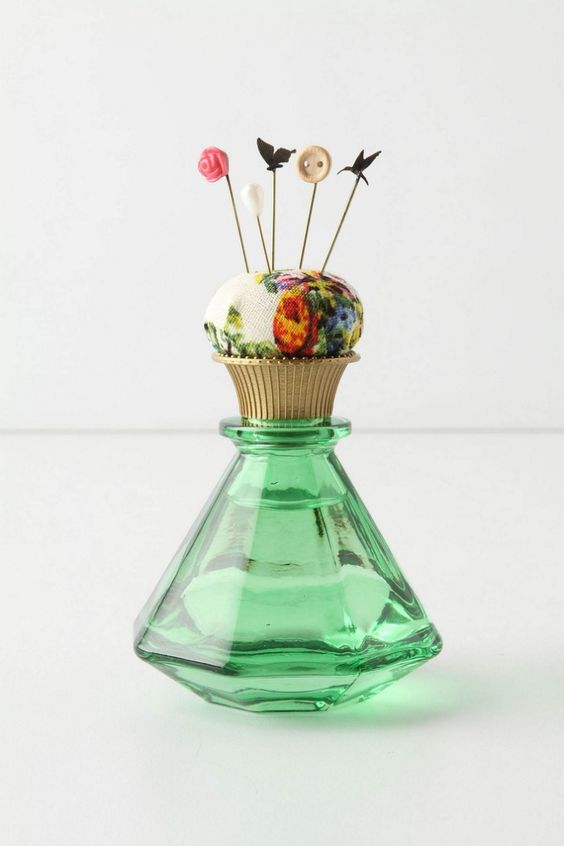 And really, how could resist another Pinterest idea of turning perfume bottles into place-holders for a dinner party? Add a stick with a card attached to show their name, if you don't want to have scrolls inside. If you had enough, you could do a whole hall full of tables for a special occasion like a wedding or birthday, with themed tables based on the fragrance bottles, perhaps…? If you don't have wide-necked bottles like these vintage style ones, simply use the technique to remove the pump mechanism explained in the first video and blog, above.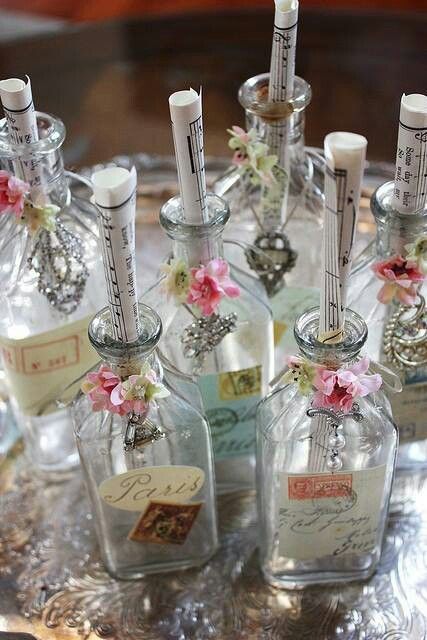 Whichever way you choose to reuse, we're sure you'll think of even more ways to keep these beautiful objects forever – how much more rewarding (and better for us all) than to discard and forget. Display your fragrant love proudly around your home!
By Suzy Nightingale