With so many olfactive options, we had to split our Father's Day gift guide into two parts (for the first fragrant list of suggestions, click here); this second-half focuses on curated selections that showcase the entire range from a single house, or perhaps highlight their all-time classic best-selling buys. With scents ranging from cool and contemporary to smooth and sophisticated – spanning new niche names to much-loved designer favourites – there truly is something for all tastes…

[Pssst! We've also extended our offer of 20% off Men's Must Have, Suave Scents and Niche VI Discovery Boxes to treat your papa, a father-figure or special guy in your life to perfume for Father's Day! Use the Code: FATHERS22 at the checkout to redeem!]
Escentric Molecules Discovery Set: £25

Utterly unique duos of these cult fragrances combine a man-made aroma-molecule with naturals that boost that main scent. Rebels of the perfume world, founded by maverick perfumer Geza Schoen; Escentric Molecules allow your lucky gift-recipient to share a journey of fragrant exploration via their brilliant Discovery Set. Try each of them in turn, compare the FIVE pairs, and find out why this continually innovative house are set to blow your mind…
The Escentric Molecules Discovery Set includes FIVE duos x 2ml samples. 
Escentric 01 – the Iso E Super molecule features heavily, with the remaining formula using ingredients 'designed to underscore its low-lit mood.'
Molecule 01 – the 'partner' to Escentric 01 contains nothing but Iso E Super – a single ingredient
Escentric 02 – vetiver, synthetic musk, Muscone plus powdery orris, elderflower extract and hedione
Molecule 02 – unadulterated Ambroxan
Escentric 03 – a tribute to the more familiar side of vetiver: its dark, slightly exotic woodiness.
Molecule 03 – Vertiveryle acetate, a refined vetiver note is celebrated at its purest
Escentric 04 – pink grapefruit, rose and pink peppercorns
Molecule 04 – a seriously room-filling sillage of smooth sandalwood
Molecule 05  – consists of the molecule Cashmeran pure and singular
Escentric 05 – dry, radiant, warm and woody with a touch of pine resin
Created in 1978 out of an intrepid travel-inspired couple's dream, Banana Republic went on to become a GLOBAL FASHION BRAND. Now, they bring us an oh-so-cool, niche-inspired fragrance collection. Developed with perfumers such as Claude Dir and Patricia Choux, to mark significant dates and personal memories for the brand, though incredibly affordable, they certainly don't compromise on quality, and have seriously impressed us at Perfume Society HQ!
Neroli Woods – with oodles of neroli and orange blossom, evoking holidays to the South of France (1.5ml eau de parfum)
17 Oud Mosaic – a mosaic of internationally-beloved aromas
78 Vintage Green – leafy and green, it captures the fantasy of travel and freedom
90 Pure White – transparent yet sexy, with a blend of musk and lavender
Inspired by the exotic escapism of world travel and enjoying long summer evenings somewhere in the tropics, these unique fragrances capture the very essence of adventure (and the adventurous spirits of those who choose to wear their scents). Yes there are florals, but this niche house are unisex, and they're composed with such a freshness, it's as though the salty ocean air carries the fragrance on a scented, balmy breeze. And we happen to know they smell amazing on men's skin!
Vanille & Tabac Noir – This alluring scent captures the magic of sunset evenings. Sensual notes of tobacco flower and vanilla blend with hints of patchouli, cardamon and basil in a scent that swirls with rich, delicate spices.
Frangipani & Neroli – A scent that will sweep you away to white, tropical sandy shores. This exotic fragrance blends smooth, honeyed notes of frangipani with the delicate freshness of neroli.
Tuberose & Wild fig – A rich, indulgent fragrance that captures soul-reviving sun-warmed evenings. Enchanting tuberose is combined with earthy notes of wild fig and hints of vetiver and cedar wood to create this inescapably romantic scent.
Tuberose Absolute & Sandalwood – This is the scent of exotic and unforgettable nights. Intriguing tuberose combines with rich leather and sandalwood in this intoxicating, utterly addictive fragrance.
White Jasmine & Gardenia – An exquisite floral fragrance that captures a feeling of joyous freedom. Soft, white petals of rich jasmine, gardenia and peony come together to create this unforgettable scent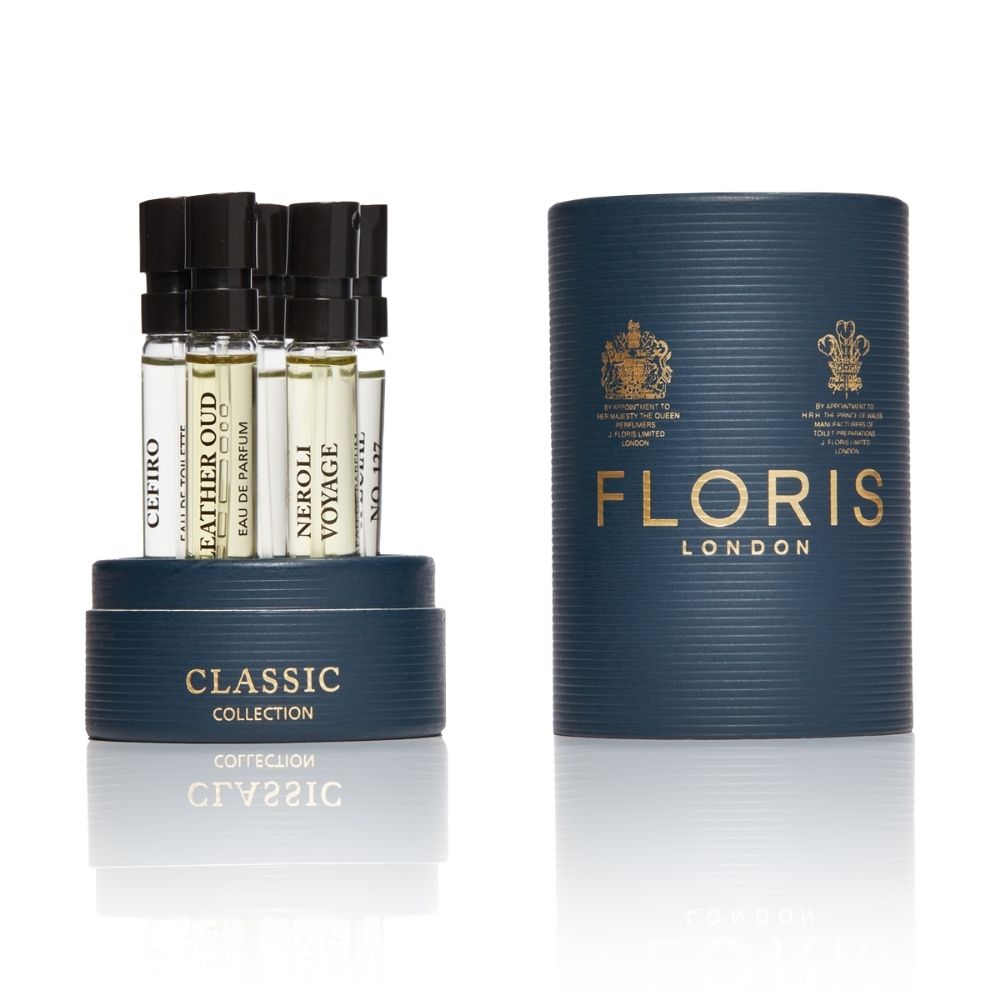 Founded in 1730, Floris is still operating out of its original premises, run by members of that same family, creating beautiful fragrances for men and for women…We have long adored Floris at Perfume Society HQ and with creations here ranging from crisp citrus to rich and woody, we are so excited to share this Discovery Collection containing five cult classic, completely timeless fragrances he simply has to try.
Special No.127 – a refreshing citrus blend of bergamot and orange with petitgrain introduces the heart of lavender and geranium.
Limes – a vibrant burst of the lemon entwined with lime blossom, neroli, and lily of the valley, sustained by a musky base.
Cefiro – crisp lemon and lime, punctuated with bergamot and mandarin, warmed by spicy notes of cardamom and nutmeg.
Neroli Voyage – opening with a citrus burst of neroli and lemon, complemented by marine notes and enlivened by spicy notes of ginger and aromatic fennel seed.
Leather Oud – the freshness of new leather compliments the smoky aspects of the oud oil and geranium at the heart.
Co-founders Sarah Blair and Jeffrey Darling have long collaborated in writing, design and film. For them it was a natural step to take that into fragrance – a wearable art form. With full-size bottles designed by the legendary Pierre Dinand, each fragrance resembles an anatomical model of the human heart, featuring Australian sandalwood as a signature written in scent. So let him dive in – and see which fragrance draws his heart closer.
Clear Heart v.1 – Australian summer: surfing, swimming, hot days, cool breezes and the salt that hangs in the air promising more.
Black Heart v.2 – Smoky. Impolite. Dangerous. It's smoky heart of mysterious spices is shot through with shards of fresh eucalyptus and citrus to create an impolite mix of opposites.
Red Heart v.3 – Explosive. Seductive. Addictive. A composition of feijoa, tuberose and spices with sensual notes of musk and vanilla.
Gold Heart v.4 – Nurturing. Precious. Ancient. An exotic warm breeze that wraps around to protect and nurture.
Purple Heart v.5 – Brave. Instinctive. Triumphant. Inverying the olfactory pyramid by opening darker and then brightening
Pink Heart v.6 – Mingles on the skin with the spiciness of the sumac accord and cistus absolute for a mesmerising ride.
White Heart v.7 – The ethereal and sharp opening of French lavender, aldehyde and cardamom coolly invite us into the vast landscape of love.
Our sense of the smell is the most powerful emotional link we can trigger – and Memoize London set out to create a collection of scents that did much more than simply make you smell exquisite. As they explain, when smelling a fine fragrance, 'the merest hint of something familiar can trigger a special memory or wonderful moment in our lives that we treasure forever.' Using scent as a journey, the Light collection is an invitation to clear the mind and enhance the soul. One for stressed-out peace-seeking chaps, perhaps…?

Castitas – The essence of purity, honesty and innocence, to remind you of your purest moments.
Industria – The essence of strength and perseverance, the tenacity to fulfil your hopes and dreams.
Caritas – The essence of generosity, charity and kindness, to remind you of the goodness held within.
Temperantia – The essence of calmness, modesty and great wisdom, reminiscent of that moment of pure calm and tolerance.
Patientia – The essence of patience and tranquillity, the endurance and resilience to stand firm and strong.
Humanitas – The essence of kindness and compassion, wraps itself around you like an old friend.
Humilitas – The essence of modesty, humility and grace, aware of your greatness, without the need to prove it to the world.
White Castitas – The essence of great honour and integrity, your body and soul are cleansed, your mind is clear.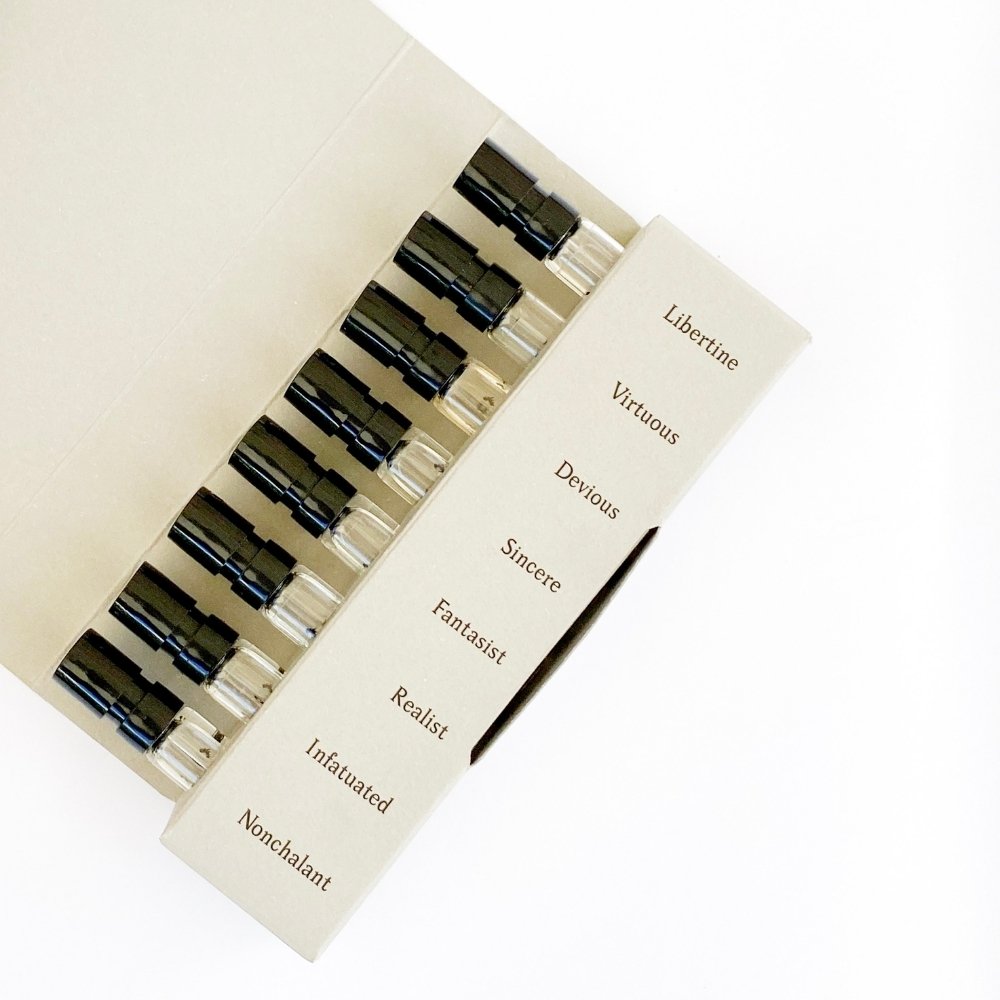 Asking the simple question 'how do you feel today?' is the starting point of this personality-led, unisex perfume collection. This collection beckons him to 'go within' and celebrate his complexities through scent. Face up to dark and provocative thoughts or dare to daydream, using his emotions as a guide. But, say the house, we are complex beings, and we do not always feel one emotion at one time; so artistic types are especially drawn to expressing themselves by layering these intriguing fragrances.

Devious – inspired by the poisonous effect you can have on your own mind when over-indulging in dark and devious thoughts
Fantasist – a fantasia of delectable treats and mystical promises from distant and otherworldly lands
Infatuated – an ode to the all-consuming feeling and whirring thoughts of a lovelorn teenager endlessly daydreaming of unrequited love
Libertine – imagining a palazzo in Venice, home to Casanova – the most famous libertine of all time, with a note evoking his favourite exotic tipple, known as 'cordial orgeat'
Nonchalant – inspired by Josephine Baker, the first black film star, world renowned dancer, bisexual, wartime spy and American expat living in Paris, who is still the epitome of timeless, glamorous cool
Realist – follow a monk's journey up a mountain and capture his enlightened spirit by inhaling the smell of the crisp mountain air and forest trees
Sincere – inspired by the sincerity of a mother's love
Virtuous – taking its inspiration from the words of Dante: 'Beauty awakens the soul to act'
Offering close encounters of the fragrant kind,  wannabe astronaut or space-mad dads will go on journeys further than they ever dreamed possible with this unique collection! Planetary Scientist, Astrobiologist and perfumer Marina Barcenilla created four transportive fragrances, combining her love for science and skills as a perfumer, each of them existing in their own scent universe. Showcasing this way of travelling the solar-system with our sense of smell, these are undeniably quirky yet utterly wearable scents that are bound to be a talking (and sniffing) point.
Ground Control – black hemlock, cedars, spruce and fir trees. The heavy smell of sap hangs in the air.
Moon Walk  – the serene landscape in fragrance form – a world of sparkling dust and silvery mountains.
We are the Martians  – the alien, metallic and dusty smell combined with home comforts astronauts crave.
Out of this World – from planet Earth to the heart of the Milky Way via saffron, raspberry and rum.

Hailed for their strong visual aesthetic and their portfolio of award-winning skincare formulations, MALIN+GOETZ made a natural progression into the world of fragrance via a range of hand-made candles, long-lasting perfume oils and progressive fragrances for us to enjoy on our skin. Experience the entire collection of eau de parfums in one beautifully packaged discovery set which includes the following six fragrances… 
Bergamot – a citrus orchard in bloom, with the spice of bitter fruit, bell pepper and ginger, with undertones of earthy musk and woody notes.
Cannabis – rich and herbaceous, with soft, floral notes of muguet and magnolia, on a base of earthy cedarwood, patchouli and sandalwood.
Dark Rum – a refreshing dark and spicy aroma, sweetened with plum and bergamot, with notes of leather, rum and creamy milk.
Leather – a formula of muted florals with smooth leather while rustic wood notes call to mind the softness of a well-worn vintage find.
Stem – luscious notes of green hyacinth, muguet, mandarin leaves, and green elements from wild freesia, all softened by a trio of modern musk molecules.
Vetiver – a combination of fresh citrus peel twists that are warmed by savoury celery seed, amber and guaiacwood.