Every year, some of the world's most rare and beautiful perfume bottles are gathered together in one room, at the Perfume Bottles Auction (and going for eye-watering prices, as you'll see, below!) 'The longest-running specialty auction of it's type worldwide, returning clients have come to expect unique, undocumented, and seldom seen bottles to be offered by the Perfume Bottles Auction.'
Bidding on these precious lots are flacon collectors and a good number of museum directors, all desperate to get their hands on these utterly stunning pieces. This year's auction took place in conjunction with the International Perfume Bottle Association's 30th annual convention in Tyson's, VA, matching the previous year's already staggering result of $400,000 within a few dollars. Oh my goodness, how we would have loved to be there! Which of these would you have bid on, given a chance…?
Now we have the incredible results (and heart-flutteringly fabulous pictures of the bottles) of what they realised, as told to us by the Perfume Bottles Auction representative… 'A large and enthusiastic crowd compeated with online bidders, multiple phone lines, and a number of absentee bids over 250 lots chosen to suit every pocketbook – resulting in a wide spread of wins from a 1925 Terre de Ritz figural powder box formed as a 17th century court lady ($120) to the 1940 Helena Rubenstein "Gala Performance" ($24,000, seen below) formed as an actress with outstretched arms standing in an elaborate stage-set box of ostrich plume and velvet.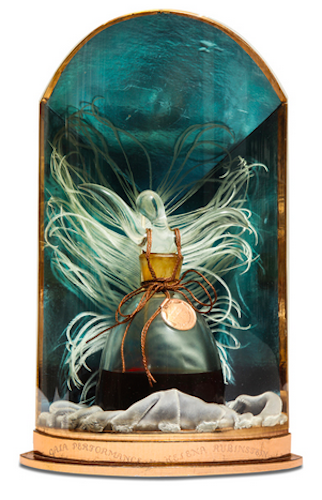 Bottle designs of 1925 proved to generate special interest and some of the highest results, including the Julien Viard bottle for Myrugia "Besame" with it's rare love-birds images on label and box ($19,200); the French comic-strip inspired black and white auk character for Coryse "Alfred" ($9,600); Rene Lalique's dancer and butterflies motif for Erasmic "de Lui" ($13,200); and the alluring fan-themed label, box, and scent name of Oriza L. Legrand "Eventail" (fan) topping the sale ($39,000) at triple it's pre-sale estimate.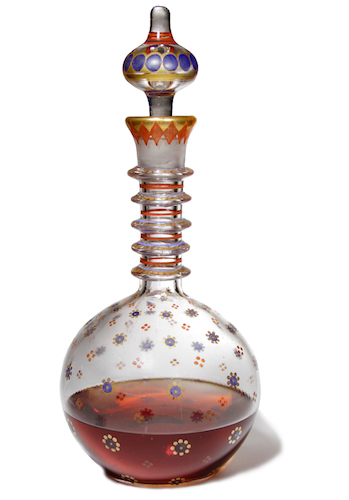 A fine grouping of R. Lalique items featured perfume bottles, powder boxes, hand mirrors, and a rare 1930 three-chamber perfume tester bed with miniature stoppers as nude maidens for Maison Lalique ($8,400). The auction drew particular interest from a number of museum curators over three historically significant Guerlain bottles including "The Moorish Bottle" a rare 1910 hand decorated bottle by Pochet & du Courval ($9,600, seen above). All three went to museum collections.
Other highlights in the commercial bottle category include the surrealist female bust of 1941 Lilly Dache "Drifting" ($19,200); the 1938 Baccarat white crystal fan for Elizabeth Arden "Cyclamen" (9,600); and the 1927 Marblehead Art Pottery Egyptian pharoah bottle for Leigh "Amber Nile" ($10,200, see feature image at top of page).
The sale included several lots of perennially popular 19th century scent bottles featuring a Thomas Webb peachblow bottle with applied gold cherry blossoms ($960); an 1850s miniature gourd with hand carved Napoleonic images ($660); an 1887 silver-capped British porcelain monkey ($480); and an 1870s crystal chatelaine bottle with ruby, sapphire and pearl set silver mounts ($1,320).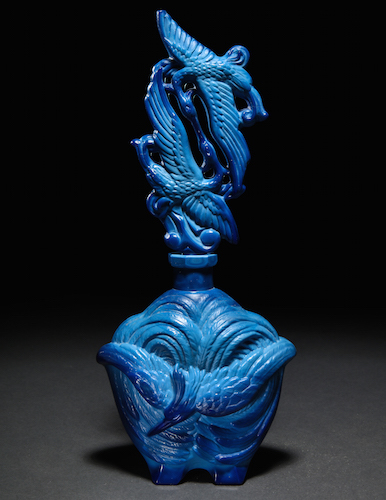 Dominating the evenings offerings was a beautiful private collection of 1920s-1930s Czechoslovakian crystal bottles, which became a buyer's paradise due to the large selection and variety, scattering winning bids to between $500 and $2,500, and sending an exceedingly rare Ingrid bottle simulating carved lapis birds soaring ($7,200, seen above)!'
Full results for this and past auctions can be found online at perfumebottlesauction.com
And for those of you hoarding stashed of fabulous flacons, consignments are now being considered for the 2019 auction in Chicago. For further information contact Auction Director: Ken Leach at [email protected]
Written by Suzy Nightingale