Simply named Trudon, the new perfume line hailing from heritage-rich house of Cire Trudon, takes three of the world's top perfumers – Lyn Harris, Antoine Lie and Yann Vasnier – and challenges them to new inspirations in fine fragrance. Taking the themes of religion, royalty and revolution, five fragrances reveal contemporary chapters: in each scent, one natural ingredient is allowed to take centre stage. Utterly intriguing, and completely sharable no matter your gender, we couldn't wait to find out more…
Part of Cire Trudon's collaborative ethos is to work with unique talents, promote creative freedom and showcase artisanal expertise. Handpicking three of the best perfumers was therefore a considered choice. And even the way they were given the brief was unique from the very beginning… As Trudon explain, 'Individually given a brief by a sophrologist, each nose was taken to a Parisian landmark; chosen for its evocative meaning; each venue catalysed singular ideas and sources of inspiration.'
As one may expect from such a perfectionist design team, the attention to detail and harmony of the packaging is simply stunning. The 100ml bottles evoke the design of Cire Trudon's scented candles. Created by Pauline Deltour, even the rippled-glass cap echoes the elegant silhouette of La Promeneuse, their diffuser that melts scented wax cameos in a ceramic dish over a candle's flame.
But enough of the preamble, we wanted to get our noses stuck in!

Bruma
Top Notes: black pepper, lavender, galbanum
Heart notes: violets, purple peony, iris, jasmine sambac
Base notes: labdanum, Haitian vetiver, tonka bean
Trudon say: 'Bruma ("solstice" in Latin) is intrinsically tied to the sun. And to royalty. An icy solstice, Bruma feeds on the moon and the forest to evoke the inner metamorphosis of a character in contact with the nature surrounding her.'
Antoine Lie says: 'A noble figure leaves the comfort of her rooms on horseback at night to discover a part of herself in another, nearly supernatural place. Her appearance is evoked by the notes that transcribe her femininity as well as her elevated rank. The rider crosses a clearing, passing from the half-dark into the nocturnal light, shrouded in mystery, enigma and a distinguished sensuality that is almost animal-like. Her beauty is suddenly revealed by a spiritual energy.'

Olim
Top notes: bergamot, lavender, anise
Heart notes: pink peppercorn, clove
Base notes: patchouli, benzoin, myrrh, musk
Trudon say: 'Olim (Latin for "once") recalls the first four registers of the old Parliament of Paris, including the numerous texts and laws delivered to the King's court between 1254 and 1318 under different reigns, particularly St. Louis (1214-1270). Olim shines light on the evolution of royal power and the decline of 13th-century French feudalism.'
Lyn Harris says: 'A spirit, a veil of elegance, and beauty… the scent is full of history. Better still, it has the power to reveal history. Cold notes, reinterpreted in a modern way leave a lasting impression in those around and purity on those who wear it.'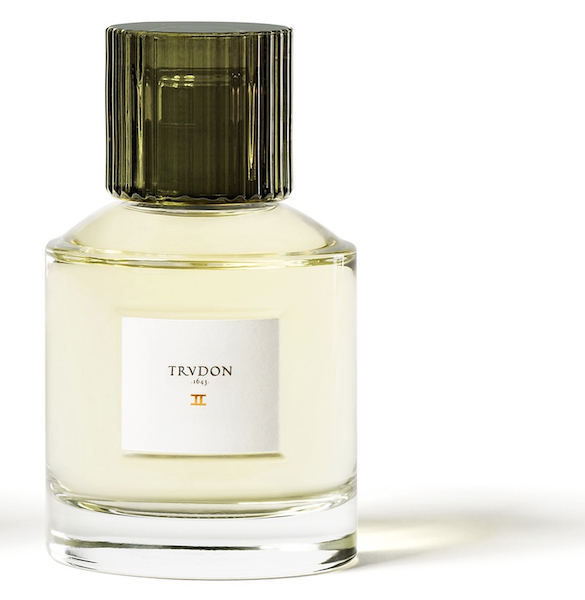 II
Top notes: green leaves, orange bigarade
Heart notes: pines, pepper, juniper
Base notes: cedar, incense, Ambroxan, Cashmeran
Trudon say: 'II is the alliance par excellence, the unique link that ties two beings together. II transcends and calls to the pious, revealing its fragrance like an emerald impulse.'
Lyn Harris says: 'This perfume's vibrant greenery is a forest painting: pines, juniper and cedar covered in moss and berries on a damp, earthy floor.  is a modern take on eau de Cologne; a green, peppery scent with orange bigarade from Brazil. It's something for everyone that unites and brings two people together.'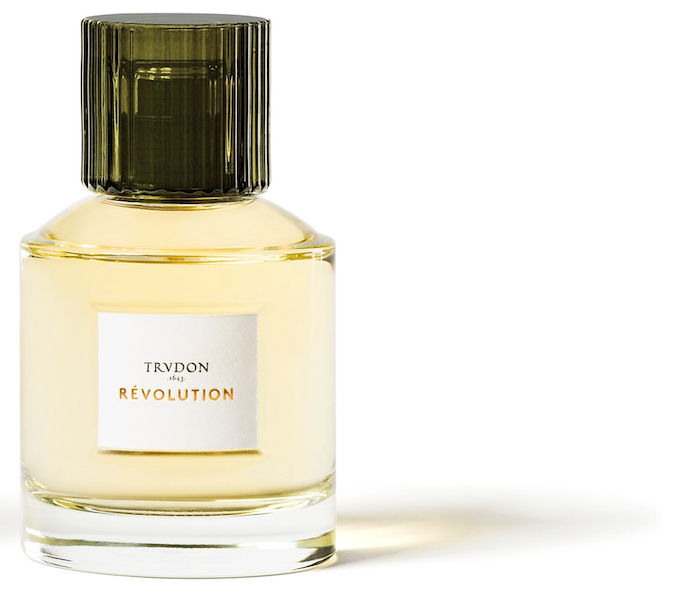 Révolution
Top notes: elemi
Heart notes: angelique
Base notes: cedar, papyrus, patchouli, cade, incense, pure cistus, opoponax
Trudon say: 'The streets of Paris during the French Revolution, an odour of smoke and musket powder. Rage and intense emotions on the faces of the crowds. Houses are afire, the cobblestones awash in oil, sweaty riders are robed in black leather. A touch of incense softens the air, suggesting peace is near.'
Lyn Harris says: 'Révolution captures a moment in his- tory, a period when smells were raw and prevailed everywhere. History is alive in this composition where smoke, wood, leather and incense reign. Yet modern elements in the formula let the scent breathe. A form of harmony is born out of these contrasting notes, leaving an elegant, clean, smoky wood-scented backdrop that remains on the skin.'

Mortel
Top notes: black pepper, pimento, nutmeg
Heart notes: Somalian frankincense, Mystikal, Virginia cedar
Base notes: pure cistus, myrrh, benzoin
Trudon say: 'The artist, living between shadow and light, is a mortal creature. Halfway between the religious and the revolutionary, with an unquenched thirst for eternity, Mortel is a revolutionary drive that combines virile force and natural harmonies. A fatal attraction.'
Yann Vasnier says: 'A winter's night. A heavy metal door opens on a huge room. A man appears in the distance; intense heat and light are pulsing from a forge. Light is reflected on the skin and gestures of this man, who is engaged in a rite: standing in front of the blaze, his eyes seek a form buried in the magma before he can recreate it in the open air. The furnace throws giant, moving shadows. In the midst of his activity, sleep finally overcomes the fiery eyes of the artist-craftsman.'
We say: This is a perfume collection we've been waiting in fragrant anticipation for ever since we first heard about them, and suffice to say, we weren't disappointed! Remarkably refined, characterful yet with restraint, these are scents to see you through the seasons and to be fully explored by trying them all on the skin. With such a stellar line-up of noses behind them, and Cire Trudon's history, it's hardly surprising the frgrance world is going gaga for them…

Trudon parfums £165 for 100ml eau de parfum
Buy them at Cire Trudon
Written by Suzy Nightingale