Floris have scented everyone from royalty, Florence Nightingale, prime ministers and even Marilyn Monroe, but now you can dip into their incredible history (and try some their more contemporary fragrances) in their beautifully curated Floris Discovery Collections…
The long-distinguished history of Floris first began in the dreams of one Juan Famenias Floris, who in 1730 sailed from his native Minorca to set up in London. Marrying an English girl, he settled in business as a barber on Jermyn Street within the fashionable St. James's area, first making hair combs and then assuaging his homesickness by blending fragrant oils he'd transported from Europe. Customers soon took to ordering bespoke blends, all recorded in leather-bound ledgers, enabling Floris to re-create them should further supplies be required in the future – and thus a fragrant dynasty was born.
Many of those original ledgers, order forms and letters of thanks are still in existence, preserved by successive generations of the Floris family, and offering a uniquely fascinating glimpse of British fragrant taste through the ages. Their books boast orders from Admirals serving under Lord Nelson, Florence Nightingale, George IV, through to Winston Churchill. In 1820, Floris received the first of 16 Royal Warrants, the most recent being the title: Perfumers to HM The Queen Elizabeth II and Manufacturers of Toilet Preparations to HRH The Prince of Wales. (Now, of course, King Charles!)
And then there was Marilyn Monroe. The scent the world's biggest sex-symbol always made sure to stock up on? In their extraordinary archive (some of which is on display in the rear of their Jermyn Street boutique), Floris happen to have an original form detailing Marilyn's order for their surprisingly unisex and greenly fresh Rose Geranium. Indeed, she loved it so much she requested SIX bottles at a time be delivered to her in Beverley Hills! (NB: A far more contemporary rose is their fragrance A Rose For… in The Private Collection – an intriguingly smoky gossamer embrace).
The original Floris shop still stands on Jermyn Street. (A couple of generations ago, fragrances were actually manufactured two floors below street level, in a basement known as 'the mine'.) Now beautifully refurbished, the boutique many other intriguing artefacts to discover on display, along with a wide wardrobe of perfumes to explore. Edward Bodenham – an ancestor of Juan Famenias Floris himself – is the current Perfumery Director at Floris, with fragrance clearly in his blood.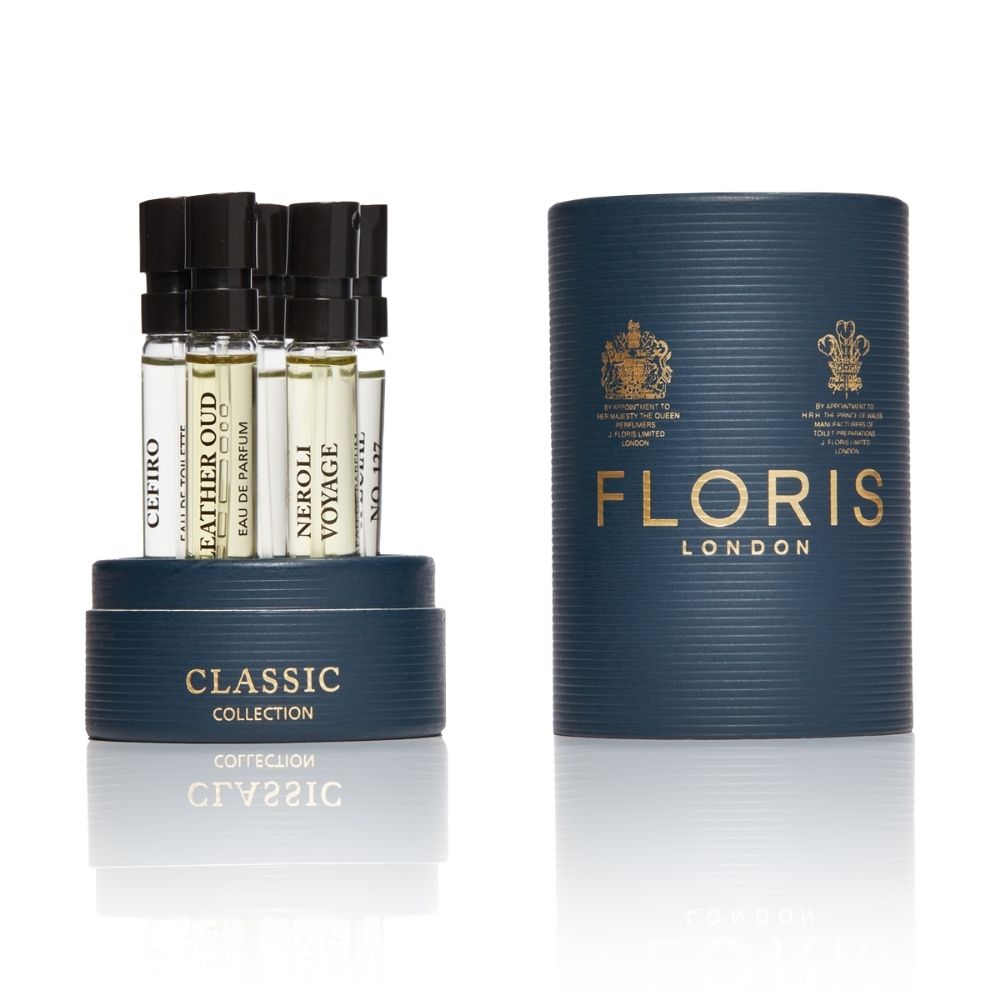 As he explains: 'I feel immensely proud to be part of the family business and to have the opportunity to help introduce our perfume house to a new generation. I have such fond memories of visiting the shop from a young age, and it is very nostalgic for me to be around the fragrances that I have grown up with my whole life. They really are like old friends to me.'
No matter how fascinating or notable their past, however, no perfume house could merely trade off their history. So as Edward notes – and more recent creations like sun-drenched Neroli Voyage in the Classic Collection and utterly addictive Honey Oud in Private Collection, prove – Floris are 'always evolving. We have to be experimental and explorative when working on new fragrances – in just the same way my forefathers were in their day.' Adding: 'I hope that they would be proud of our creations today.'
No question about it, in our minds. And we say: here's to the next 300 years or so, Floris!
Written by Suzy Nightingale